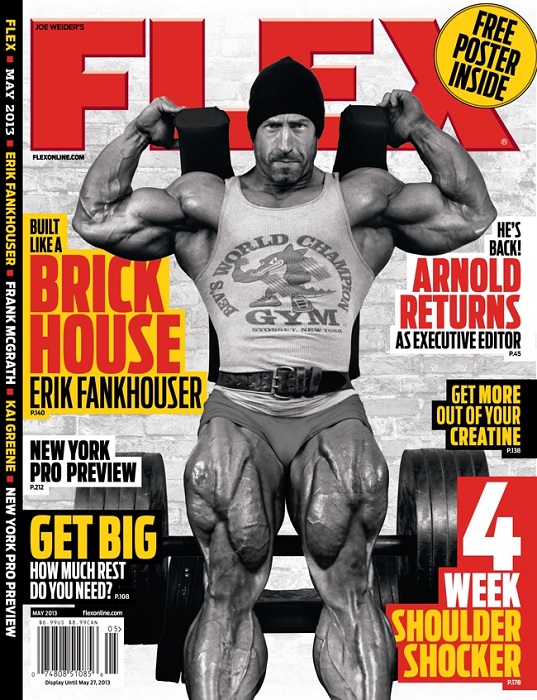 Erik Fankhouser, American professional bodybuilder is covering the May 2013 edition of Flex magazine. Erik, 32, who is more popularly called as 'The House' is a bodybuilder in the sport's heavyweight class.
'The House' personal stats -
Height – 5 ft 9 in or 175 cm
Contest Weight – 215 lbs
Off season Weight – 265 lbs
In the 2010 IFBB Mr. Olympia competition, he was placed at no. 18.
Other than bodybuilding, he also works as an exercise physiologist at Wheeling Hospital in Wheeling, West Virginia. He also writes articles for Muscular Development Magazine on the topic of weight training.
During an interview with the mag, he told -
"My first win was the 2005 NPC west Virginia state. It was a national qualifier. I won the heavyweight and overall titles. I turned pro In 2007 at the IFBB North Americans by winning the heavyweight and overall titles. Those two really stick out…"
For more information, visit the magazine's official website www.flexonline.com.
Erik, who is a father of 2 children – Xavier and London says that chest is the one body part, he found out to be most difficult to built. He needed to stay more consistent with the chest exercises and stayed with the basics. He used to take full rest on the day, when he used to do exercises aimed at building chest muscles.
On being asked about the philosophy of bodybuilding, Erik replied with -
"Building blocks. Everything you do in every minute of everyday adds up. A great physique was not built overnight contrary to popular belief. Do your work everyday."
We know that some advanced guys in the gym also commit some mistakes. So, according to Fankhouser, every guy is equipped with a greater knowledge, now-a-days, but they still need to consult someone who is more knowledgeable as the experts can tell more better regarding nutrition and training.
Erik has a loving wife, Heather and a huge fan base due to his dedication towards his work and ethics. He is on Twitter.