Television personality, model, and actress, Vanessa Lachey is vibrant beauty with perfectly toned body. It's not possible for everyone to persistently carry themselves so well with toned body. However, the sizzling model seldom fails to look stunning.
Married to TV star and singer, Nick Lachey, Vanessa got blessed with her first baby, son Camden in Sept 2012, and just like other conscious celebs, it didn't take the flawless beauty long to reacquire her pre-baby weight. Within eight to twelve months past the birth of her son, she could be seen flaunting her curves in skinny outfits. The brunette simply looks fab in all kinds of outfits and equally captures the eyes of viewers in long gown as she does in bikini.
Vanessa Lachey Workout Routine
The stunner attributes her curves and buffed body to her workouts which she does under the supervision of Gunnar Peterson, well-known celebrity trainer. Her personal trainer has her do workouts which are perfect blend of fun and exercise. Vanessa shares, she seldom practice same workouts repeatedly.
Her personal trainer keeps varying them after a week or so. Multiplicity in workouts not only keeps check on weight loss plateau, it also boosts you and keeps you in high spirit. When you know you have something new to do every week, you naturally feel enthusiastic which stimulates your brain.
Cardio workouts, strength training, lunges, squats, burpees etc. are the workouts which she frequently practices. However, she doesn't enjoy cardio workouts much. She sculpts her arms, legs, and stomach with lunges, dumbbell curls etc. The gorgeous actress mainly targets on the enhancement of lean muscles, because higher number of lean muscles will automatically bump up the process of fat burning.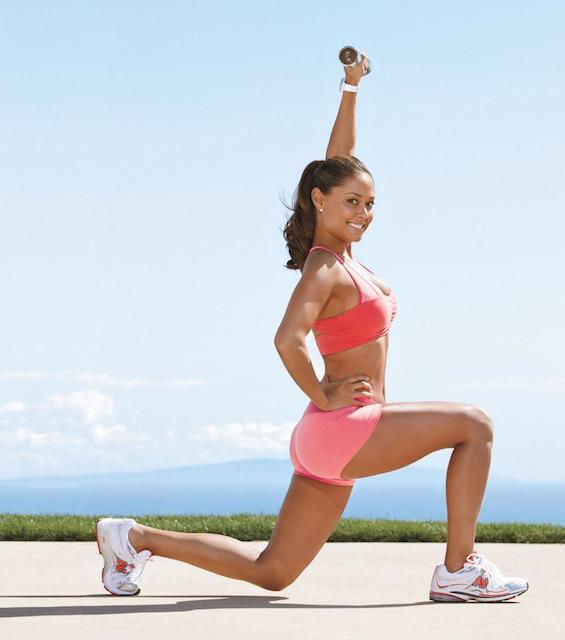 Rather than relying on the weight limits of dumbbells, the bombshell counts on qualitative reps made. She reckons, without being intimidated of the intensity of weights, reps made by you certainly can create difference in your workouts, by bestowing you better outcomes. Despite being mommy of one kid, the sizzling hot figure of the star denies the fact of her being a mommy.
Vanessa Lachey Diet Plan
The charming star is vigilant about the foods she eats and that's the reason she eats nutrient packed foods in her diet. Along-with balanced diet, she also comprehends the significance of cheat days, and so doesn't step away from relishing one cheat day at the end of the week.
She begins her day with multivitamin supplements which she consumes along with her mate. Being sentient about the nutrition values hidden in foods, the hottie feeds varied foods opulent in diverse nutrients to her body.
Some of the nutrients such as folic acids, vitamin D, calcium, magnesium, iron etc. are critical for the health of women specifically. Dearth of these nutrients might cause anemia, osteoporosis, insomnia, menstrual problems, tooth decay etc. So, always make sure that the kinds of foods you feed to your body are capable enough to render adequate nourishment to your body.
She loves cereals and incorporates plenty of them in her diet. Cinnamon toast crunch, cocoa krispies, cap'n crunch, and lucky charms are some of the cereals immensely adored by her.
Healthy Recommendation For Vanessa Lachey Fans
Do you aspire to have hourglass figure like Vanessa? Well, by inculcating more and more vegan foods in the diet, you too can acquire svelte figure like her. Not only are they loaded with nutrients, they are also free from toxic chemicals. Besides that, dairy products and gluten containing foods should also be in your list of forbidden foods.
Many people are sensitive towards gluten and lactose, but they simply are unaware of it. Sometimes, despite trying everything, you might fail to secure optimum health, only because you are victim of some intolerance. Should you feel discomfort such as anxiety, nausea, or sickness after having dairy or gluten containing products, consult a doctor to get more insight, since you might be victim of lactose or gluten intolerance.
As far as workouts are concerned, Vanessa recommends her fans, don't bully your mind with the thoughts of intense workouts to shed post-baby weight. Without hitting gym, should you swear by an agile schedule at home and workplace, you can easily overcome post baby pounds.