Motivation to exercise does not come easily to everybody. It is so much easier to burn the couch to watch a movie rather than to go out for a run or even a walk. Making and sustaining healthy changes feel painful more often than not. A couple of binge sessions here and there, a few missed workouts and people often overwhelm themselves into believing that getting lean is not for them.
While, there are many others, who do persist but tend to automate their exercise habits to the point of robotic monotony. Runners keep running on the treadmill. Lifters keep pumping their chest and biceps with little regard for fat loss. Yoga queens keep away from high-intensity intervals.
Although any exercise is better than a sedentary life, a thriving, trouble-free body for life should possess conditioning in terms of cardiovascular health, strength, endurance, and flexibility while retaining a healthy composition of low body fat percentage. Enter group fitness classes to the rescue.
They offer both support and variety and spare you the effort of planning or enquiring about your daily workouts. Although the fitness industry in some of the larger cities all over the world keeps on innovating to combine multiple disciplines and create complex choreography, there are some trends popular for generating widespread results and vouched for by Hollywood celebrities.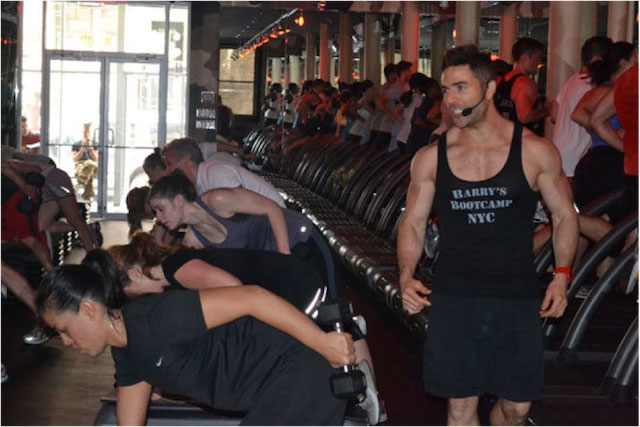 Boot camp:
With everything automated and merely a click away, most people are getting too comfortable with lack of movement and fast losing touch with their primal movement patterns. Regardless of age, everybody should possess basic mobility that the human body has evolved to possess over the years. Boot camps reintroduce your body to hardcore intensity and incorporate timeless, fundamental exercises that set you up with greater strength and stamina.
Often inspired by military recruit training and frequently held outdoors, the signature style is to alternate 6-10 minute cardio intervals with strength training circuits. These classes spare no body part and core strength gets special attention.
Barry's Boot camp is a boutique fitness studio that Hollywood A-listers swear by. Fans include Kim Kardashian, Katie Holmes, Jessica Biel, Sandra Bullock, Carrie Underwood, Amanda Seyfried, Christina Applegate, and Katie Couric. How is it different? A dark nightclub like lighting backed by a fast-paced playlist makes seemingly boring drills cool.
Spinning:
Recent research in exercise science claims that cycling and sprinting support optimal strength gains and fat loss as opposed to any other form of cardio. Not everyone can sprint. It is also more jarring on some of the joints especially the knees. However, spinning is one joint friendly form of cardio that accommodates both beginners and hard-core exercisers. Compared to a typical stationary bike in the gym, a spin cycle is heavy with minimalist structure to engage the core and support the rider's body weight, especially when one gets on their feet while paddling.
New York City-based, Soulcycle has revamped the concept of traditional spinning classes. It is the new Hollywood favorite and boasts of a cult following. Famous fans include Lady Gaga, Katie Holmes, Kelly Ripa, Chelsea Clinton, Kyra Sedgwick, Ashley Tisdale, Nicole Kidman, Lena Dunham, Oprah Winfrey, Bradley Cooper, David and Victoria Beckham. The list is practically endless!
A dimly lit studio characterizes a signature class, where the riders are encouraged to match their pace with the rhythm of the music and the instructors cheer with motivational quotes. The class also uses light hand weights to include upper body and core work while riding to make every session a full body workout.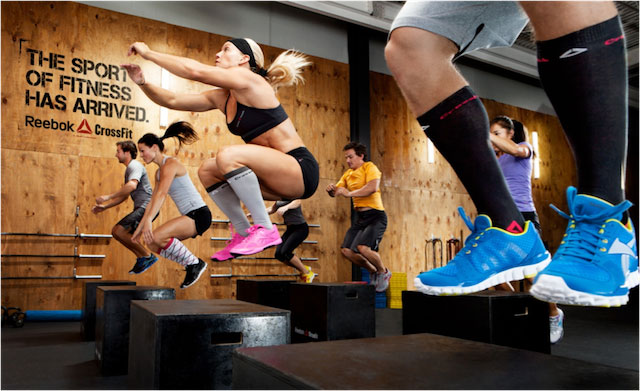 CrossFit:
A concept of strength training that is particularly partial to bodyweight and free weight training along with Olympic lifts and plyometrics. Crossfit gyms are different from a regular gym. They have no mirrors to indulge your vanity or cardio machines or weight training machines for repetitive zoned out motions.
Workouts often take place in a supportive group environment, but they are always intense and time bound. Every day brings with it a different workout, randomly programmed to challenge a different dimension of your physical skill. Popularly addressed as the WOD (workout of the day), it remains the same for everyone. What varies is the intensity. Beginners compete against their own performance with lighter weights or bodyweight while advanced athletes compete against each other to perform as many repetitions or circuits within a limited amount of time.
This concept of lifting faster weights is responsible for both svelte, and toned frame of famous Hollywood starlets as well as the buff bodies of several action heroes. Busy parents such as Brad Pitt and Paula Patton claim to have more time for their family since the intensity of CrossFit keeps all their workouts super short. Other celebrity followers include Jason Statham, Matt Damon, Channing Tatum, Cameron Diaz, Kellan Lutz, Trevor Donovan, Malin Akerman, Paula Patton, Elizabeth Banks, Vanessa Hudgens, Jessica Alba and Madonna.