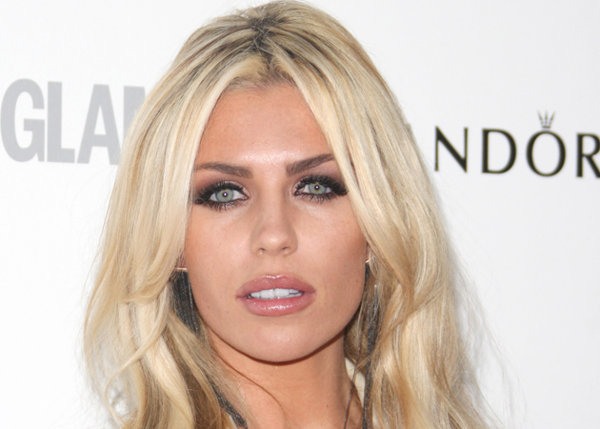 Who says, women don't look sexy after they become mom?
5 feet 9 in, British lingerie and catwalk model is there to prove you wrong with her size zero figure after becoming a mother. Married to famous England soccer player, Peter Crouch, Abbey got blessed with a beautiful daughter namely Sophia in 2011. And after just seven months of Sophia birth, the super sexy model regained her enviable body.
The most gorgeous Abbey certainly is a source of inspiration to millions of moms out there, trying to lose weight and bring them back in their pre-baby shape. Well, it was not easy for Abbey too to shed weight. However, desperate Abbey wanted to see her as hot as she was prior to becoming a mother. No wonder, the persistent efforts of the relentless star had high calories give in before her.
Her unshakable love to her husband, Peter had been the continuous source of inspiration to her. Abbey kept reminding herself the fact that men love hot and slim women. Flattered with her size-zero figure, the celebrity is often seen flaunting her sexy figure in tiny bikinis. Images posted by her in sexy poses can often be seen on Twitter.
Abbey Clancy Intense Workout for Size-Zero
To burn surplus calories from her body post pregnancy, Abbey executed intense workouts in gym. She practiced workouts twice in a day i.e. morning and afternoon. Her morning workouts included cardio workouts on treadmill, rower, or jogging. However, she performed weight lifting and leg press to tone all the muscles of her body in the afternoon. She practiced this routine six times in a week.
While trying all sorts of workouts, this celebrity practiced bootcamp-style workouts thrice in a week. Apart from that, she embraced horse-riding to condition the muscles of her stomach and leg. Dedicated to dropping weight, Abbey used Hypoxi and Vacunaut systems also; they work on target body parts such as stomach and butts. These systems require wearing one wet suit; it burns calories faster in the targeted body parts.
The glam Abbey didn't leave any stone unturned for her transformation, and her persistence inevitably paid her off quite well. Today she is the star mom with fascinating stomach abs, buffed legs, and honed bums.
Abbey Clancy Diet Plan
Abbey seldom skips her breakfast and prefers having omelet in her breakfast. She includes fish and chicken salad in her lunch. And for dinner, which is the most crucial meal to her, she cooks meat and vegetables on her own.
 Abbey Clancy Beauty Secrets
Abbey spends most of her time in taking care of little Sophia. However, when she has to go out, she likes wearing light make-up. The lovely actress simply adores mascara for it really renders long and curled look to her eyelashes. And the starlet barely forgets saving mascara in her purse. Occasionally, she puts on artificial eyelashes as well.
Moisturizer being the secret of her ever glowing face is considered very significant part of cosmetics by her. Cleansing, toning, and moisturizing are the parts of her daily routine. She applies St. Tropez SPF on her face first thing in the morning. And no matter what the weather condition is, she seldom goes outside without wearing sunscreen lotion on her face.
What is Fitness Expert's Concern for Abbey?
Though Abbey is more than pleased with her size-zero figure and feels that Peter cannot help moving her hands around her super-slim body, but the famous celebrity fitness expert, Nicki Waterman shows her concern to her.
She believes that Abbey has grown skinny in the past few months. Getting down from size-six to size-four is not at all healthy. She believes, Abbey probably is not consuming a healthy diet and she requires gaining at least one stone weight to look healthy.
Abbey's overly consciousness to her weight is not letting her decide the apt intake of calories. After giving birth to Sophia, Abbey has always been in consistent effort to melt calories and maintain herself in slender shape.
While revealing some of her freaky secrets, her friends joke about her weird efforts to stay away from food. They tell, Abbey has begun smoking more and has accentuated her caffeine intake to slaughter her appetite for food. While considering foods averse to her curvy figure, there have been numerous times when she didn't step back from cutting down her meals.
Well, whatever the reality is!!!
Abbey our sincere advice to you is – don't deprive yourself from nutritious food since we always want to see you healthy.