Model, designer, entrepreneur and body activist – that is how Ashley Graham prefers to introduce herself. She happily describes herself as bold, brilliant and beautiful but claims it took years of self-work to build the emotional security that helped her bloom into the present day success story.
Upscale from the struggle to survive to fearless growth!
Discovered at the age of 12 by a modeling agency when she was out shopping at a mall, her professional aspirations were taken care of even before she could figure out for herself what might be a suitable career. Although she was happy to commit herself to modeling and got to visit several different countries even before she finished high school, the labels and objectification that take place within the industry did not pass her by without doing their share of damage.
Post high school, as soon as she relocated to New York to pursue modeling full time, she also found herself frustrated and yo-yo dieting trying to conform to the stereotypical standards of beauty and ideal body type. It did not help her sinking self-esteem either when she came across raised eyebrows every time she introduced herself as a model, forced to clarify her exact job with the words, "plus size model."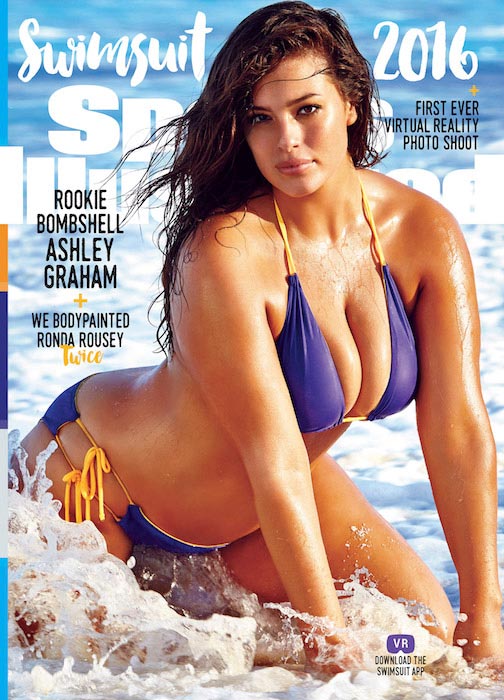 Rise above labels
Miserable and tired of belittling herself, Ashley Graham finally decided to 'own' what she had with absolute self-confidence. Once she began to rock her authenticity, she experienced major career breakthroughs and professional recognition to become the first "plus-size" model ever to land the cover of Sports Illustrated.
However, she is not done yet. She co-founded ALDA, an alliance of five models determined to promote awareness and celebration of healthy body diversity. Together these ladies visit high schools and weight loss camps to hold open discussions on the importance of taking care of your body sans petty comparisons with reed-thin cover models while maintaining a positive state of mind.
Trust yourself and be your own role model
While Ashley looked towards Jennifer Lopez and Marilyn Monroe for inspiration, these women were only relatively curvy in the glamor industry and she struggled to identify herself with them simply because they were not overweight enough to have their fat roll over their bellies when they sat down as she puts it!
Looking towards her own mother for reassurance, she decided to stop looking for external sources of validation. Finally, in tune with her instincts, Ashley began to find her own voice. Doing what 'felt' right coupled with hard work and good decision making she finally made it to her emotionally fulfilling happy place.
She still reiterates that it did not happen overnight. There are still days when she looks at herself in the mirror despising a certain roll of fat on her body. Nevertheless, reverting to gentle self-encouragement and celebrating the parts of her body that she does love reinforce her body confidence.
Take your power back
No matter how helpless or discouraged you feel, you can always make choices to empower yourself. Ashley insists that as long as one keeps working towards making their dreams come true, they will manifest in their own time. People need to be patient enough to accept that their moment to shine will arrive not on their terms but when they are ready to handle it.
Every profession demands commitment and hard work and modeling is no different. Breaking into any industry should be fueled only by your own interests and passion rather than serve as a medium to win social approval.
The same rules apply to relationships. Breaking off from a bad relationship, Ashley Graham abstained from sex for over one year simply to get her head in the right place. She dated her cinematographer husband the following year and took her time to get to know him for many months before initiating physical intimacy.
Meanwhile, expressing herself creatively whether through designing, production or art direction, she continues to feed her self-confidence and discloses that you do not need sex to feel sexy all the time!
Live with purpose
In her journey to promote herself as a body diversity ambassador, Ashley Graham works passionately to endorse every kind of healthy body type to keep young girls and grown women from succumbing themselves to any extreme. Against both anorexia and obesity, Ashley urges everyone to get off their butt to move and workout.
As women all over the world struggle and readjust their lifestyle to find peace within their bodies, Graham continues to wonder how she can contribute to making all these women find greater joy within them.
If you think, Ashley simply goes around preaching how things should be, then check out the following workout montage that shows that she works hard to stay strong and fit. She is simply not waiting to be a certain size to start celebrating her life.