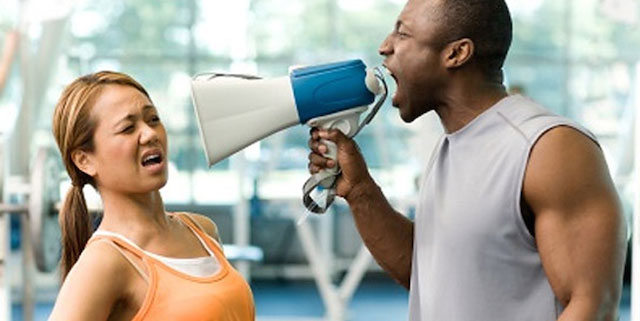 Entering a gym for the first time can be frightening for some people. The expanse of crazy looking equipment confuses even the bravest of us and we end up seeking the comfort of a treadmill or a stationary cycle for the better part of an hour, hoping we are availing the full benefit of our expensive gym membership as we dawdle on the cardio machine listening to our favorite tunes.
Thanks to the utmost glorification of lean and lithe bodies by the media; people of all ages and sizes flock to the nearest gym, if nothing else, out of sheer curiosity. While there are quite a few people who have made exercise an important part of their routine, most of us usually don't have much of a clue to where and how to get started. This is where the role of a trainer comes in. They are our modern day mentors who help us get closer to the body of our dreams!
Of course, at the end of the day our body is our own responsibility. It would be unfair to approach a trainer after eating year's worth of junk food to magically transform you within a month!
Those who really struggle to make positive changes hire a personal trainer. Nothing is more important than your health. But personal training means setting yourself up for considerable financial, emotional and physical investment. With so much at stake you want to make sure that you hire the right trainer to get your money's worth.
A personal trainer will witness you in one of your most vulnerable positions. He / She will have access to numbers that we rarely want to share with anyone. I am talking about our age, weight, our waist size…. Arrgggh!! Right?!?!
When new to exercise and particularly when grossly out of shape, we want to save ourselves from being harshly judged. Hence, we place the trainer's gender above other key attributes that we should actually be looking for. Notably, in India, male and female trainers favor different types of exercise regimes. As you consider hiring a trainer of a specific gender, talk to them a few times or have a trial session with them to ensure they have the following traits.
Exercise know-how: Despite the requisite certifications to their credit, what matters most is the trainer's practical approach to exercise. In absence of standard equipment, physical discomfort or minor disabilities of their client, the trainer should be able to improvise easier or harder versions of different exercises, without letting the client compromise on proper form.
Male trainers are usually proficient in conventional weight training. Female trainers are often skilled at Yoga, Pilates, Aerobics and Calisthenics. Both forms of exercise have their own advantages. While, the latter focuses on flexibility and strong core; conventional weight training specifically focuses on building lean muscle tone that helps immensely overweight people increase their metabolism.
Alongside a combination of high and low intensity exercises, overall workouts should be changed every couple of weeks. If your trainer does not switch your daily workouts every 3-4 weeks, he / she is not doing a very good job.
Background Diversity: Someone who has trained a range of people of varied age and weight is likely to design a more balanced exercise program with realistic goals.
You don't want to be writhing in daily pain due to overtraining or feel the disappointment of no results due to under training. In this case, a trainer of the same gender is more likely to make a realistic assessment of their client's capabilities.
Temperament: Compassion and empathy for the client are extremely important. Men are often stereotyped as bossy and aggressive, while women as catty and mean.
Looking past the bias, it is important that trainers motivate their clients with positive reinforcement. A super strict trainer who constantly attacks your self esteem with harsh criticism, stubborn personal opinions and often insists upon his/her way being the right way without justification displays toxic behavior that might make you dread exercise more than ever. We don't want that! No!
Articulate: As in any other profession it is important that your trainer should be able to convey himself/herself clearly. Through personal training you are trying to set yourself up with positive changes, potentially for life. If your trainer does not logically address your needs, explain the main principles behind your exercise routines and clarify misconceptions, you will have little long term benefit to take away from your sessions. If you simply go through the motions of given exercises, you are not truly taking charge of your fitness. Seek information constantly from your trainer to better understand your own body.
Be wary of the following situations:
Inappropriate Behavior? Hands off Dude!
In case of a male trainer, he should not unnecessarily stand too close to his female client or grab your arms frequently with the excuse of offering "support." Politely, but firmly request the trainer that you would like to master the move on your own and restrict him to simply keeping a check on your technique.
Comfortable and Friendly is not always good!
You might feel comfortable with a trainer of your gender, but you don't want to be the kind of best buddies who just can't shut up and train. You will only look like a total nuisance getting in the way of other people who are there for a serious workout. Not to mention the time and money that would be wasted.
A good trainer would keep up with the latest developments in exercise science.
But they should not be in favor of promoting any fad diets, pills, gadgets or any other gimmicks. Also, be wary of being pitched health supplements far above their market price.
Surely you have been given a lot to think about! As mentioned earlier, before making up your mind, strike a conversation with a trainer you are considering. Don't be afraid to ask them a few questions to know them better. Or, really test their patience by asking them a LOT of questions and you will know in your gut if he / she is the one for you. Or if it is the time to move on…………..