Jennifer Aniston recognized as Rachel Green on the NBC television series "Friends" and her character earned her many awards like Emmy awards, Golden Globe awards etc. Now she is just not an actress but a film director and producer too. She also got critical acclaim for her wonderful performances in many films like "Just Go With It", "Friends With Money" etc.
Jennifer Aniston is known her for her great body and shape. She has been given the title of best body of year 2012 by Fitness Magazine.
Jennifer Aniston workout routine
Jennifer Aniston has such a body which is dreamed by everyone – toned, strong, feminine and lean. She is very disciplined in her workouts and says –
"It takes a lot of hard work to have a good and healthy body and I workout five or six days a week that counts to be almost every day."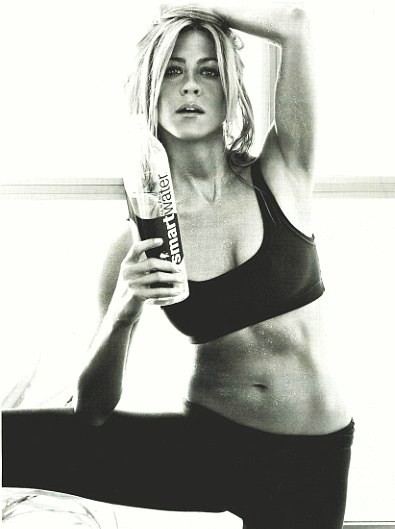 Aniston gives some tips to maintain a perfect shape if one cannot manage trainers and nutritionist –
Strength training – Strength training helps increasing the muscle tone and is considered very well for bones and it even burns more calories. One can go for Pilates, weights or resistance band in they workout at least twice a week.
Workout ways – Due to busy schedule of almost every individual, one is not able to take out much time to do exercises. They may do less time consuming, equipment free exercises like crunches, stretches, yoga, squats or lunges in their morning or evening time, which can even be done at their own places.
Fish in your diet – Eat omega 3 – rich fish once or twice a week as it helps in controlling the weight, improving the skin and hair. Some of the other omega 3 rich products are ground flaxseeds or flaxseed oil, nuts and omega 3- eggs.
Love your food – If it is any special occasion or you are in mood to eat your favorite food, never stop yourself. Eat whatever you love but make a commitment to exercise the very next day and be strict on your commitment.
Jennifer Aniston Diet Plan
Breakfast – Her morning meal includes smoothies and three cups of frozen watermelon.
Lunch – Soup garnished with dandelion greens, arugula and spinach. Other ingredients are zucchini, ginger, garlic, clove, raw agave, uncooked soya sauce, lemon juice, cayenne and onions, all blended together with grinded pumpkin, sunflower seeds and almonds, all mixed together.
Dinner – Seaweed salad is the most common in her diet. Another option in her dinner is blended lemon juice, garlic, clove, olive oil and sea salt all in a salad of chopped parsley, tomato and onion.
Zone Diet – Jennifer has also tried zone diet which includes 40:30:30 ratios of carbohydrates, fats and proteins where source of carbohydrates was from whole grain breads and pasta, fat from olive oil and other oils, and last the proteins from egg whites and fish.
Get with Jennifer's Ways
She always ends her day with a set of stretches and sit ups.
In her daily workout routine, there is 40 minutes of cardio, spinning, running and elliptical. She does Pilates once a week and yoga thrice a week.
Jennifer always carries weights (generally, eight pounds or 3.6 kg) with her, whenever she stays in the hotel. She loves to do arm exercises and stretches while watching TV.
Aniston takes high protein and low fat diet.
Jennifer used to eat the same Cobb salad every day on the set of "Friends" with her co-stars but with different toppings such as bacon and garbanzo beans.
Few of the things that are very common in her diet are salmon, green vegetables, lentils and quinoa.
She does follow strict diet but often ends up eating fried food, but she always make sure to burn that much calories also.
Spinning – It is one of the best ways to burn calories and to keeping your muscles in shape.
Some of the factors of spinning classes are:
The pedal rate.
Resistance offered by the bike's flywheel
The body position of the rider.
Pros:
Variety in routines makes you feel refreshed and is good for mind.
It is an efficient workout.
It works all types of ability levels.
Cons:
It can be monotonous at times.
As for every exercise, here also you have to push further.
Cardio – Whether it is about losing your weight, building your muscles or improving your health, cardio exercises are considered to be one the best for all. There are various cardio exercises like: running, bicycling, swimming, elliptical training, kickboxing, rowing, walking etc. The only rule is to follow the one and be strict to it which you enjoy the most.
Pilates – It was developed by Joseph Pilates, which focuses on balanced development of body via strength and flexibility to support graceful movement. The six principles of Pilates are centering, control, flow, breathe, precision and concentration. The proper way to do Pilates is either on mat or on the floor.