Jillian Michaels is one of the most popular fitness trainers. She is tough, she is great looking and she is a fitness inspiration for millions. She has worked with numerous celebrities such as Pink and they all appreciate her dedication. She has a very strict approach to keeping fit herself. Jillian follows a rigorous workout routine and still manages to keep a steady work-life balance. She has also recently shared some cool advice on toning the thighs and how to have a bikini body. Read it all here.
Workout Routine
The workout regime of the TV personality revolves around training each of her muscle groups such as legs, arms, core, etc. once a week. She works out at least 4 to 5 days a week, no matter how busy her schedule is. Jillian also does yoga once every week. She tries to do a minimum of 30-minute workout every day, reports Shape.
Working Out and Balancing the Family
Some women say that they can't work out as they have a family to manage. This is not an excuse that Jillian has ever relied on. She asks her mom to watch her kids so that she and her partner, Heidi can take a yoga class together. She and her partner also switch up their workout routines so that they each can workout while managing the family. They plan their exercise sessions in coordination with one another. If Heidi is going for a run on Tuesday, Jillian would go for a bike ride on Wednesday.
Workout at Home
The entrepreneur also likes to workout with her partner at home. They opt for digital workout options like DVDs or use a website like FitFusion or POPSUGAR. When they are working out at home, their kids run around and play.
Working Out with Kids
The LA-based trainer is also making her kids realize the importance of working out and keeping active. She often does skiing, snorkeling, and horseback riding with her kids. Though these are not ideal workout options but these workouts have a fun element in it which keeps the kids excited about them.
Preferred Workouts
The diva has no preferred workout. She enjoys a bit of several exercises such as free running, bodyweight training, MMA training, yoga, and calisthenics.
Working Out Hard
Even when the stunner just has 30 minutes to spare for a workout, she works out hard so that she could get maximum results.
Fluctuating Workout Routines
Did you miss your morning yoga class? Or were you not able to give 150% during the weight training last week? If either is the case, then you will be pleased to know that the fitness guru also slacks off on her workouts every once in a while. She thinks that if you are trying to give your 150 percent every time and you can't give it all the time, you should not get bothered about it. Just do the best you can.
Workout for Toned Thighs
Bulky thighs are a common body shape concern of many people. To help you get rid of that, Michaels has a unique advice to offer. She says that exercises like mat Pilates and sumo squats may help, but you should focus more on toning your legs as it's a more holistic approach. In order to get toned thighs, you should target the whole muscle group, your legs.
The TV star thinks that focusing on toning up a certain area of your body is not a good option. You should concentrate on conditioning your entire body in a functional manner. Artificially toning muscles would not do you any good, so you should always target multiple muscle groups simultaneously, she told PopSugar.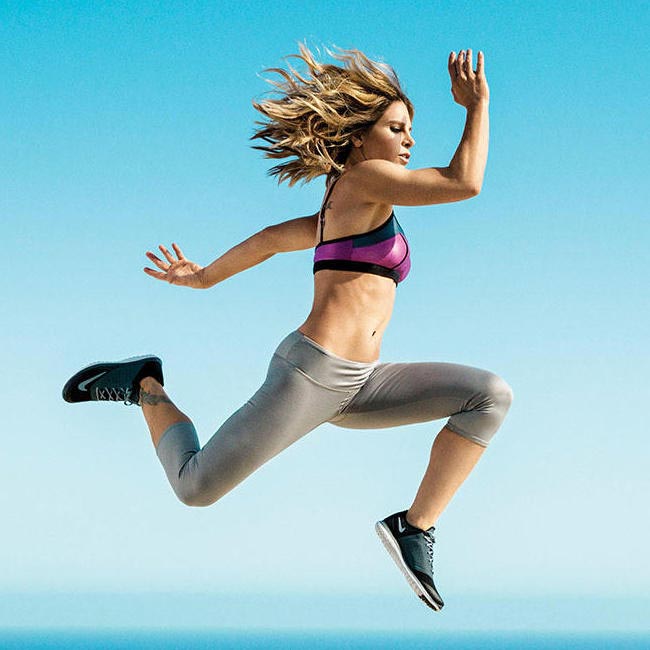 How to Get a Bikini Body?
The fitness expert has answered the question about how to get a bikini worthy figure, reports InStyle.  She says that the key to a bikini worthy figure is to not overeat at all. You should stick to eating healthy foods and avoid chemical based foods. Another secret is to hit the gym at least 4.5 hours every week. When you hit the gym, you should remember to keep your heart rate at 85 percent of your maximum heart rate. To calculate it, you should minus your age from 220 and multiply it with .85.
Like the workout schedule of Jillian? If so, you might also like her workout advice. You can also visit her official website for more tips or follow her on Twitter or Instagram.