Kate Hudson just dazzled us with her sexy figure and amazing look at the Golden Globes 2016. Since that day, we have been wondering what's the secret behind her rock hard and perfectly toned abs that made women green with envy? If you are also wondering the same thing then do have a look at the latest workout routine and diet plan of Kate Hudson in this 2016 edition and learn the fitness lessons that she is teaching through her book, "Pretty Happy" that will be available at HarperCollins soon.
Workout Routine
The workout routine of the diva hasn't changed for years. It's still Pilates as she thinks there's no other core workout made for her. It works for her flawlessly and makes her feel pulled-in in the center by targeting her core. (Learn about the benefits of Pilates over here.) She also likes running and doing yoga to keep fit. Kate works out 5 days a week.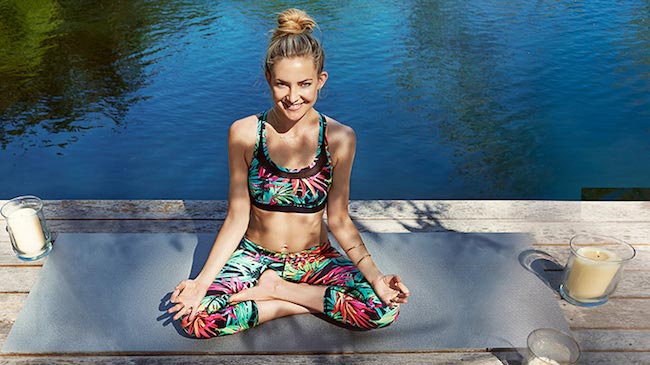 Exercise for Abs
When asked about the secret behind her sexy abs, the diva said that there's no specific ab move that helps her to get the perfectly looking abs (really?). She just grew up dancing that helped her and Pilates help her stay in shape now and tone her abs in a better manner.
Kate Hudson Workout for Events
The co-founder of Fabletics likes to up her workout just before an event. The event workout of the stunner depends on what she will be wearing to a particular event. If she wants to don a sleeveless dress, she will concentrate on shaping up her arms in a better way, a few days before the workout. On the contrary, if she is wearing a short dress, she will do more squats and other leg moves. (That's pretty sensible, we think)
Getting the Sexy Beachy Look
The Kung Fu Panda 3 (2016) actress also shares that the secret behind her beachy look is a spray tan used a night before the event. She uses only natural spray tan to get a bronze look without risking the damage caused by sun. Also, before going in front of the cameras, she likes to take a moment to quiet her mind so that she can take on the attention and the flashes as a part of her routine.
Workout Has No Limits
A few months back US Magazine reported that Kate advised people not to focus on duration based workouts. She thinks that even 20 minutes are enough if you do it right. You should also concentrate on exercises that make you feel good no matter how weird they look to others. For her, the weird yet exhilarating exercise is sprinting up the hills.
Diet Plan
People recently talked to the Golden Globe Award winner and found out the diet she is eating to look so hot. The answer was a simple alkaline based diet that directs her to refrain from eating dairy products, meat and gluten. Eating everything in moderation is another funda of this fitness fan. (Thinking of following the alkaline diet like the one followed by Kate? Check this link before making any decision.)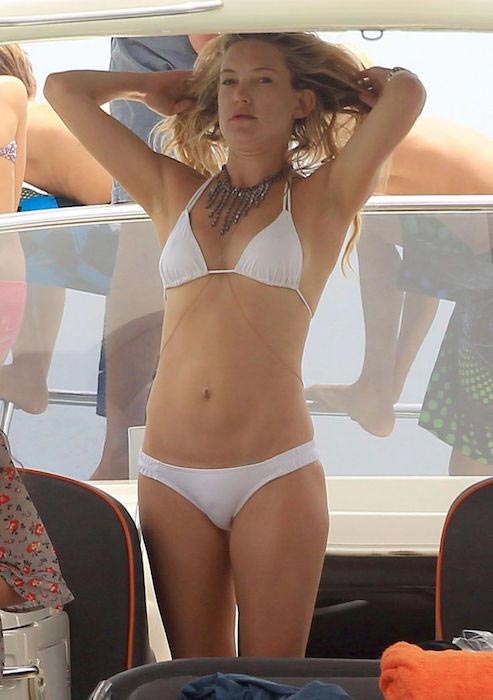 Diet Indulgences
Hudson tries to stay away from sugars, but she cheats when she really wants sugar as she is a bit of foodie.
Lessons For Fans
Learn About Yourself
While talking to PopSugar recently, the LA-born shared her view on lessons people can learn from her book, "Pretty Happy" that's set to release on February 16, 2016. She wrote this book to help people connect to themselves in the changing times and learning what motivates them. She wants to assist people in concentrating on their individual needs.
Learn to Change
The Bride Wars (2009) actress also wants people to change their routine regularly. She thinks it's good to have a routine that suits you, but you must change it to stop yourself from getting bored in life.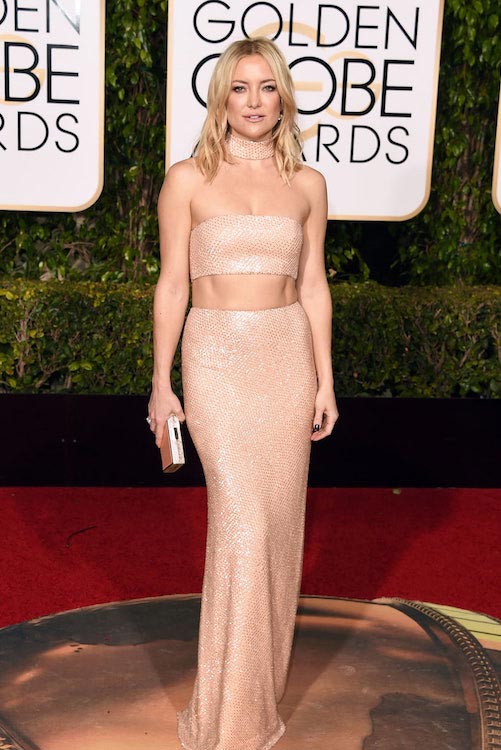 Learn to Be Happy and Let Others Be Happy
The Fool's Gold (2008) actress also thinks that if a person enjoys dancing and expressing himself, you should let them be. On the other hand, if a person is sitting quietly in the corner, you mustn't think that they are sad. You should realize that they may be happy too. So, the crux of the matter is, be happy with your life and let others be happy in theirs.
Not Enough? Want more details on the exact workout routine and diet plan of the American actress? Feel free to check out this interesting article to know what she did to maintain her fitness levels in the past and take some pointers from here too.