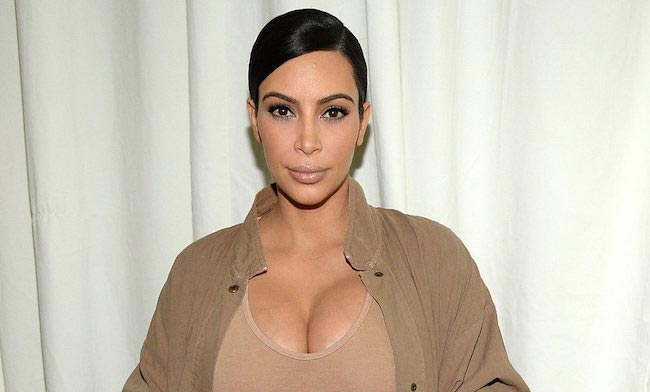 Kim Kardashian is a name that doesn't need any introduction. Men, women and even kids know who she is. She is a TV personality known for her hourglass figure and her popular show, Keeping up with the Kardashians (2007-Present). She has a knack for remaining in headlines and has recently been making headlines due to her n*de images and her successful efforts in losing weight after giving birth to her baby boy, Saint West who was born a few months back.
Are you curious about what workout and diet she is following? Do you want to know how successful she has been till now? If so, you will enjoy reading this article.
The Target
The weight loss goal of the diva is losing 70 pounds instead of the 60 pounds she gained with Saint West. The extra ten pounds are a part of her fitness goals because she is aiming for attaining her best body ever, reported Hollywood Life.
Her Fitness Wish
A major wish of the stunner is that she wants her old clothes to fit her again. She has even created a list of clothes she wants to see herself in, through her personal blog.
Early Mornings
The workout of the TV star includes getting up early and working out. Kim says that she really hates it but it's a must, so she cannot avoid it especially because she wants to keep up with her fitness regime.
Motivation Technique
The best way to stay motivated according to Kim is to try a variety of exercises, reports Hello Magazine. She also stays motivated due to the support offered by her family and friends. She has been working out with her sister Khloe Kardashian and mom Kris Jenner lately.
Workout Routine
The workout routine of the raven haired beauty revolves around taking on different exercises. She has attended Barry's Bootcamp, she has tried Pilates and has been following the workouts designed for her by celebrity trainer Gunnar Peterson who has also helped celebs like Sylvester Stallone and Gigi Hadid to get in shape.
The Best Workout
The best workout according to Kim is the Barry's Bootcamp.
Appreciating the Trainer
The voluptuous beauty has a lot of appreciation for her trainer, Gunnar Peterson. Kim says that he is amazing and she exercises in his private gym. In her own words –
"Gunnar is amazing! He has a private gym where we just grind, grind, grind!!!"
She has been putting in a lot of efforts in the gym and admits that the results are noticeable.
Favorite Gym in Paris
As the wife of Kanye West has to travel a lot and has a busy schedule, she has her favorite gyms in many places of the world. She names L'Usine in Paris as one of her favorite gyms and calls it a chic gym that has great classes, equipment, and amenities. She also says it's a great go-to spot in Paris and its location is also superb. Kim has often been seen hitting this gym with her hubby.
Diet Plan
The diet plan of the hot celebrity is quite amazing actually. She is following the Atkins 40 plan. In this, she is allowed to eat just 1800 calories in a day and that too because she is breastfeeding.
Diet Indulgence
The gorgeous lady sneaks in a bit of (about 4 oz.) her favorite treat everyday to keep the things interesting, reports People.
Diet Plan Strategy
The Atkins nutritionist of Kardashian West, Colette Heimowitz explained that a high-calorie diet is so successful because it prevents you from overeating. A low-calorie diet may keep you feeling hungry all the time, but a high-calorie diet like Atkins 40 would ensure that you have proper amount of protein, fat, calories and high-fiber carbohydrates that would help you to resist eating more of unhealthy stuff.
The Progress
The progress made by the hottie is amazing. She has already lost 48 pounds of the excess weight she gained. She just needs to lose 22 pounds more. Kim even admits that some of her wardrobe dresses have started to fit her again and gave the example of her workout clothes that fit her again now.
Good Going Kim!! We hope you'll keep moving forward with your fitness goals and inspire thousands of your fans to do the same.
Want more? Check out some more interesting steps Kim has taken to lose the baby weight by clicking over here.