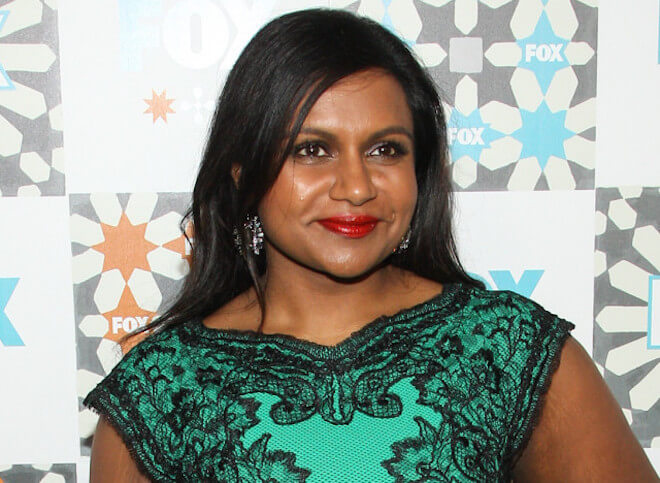 There are some women who are not afraid to speak up their mind on screen and Vera Mindy Chokalingam, (Oops!!) Mindy Kaling is one of them. She rose to fame with the Fox and Hulu sitcom The Mindy Project (2012-Present), and the NBC sitcom The Office (2005-2013). She has always been demonstrative of her workout and diet details via Instagram and various interviews. So here, we have compiled a brief article on how the funny lady remains fit and what does she thinks of her health.
The Weird Workout Motivation Techniques
Mindy tries to motivate herself to work out by devising weird methodologies. In 2013, she devised a plan in which she went to work in workout clothes so that she can't avoid an exercise session after work. Hmm…it's an interesting option for people who work in back-end jobs where they are free to wear whatever they wish to work. Would you try it?
Another motivation technique was shared by the actress, which is also a bit weird. NYMAG reported that when she runs, she pretends that she is an actress living in L.A. who has to look stunning at all times. Sometimes, she assumes that Michael Fassbender is her husband and she is avenging his murder by a Nazi.
Constant Self Improvement
While talking to PopSugar, the TV star admitted that she is in a state of constant self improvement, but she does not take any stress about it.
Workout Routine
The executive producer also shared her workout routine which involves barre classes with light weights and lots of reps. Mindy termed the barre classes as "painful, pretty Pop Physique lifestyle." The workout routine also includes getting down to a nine-minute mile and going on a hike with friends. She also likes doing jogging, strength training and yoga exercises to remain fit. Last but not the least, she stays active 5 days a week that helps her body to stay agile.
Diet Secrets
The director likes to create healthy recipes in her kitchen and takes help from cookbooks like "It's All Good" by Gwyneth Paltrow. She also likes consuming nutrient-rich green juice from Pressed Juicery. The juices she likes having are filled with health friendly ingredients like ginger, lemon, cucumber, kale and spinach. All of them help a person to detox and build up an immunity backup, which is really good, we must say.
Balancing the Scales
Whenever Kaling parties hard with friends, she likes to pay up for it by increasing the stakes at her workout routine. Well, that's fair…Don't you think?
Be Happy with Who You Are
Mindy also motivates people to "be happy with who they are." She knows that she is not skinny and she may never be skinny, but she is completely okay with that.
Don't Be Too Serious
The TV celebrity believes in eating quite healthy, but she also never regrets enjoying the occasional cookie. She also suggests that we should never compare ourselves with others as it will only make us sad. Rather, we should all be happy with who we are and try to be a happy person.
Making Sense of Fast Food
People reported that fast food makes sense for this writer after long hours. She is very fond of healthy options offered by McDonald's such as salads and apple slices. She also makes sense to herself of fast food by seeing the food (not eating, just seeing) to content her cravings. Mindy further explained that she often eats at McDonald's about twice a week as she didn't get to enjoy delicacies like McNuggets when she was growing up. When asked about the unhealthy habit, she stated that she does not have to live until she's 80. We must say that her fans should skip over this advice of Mindy as it's not very sensible, health wise.
View on Mindy Kaling's Spicy and Cheesy Umami Burger
Recently, Umami Burger's Artist Series added the Mindy Burger to its menu. She shared her happiness with the development via The Daily Meal by saying that she was honored and the burger is spicy and cheesy just like her own personality. A portion of proceeds earned from the sales of Mindy Burger will benefit the Pancreatic Cancer Action Network which is done in memory of Kaling's mother who passed away from the same disease in 2012. A good deed indeed!!!