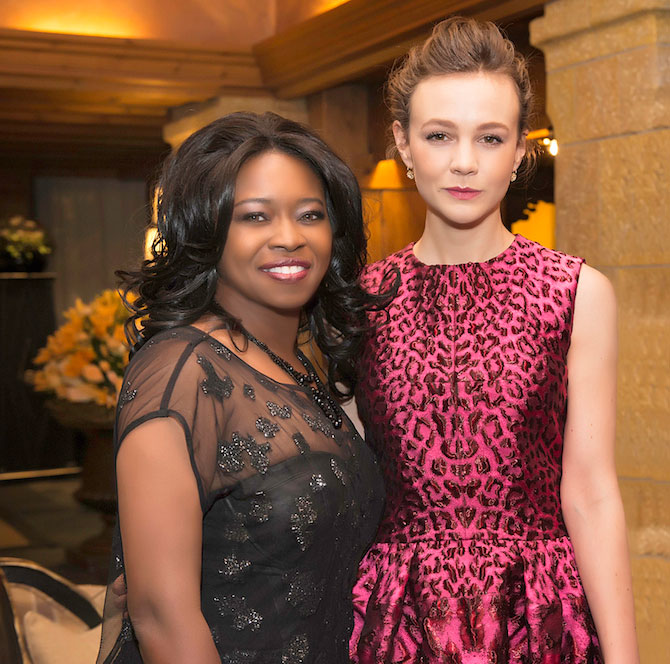 The Gstaad Royal Palace was the cozy and majestic backdrop for the 10th Anniversary of A Small World charity gala benefiting War Child International. The event was hosted by actress Carey Mulligan and Patrick Liotard-Vogt, Chairman of the A Small World organization. While Mulligan stunned in Alexander McQueen, Taylor Re Lynn went full tilt uber glam in a jet black full length ensemble that was accented with sequined detail. The ladies chose to enhance their natural beauty using more neutral tones. Mulligan's skin looked flawless with her misty eyes and pursed pink burgundy lips punctuating her sartorial splendor. Lynn brought subdued va va voom to her makeup choice using a smoky eye shadow and brunette lip to complete her red carpet look. Taylor's secret to maintaining her fit, red carpet look is detailed below.
What she has to say about Dieting
Staying red carpet ready can be an intimidating task for most, but dieting is not the answer, she says.
"I try to maintain a healthy lifestyle in general. Most people that diet end up gaining the weight back after a period of time. So for me it is more important to have a balanced lifestyle of diet and exercise."
Staying active and participating in activities that are fun and burn calories are the best ways to help burn calories and maintain a fit lifestyle, Taylor believes.
Taylor's Workout
Since Taylor loves jogging and going to the gym, these activities help her stay in shape. She normally jogs 4-5 times a week to maintain good cardio endurance. Her exercise routine is complemented with weight training using light to moderate weights to build and maintain a toned physique.
For those days that Taylor wants a rest from jogging, walking is her favorite pastime. Taylor says that walking is an ideal exercise for weight loss because it doesn't require any equipment, other than comfortable walking shoes, and moreover, you don't need a gym membership to do it. It is also low-impact, which means it won't blow out your knees or cause other stress injuries that can leave you sidelined for weeks or even months. She finds walking an effective, low-intensity weight loss activity that can lead to better overall health, as well as better mental well being.
"I have some of my best brainstorming and ideas on brisk walking days," Taylor said.
"As the weeks go on, you can push yourself to run further and for a longer period of time. If you ran 20 minutes for the first week, push yourself to do 40 for the second week. Make it 50 the third week and so on."
By challenging yourself, Taylor believes you will find that you are able to go much longer and further than before. Your speed is not important, but the fact that you are active and burning calories is the key to success overall.
Taylor's Beauty Secrets
Stay out of the sun, which can cause skin damage and the appearance of early aging over time. If Taylor is going to be out in the sun, she makes sure to use sunscreen. Taylor uses a face cream that is made of Vitamin E, Collagen, Elastin and Shea butter, which helps in protecting the skin from excessive irritation and dryness. This moisturizer is a great help in retaining moisture in her skin and also in providing a perfect protective base.
Besides these beauty secrets, she recommends a proper diet with lots of vegetables, proteins, healthy fats and regular hydration for beautiful skin. Drinking lots of water helps to moisturize the skin and helps to delay aging.
Taylor's Suggestion
Her suggestion for all women is to participate in activities that you love and are passionate about in life. This will help you stay focused on them and active while maintaining a healthy lifestyle. There is no need to diet and deprive your body from healthy food. Maintain a balanced approach to healthy living and you will come out as a winner in the end.
For more information on the charity War Child International, visit www.warchild.org