Why Sponsor HealthyCeleb.com
HealthyCeleb.com keeps their users updated mainly about the celebrities diet plan, workout routine and statistics (Height, Weight, Trivia and other related information). So, if you want to improve your business sales and brand awareness, then, HealthyCeleb.com is right for you.
If you like HealthyCeleb.com and and want some advertising means, then you don't have to worry as this site is suitable for advertising and will help reach to the audience better.
---
HealthyCeleb.com Traffic Stats
These stats are of 1 month of November, 2013 (Source – Google Analytics)
Unique Visitors – 1,000,000+
Pageviews – 2,400,000+
Pages / Visit – 1.96
Healthyceleb.com receives 83% organic traffic.
Take a look at HealthyCeleb.com Visitors (Country wise) (Source – Google Analytics)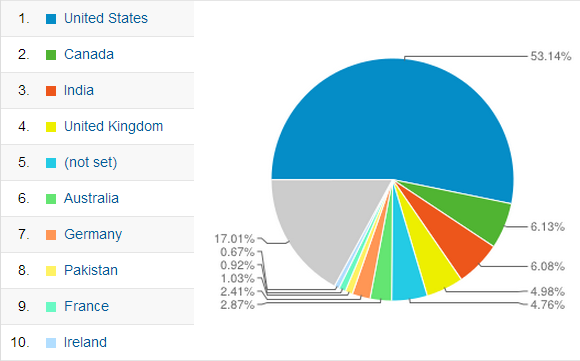 Payment
We accept payment via Paypal, Check and eCheck. All prices will be in US Dollars. All campaigns for banners, image ads are monthly subscriptions. If you require any other information, you can contact us. To make a payment, you can contact us via contact form or email us at the email ids listed in that page.
Please Note
You will get 100% impressions of your ad on this website. This means that your ad will appear on all the webpages on this website.
We do not encourage audio ads.
Campaign Packages
Display Adverts – HealthyCeleb.com is suitable for any ad size for display advertising. You can place ads Above the Fold  in the form of website header, in the sidebar, before the article and Below the Fold like within the article content, end of the article, sidebar are some examples.
Text links - Text links (with nofollow links) are also accepted.
Profile Featuring – If you are new to the show business and want some real exposure, then you are welcomed to showcase your profile here in the STATISTICS section of the website.
Contact Us for more details and prices.