Oscar winning, True Blood's Anna Paquin has got sexier and hotter post pregnancy. Having become the proud mum of twin kids in 2012, Anna was back in shape within couple of months, and now her toned body makes it hard to believe, that she is a mother of two kids.
The doting mum is indeed multitasking, as she often goes to beach-side for jogging, while dragging the stroller having her twins. The brisk mum's double jogging with stroller is indeed incredible, and is not everyone's cup of tea.
What Inspires Anna Paquin?
Married to her co-star in True Blood, Stephen Moyer, Anna gives a lot of intimate love scenes in the TV serial. Often seen flaunting her flat stomach abs, toned arms and shoulders in the bare scenes in True Blood, Anna shares that stripped scenes, actually inspires her to be in shape.
You might not believe it, but stripped shoots in the TV serial keeps the star full of beans, driven towards staying fit, and in perfect shape. She shares, when you know it, that you have to appear in minimum clothes in front of millions of people on TV, it's a strong factor to strengthen your will power.
She asserts, when your role in movies or serials demand to see you in extra short shorts and bikini tops, you have no other option, but to get in perfect shape. And that is the secret behind her svelte shape.
Anna Paquin Definition of Being Healthy
Differentiating the feeling of looking healthy and actually healthy from inside, Anna feels elated at times, thinking about her healthy body. To her, having a slender and slim body is not the correct definition of a healthy body. A healthy body not only looks good, but also has a lot of core-strength, stamina and endurance.
Sharing her ideas about workout failures of people, she says, numerous people start workouts with a lot of enthusiasm, but they end up leaving it without attaining their goals, because they compel them too hard to take workouts.
Even when they don't feel enthused and motivated from inside to do workouts, they still practice them, which gradually kills their spark, and they end up leaving them getting disappointed.
Anna Paquin Workout Routine
Inspired and motivated from within, she hits gyms, even when she is too tired to hit gyms, and practices workouts till she is completely shattered, or someone watching her warns her to stop. Hard work and persistence being the keys of success to her, she always keeps in high spirits.
Trained with high performance course of workouts in New York, Anna loves to do Pilates. Though she is kind of obsessed with Pilates, but she really do feel, Pilates is not a full body workout.
Having got gymnastics guidance right from her childhood, Anna practices a lot of gymnastics in her workouts. Her personal trainer, Clay Burwell has all the words of admiration for the resilient star, having prodigious endurance and stamina.
Anna Paquin and Portion Workouts
Apprehending the importance of portion workouts, Anna's workouts are specific and targeted to tone and sculpt various body parts. Applying resistance training and body-weight exercises in her workouts, the brunette's workouts are focused on different parts of body. She is mainly inclined towards toning her arms, shoulders, stomach, legs and butts.
Whereas resistance training is her way to exhaust her body to the fullest, body-weight exercises are meant to target various body parts. Running, swimming, biking and boxing are some of her routine workouts, meant for cardio workouts.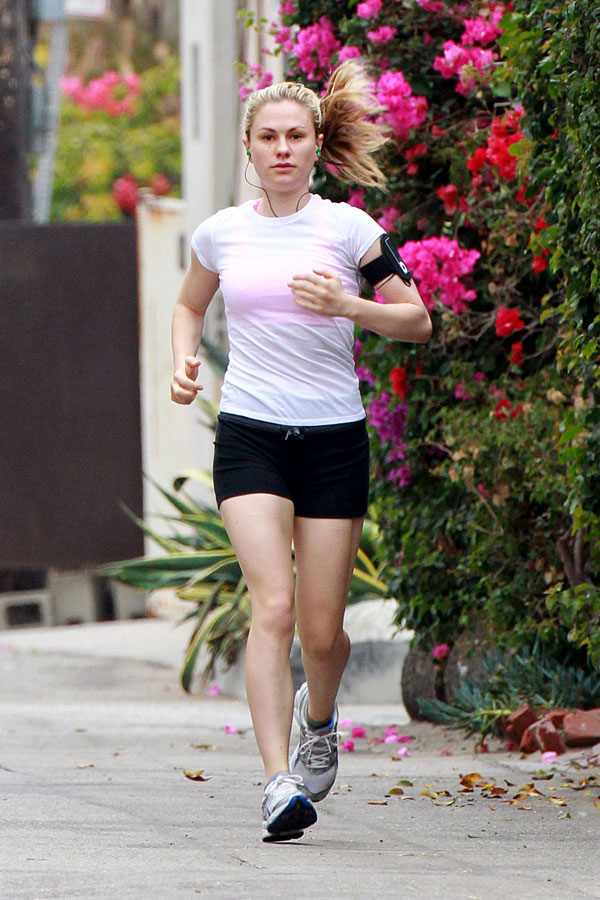 Taking boxing as an adventurous and thrilling sport, she really enjoys various routines of boxing, such as punching bag and hitting mitts. Apart from these cardio-workouts, she does rope jumping and yoga to stretch her body.
Anna Paquin Diet Regime
The thought of bikini scenes is all over the gorgeous lady, as she takes her diet also, keeping in mind her next day's nude shoots. To her, healthy diet is as important as workouts are. They both complement each other, and one is incomplete without another.
Refraining from fast food, black coffee, tea, unhealthy snacks and desserts, the star inculcates plenty of fruits and veggies in her diet, and drinks ample water. She doesn't like the idea of crash diet and having restricted food only. She is in the favor of selected, healthy and nutritious food items, which can nourish her body.