There are some days when we need an extra push to workout. Sometimes, the bed is too warm or cozy or there is that next episode of 'Games of Thrones,' which is difficult to ignore. Or sometimes, we are plain lazy.
So, to give you an extra push to get your butt off the couch, today we are going to combine the world of gaming, apps and fitness to take working out to a whole new level. The fitness apps listed in this article will bring their own brand of unique fun to your workout routine that might have become a bit dull due to repetitive exercises.
Running is considered by many a dull, boring and old fashioned workout routine. In the age, where the main objective is instant results, running, which takes time to deliver and then, also falls well behind in terms of producing eye-catching results is not an ideal type of routine. To put it simply, people prefer to slug out an hour in the gym, which could help them build impressive muscles instead of going for a long run. And, it is dull and monotonous.
However, you can break the monotony of running and make it a fun routine with 'Zombies, Run!' App. The revolutionary app, which is developed by Adrian Hon at his company, Six to Start, in collaboration with writer Naomi Alderman combines audiobook storytelling with exercise. The excellent narrative of the app will keep you itching for one more session.
In the app, you are Runner 5, one of the few survivors of the zombie apocalypse that has destroyed the majority of population. To earn your keep, you will have to join survivors from the camps around Abel Township and go out on regular expeditions. The mission objectives, which are explained to you through audio recordings include gathering information, supplies and discovering secrets that would help tackle the mysterious zombie outbreak.
The background story of the app is highly engrossing and has several variations in missions to keep you hooked. You also get a chance to participate in zombie chase sequences, in which you would have to run faster in order to escape the undead chasing you. The opportunity to run at different speed and tempo helps you get a good interval training session.
The points you win for the completion of various missions can be used to build and grow the Abel Township base camp. You can repair fortifications, upgrade hospital or improve other facilities. Also, using the ZombieLink, you can see your running route and track your pace.
There are several other features in the app that makes running extremely fun. If you don't want to run for your health and fitness, then run from the Zombies. You can download it for $1.99 from App Store and Google Play Store.
It's ok, if those zombies doesn't work for you. Nor, if does some burly and muscled instructor shouting insults and instructions. We understand it. Motivation methods vary from person to person. So, does the creators of Burn 'Your Fat with Me.' The app uses Moévation to get you going. Moé is a Japanese term used to describe "that special, heart-melting feeling you get when you see an adorable female character." The super cute anime characters in the app will cheer, inspire and cajole you to work harder in the gym.
The app is a kind of virtual anime dating simulator in which you impress your date with your workout. You have to choose your training partner, who will workout along with you, will urge you on and will help you complete various inbuilt trials in the app. This app is more of a traditional Japanese visual novel than a game. But, that doesn't mean, it is not fun and addictive. The app uses the workout progress to move the story ahead.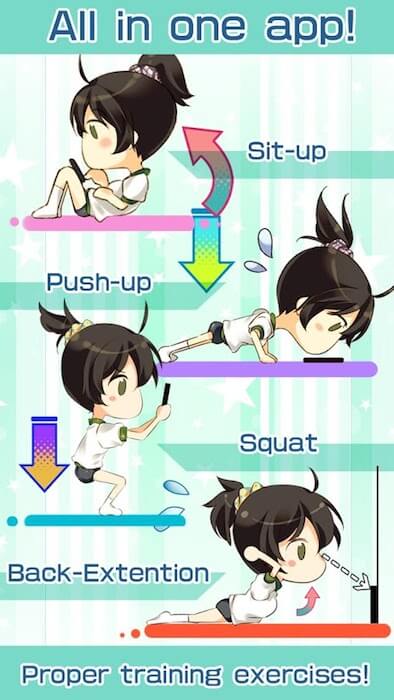 As you progress through the initial sit-up regime, you get points to unlock new chapters and characters of the story. Also, as you progress, you get other training challenges such as pushups. The app is loaded with content, featuring 800 voiced lines of dialogue with 15 episodes that increase in training difficulty, which means you won't get bored any soon.
'Burn Your Fat With Me' is available on the App Store and Google Play Store for $1.99.
'Superhero Workout' is another wonderful app from Six to Start, the same team which created the 'Zombies, Run!' In this app, you have to save the world with your Iron Man type suit. In terms of workout, the app contains several 7 minute type workouts that train your various body parts and overall body as well.
The gaming narrative of the app tells you that you have to protect the world against invasion using the unique mech battle suit, the AEGIS One. The completion of various workout routines activates weapons, shields, and various other cool abilities, which will help you in saving the humanity from destruction.
In addition to cool gaming experience, this app also gives you several cool features such as motion tracking that counts your reps. To use this feature, set up your phone on a table and get in front of the front facing camera. The app will then automatically track your movements and will simultaneously display guide for how to properly do each exercise. You can even sync the app with Apple TV or Chromecast and watch the action on the big screen.
Superhero Workout is available on the App Store and on the Google Play Store for $2.99
'Nextrack,' which was earlier called 'Nexexercise' is completely different from the apps listed in this article. It doesn't provide any gaming experience neither it provides company of sweet training partner. It is a standard app that tracks your movement and rewards you with points for more exercise you do. Nothing special, right? Yes, there is. The points, you earn in the app are actually worth something.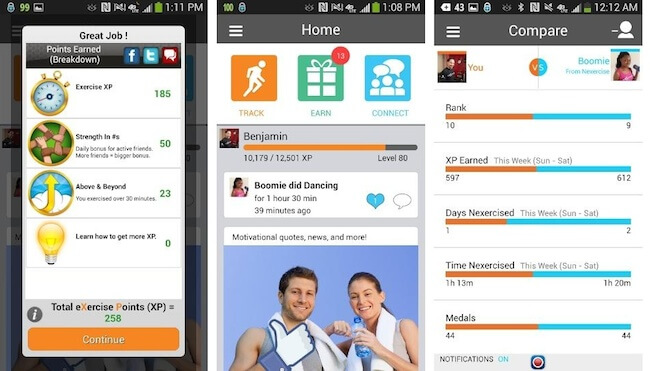 Didn't get what I am saying? You can use the points earned in the app to get gift cards from stores like Home Depot, Sephora, CVS, and others. So, if fitness gain wasn't enough to get you moving, then I am sure the materialistic gain would certainly help.
The app also allows you to share the points you have earned on various networking websites. You can compete with your family, friends and coworkers. This app has been featured on 'CBS,' The Doctors talk show as the best fitness tracker for weight loss.
Superhero Workout is available on the App Store and on the Google Play Store for $2.99
BattleSuit Runner Fitness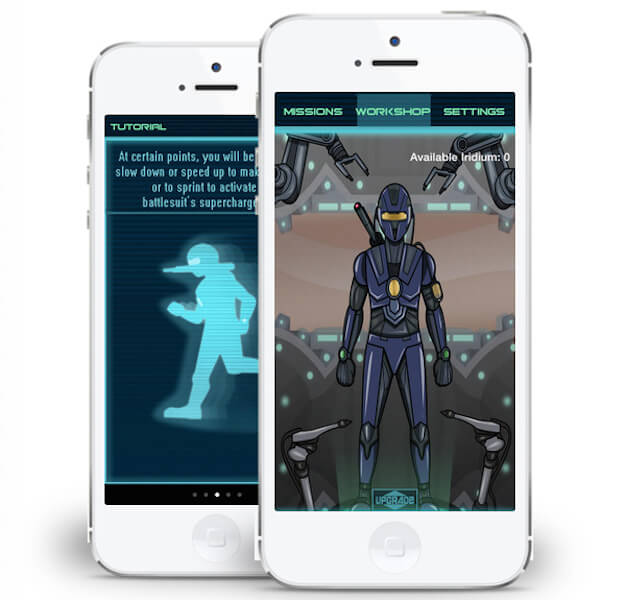 'BattleSuit Runner Fitness' is very similar to the 'Zombies, Run!' In this story based running app, instead of stopping hordes of undead, you will have to protect earth from an alien invasion. You will have to complete various running challenges to activate various features of your battle suit, which will help you fight against the alien invading force.
What sets it apart from the Zombies app is that this app gives you a choice to select the type of running, you want to do. At some part of your missions, you are given an option to take the hostages to safety by slowing down or to chase the enemy by speeding up. The different choices lead to different conclusions, thus increasing the variety in the game.
In the game, you will also have to face aliens in combat. And, your success depends on how much you have upgraded your suit. The suit can be upgraded using 'iridium,' which is a type of currency used in the game. This currency can be earned for free by completing various missions or by using the real money. Either way, it is fun.
Though there is nothing special about the app design and interface, but the auto narrated missions are very interesting and the variation in them will surely hold your attention. Battleship Runner Fitness is available for $0.99 at the Google Play Store.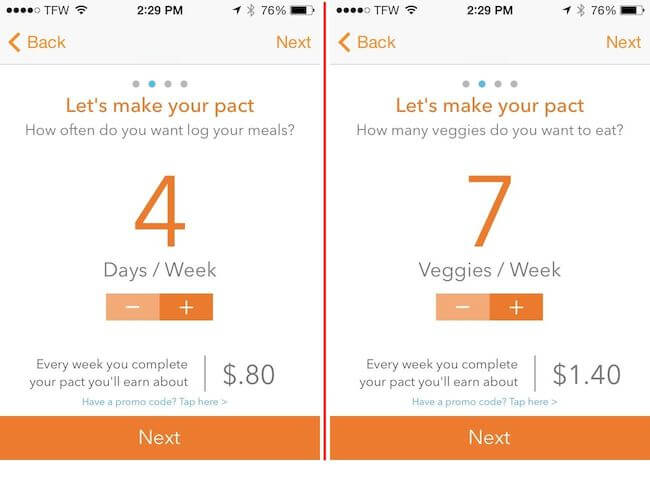 Pact is a completely new and unique concept that helps you lose weight and achieve other fitness related goals by using social networking. The app allows you to make pacts with other users for working out and achieving healthy eating goals. What makes these pacts even more interesting is that real-life money betting is involved. If you stick to your routine and achieve your goals, then you get paid. However, if you fail, then you will have to pay other users who have remained committed.
There are three kinds of pacts available in the app – food, gym, and veggie. For the food pact, you will have to log your daily intake using the excellent MyFitnessPal app, which now syncs directly with Pact. For the veggie pact, you have to set a goal to eat a certain amount of fruits and vegetables per week. To prevent cheating, the app has made it mandatory to snap a photo with your phone of every serving.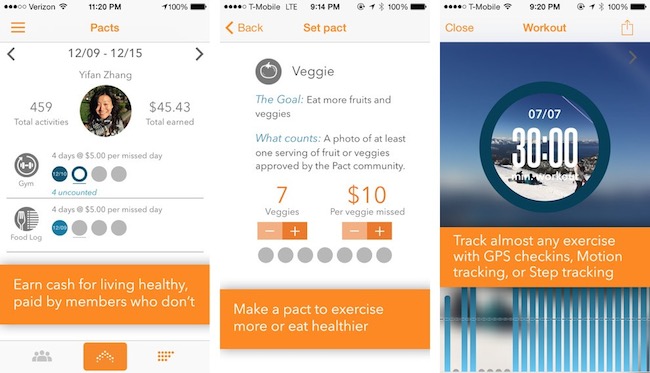 Lastly, the fitness pact works by giving you credit for trips to the gym, bike rides of at least 30 minutes, daily steps count of at least 10,000, and other such things. The app allows automated logging by syncing it with apps like RunKeeper and fitness trackers like the Jawbone Up.
The cash incentive has clearly worked for many Pact users. According to the statistics, the app has helped around 95% of its users to achieve their health goals. This app is available for free at Google Play Store.