Few people reach a point in life, where they do not feel the need to escape their current situation and can honestly talk fearlessly about all their failings in life. Davina McCall seems to have found herself that secure spot of success being the most relatable and popular presenter on British television. An enthusiastic advocate of fitness, she has released eleven supremely successful exercise DVDs in the last ten years.
Just as in the case of most other people, Davina had to earn her long list of accomplishments through the conventional route of tireless hard work. What still sustains her nation-wide popularity with the people of Britain is her humility and never fading eagerness to come back to work with her best foot forward. Over the years, while juggling the delicate balance between work and family life, she figured that a sincere commitment to fitness is one of the very few parameters that guarantee a rich and fulfilling life. The following nuggets of wisdom provide an insight into her journey.
Journey to Success is always messy in the middle!
Since the age of 19, Davina struggled for many years to make it big as a singer, which, somehow never came to fruition. Constant professional letdowns led her to take up parallel, practical jobs to support herself. She worked as a booker in a modeling agency, tried to run a restaurant for two years followed by a brief stint as a cabaret dancer in Paris, only to come back to London to work as a nightclub host. The struggle even got her hooked on to drugs.
It was not until she decided to get 'clean' and quit smoking and drinking completely that she had a career breakthrough to earn her first TV show with MTV. Her fame as a presenter took to new heights since the year 2000, when she started hosting the reality show, 'Big Brother' and continued to do so for ten successful seasons.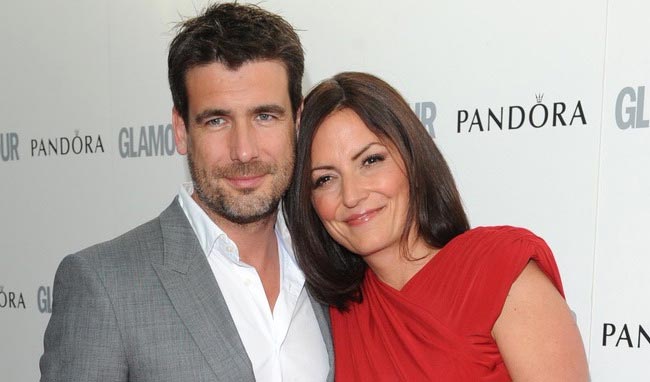 Do not be an escapist, confront and accept disappointments to get over them faster
Davina had a difficult childhood coming from a broken home. Her parents divorced when she was three. Her mother not having any maternal inclinations and being more of a reckless party person often left Davina and her older sister craving for her affection that usually remained unfulfilled.
Davina's ambitions were often rooted to gain her mother's attention as well. However, ever since she found the security of having a family of her own, her commitment to a balanced, healthy lifestyle has only grown stronger that her mother was unable to manifest for herself.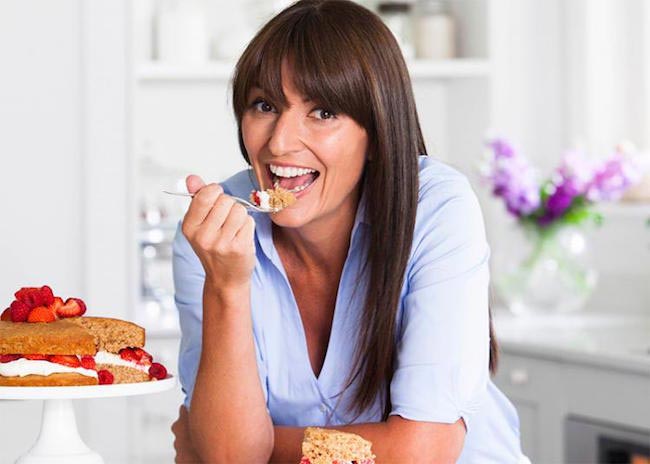 When McCall turned 46, she lost her older sister to cancer. While battling the disease, the doctors recommended giving up processed sugar as part of her sister's diet. Davina willingly took up the same challenge alongside, in support of her sister. Although the change failed to save her only sibling, eliminating sugar from her daily diet is yet another commitment that she has not let go of ever since. In fact, after intense discussions with nutritionists, she even penned a book on it that explains how it usually takes five weeks to wean oneself off sugar, further adding that sugar tends to be as addictive for her as much as anybody else.
Sample wholesome meal plans, the kind cooked for her husband and three kids are available on this link. Though she treats her family frequently with desserts, the only sweeteners used for their preparation are honey and organic maple syrup.
Getting uncomfortable is the only way to grow as a person
Having built a strong foundation in strength and stamina, Davina often takes the initiative to test her limits. In February 2014, she took up an immensely demanding challenge of seven days of running, swimming and cycling across UK to raise money for a British charity, Sports Relief. Five hours in and she nearly wanted to quit. Though the cameras showed her breaking down quite frequently, there were several moments McCall surprised herself with her own athleticism and claimed to feel amazing.
The strenuous event might have grilled her both mentally and physically yet she managed to raise nearly 2.3 million pounds!
Train with a clear outcome in your mind
People often inquire from her trainers how to get a body like McCall's, as she continues to get leaner and stronger despite her age. One of her trainers, Greg Whyte explained that her body is a direct result of the wide range of physical movements and skills she has mastered over the years and the simultaneous upsurge in her determination with every accomplished goal. She often participates in sports charity events and alters her training accordingly from very high intensity to long duration, low intensity.
The following video is a glimpse into the workout design of her most recent DVD, 7-minute fit:
When unable to get to the nearest gym, Davina winds up exercising to her DVDs in the living room. Most of them are time efficient choreography of upper body, lower body and core strength exercises with quick, cardio burst moves incorporated in between.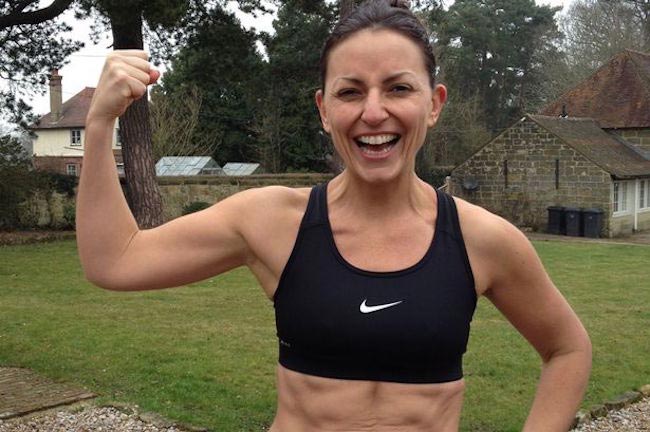 Davina's top tips for those struggling with fitness
Exercise with full attention
You may start with a workout slot as small as fifteen minutes a day, but your effort needs to be every bit sincere. Put your phone aside and shut your mind to outside distractions. Your body deserves this much.
Get fit one small change at a time
Make a commitment to some form of physical activity first before you start eliminating comfort foods that you use as an emotional crutch. Put that thought of going on a crash diet aside. If possible, Davina recommends exercising first thing in the morning, since it serves as a healthy motivation to eat clean for the rest of the day to prevent undoing one's early morning hard work.
Eventually, we all outgrow our beginner weights. When you stop feeling any burn or effort on the usual exercises, it is the time to change something. Do not let plateaus regress you back to your old patterns. Increase the repetitions with light weights until your muscles beg for mercy or tweak the exercise order to create lower rest period in between exercises. If your form and technique is on point, it is time to start lifting heavy to make some serious gains in strength!