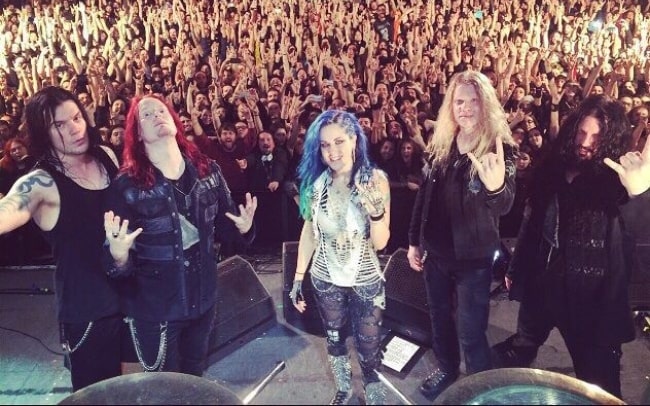 Arch Enemy is a Swedish melodic death metal band which includes guitarist Michael Amott, vocalist Alissa White-Gluz, drummer Daniel Erlandsson, bassist Sharlee D'Angelo, and multi-instrumentalist Jeff Loomis. Some of the albums released by the group are Anthems of Rebellion, Wages of Sin, Manifesto of Arch Enemy, The Root of All Evil, Black Earth, and Rise of the Tyrant.
Members
Past Members
Nick Cordle
Angela Gossow
Christopher Amott
Fredrik Åkesson
Martin Bengtsson
Peter Wildoer
Johan Liiva
Origin
Halmstad, Halland County, Sweden
Genres
Melodic Death Metal
Labels
Century Media Records, Wrong Again
Formation Year
1995
Singing Portfolio
Arch Enemy released its first studio album, Black Earth, on December 12, 1996, and it was well-received by the audience as well as the critics, one of whom cited, "Black Earth is a solid outing of melodic death metal with each member in fine form".
On September 8, 2017, the group released its 10th studio album, Will to Power, which was ranked at number #40 in the "100 Best Albums of 2017" list issued by Metal Hammer magazine. Also, the album was ranked at number #2 in the Finnish Albums (Suomen virallinen lista) chart, at number #3 in the German Albums (Offizielle Top 100) chart as well as the US Top Hard Rock Albums (Billboard) chart, and at number #15 in the US Top Rock Albums (Billboard) chart.
Arch Enemy Facts
Originally, it was a supergroup comprised of members who were in bands like Carcass, Armageddon, Carnage, Mercyful Fate, Spiritual Beggars, The Agonist, Nevermore, and Eucharist.
Some of Arch Enemy's influences include Iron Maiden, Judas Priest, Black Sabbath, Manowar, Metallica, Megadeth, Slayer, Testament, Pantera, Death, Obituary, Carcass, Mercyful Fate, and King Diamond.
Arch Enemy has also accrued an impressive fan base on social media and enjoys more than 2 million followers on Facebook, more than 800k followers on Instagram, more than 500k followers on Twitter, and more than 150k subscribers on YouTube.
Featured Image by Mickthompso7 / Wikimedia / CC BY-SA 4.0