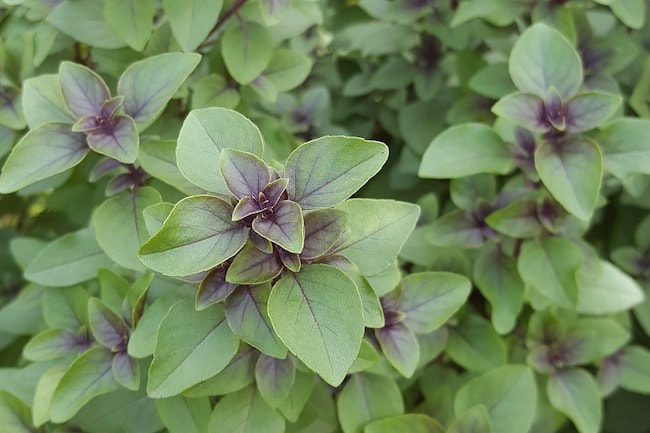 Tulsi or holy basil is an easy to grow herb widely found in the Indian subcontinent. Tulsi is a revered plant in Hinduism and is considered sacred because this humble herb comes with tons of benefits.
Types of Tulsi
There are three types of tulsi plants –
1. Rama Tulsi or the Green Leaf Tulsi
This green tulsi plant comes with purple flowers and has an aromatic scent similar to that of cloves. It also has a milder flavor than other variants.
2. Krishna Tulsi or the Purple Leaf Tulsi
Similar to Rama Tulsi, this purple plant also has a clove-like aroma and a peppery flavor.
3. Vana Tulsi or Wild Leaf Tulsi
This tulsi plant has bright, light green leaves, distinguished by its lemony scent and flavor. It grows in the wild and is indigenous to many Asian and East African areas.
Health Benefits of Tulsi
Of all the tulsi plant types, the Krishna tulsi offers the most health benefits. This wild leaf tulsi has the least potency but is often mixed with other tulsi plants to make the taste more flavorful. Its bitter taste is also one of the reasons why it is often used as a supplement in the pill form such as Gaia herbs and others.
In the practice of Ayurveda, tulsi is used for the treatment of –
Upper respiratory tract illnesses such as asthma, sinusitis, sore throat, bronchitis, and colds
Skin diseases and insect bites
Headaches and earaches
Hypertension and high cholesterol levels
Gastric disorders such as cramping, indigestion, and intestinal parasites
Joint pain and rheumatoid arthritis
Cancer
Malaria
Kidney stones
Several studies support that tulsi can also be used for –
Stress reduction
Reducing the frequency and intensity of asthma attacks
Preventing inflammation
Reducing free radicals
Modulating immune response
Hepatic protection (it is proven to be safe to take while receiving chemotherapy)
According to the Journal of Ayurveda and Integrative Medicine, tulsi has higher antidepressant and anti-anxiety properties compared with diazepam and other antidepressant drugs. One study even found people who had 500 mg of tulsi extract felt more friendly, less anxious, and less stressed.
Note that some studies also found tulsi to lower fertility significantly. Those who want to get pregnant are advised not to take tulsi in large amounts.
Every part of a tulsi plant has health benefits. From its oil to its seeds, it has tons of perks. For instance, when you need to treat bronchitis, use its fresh flowers. For malaria, you can use the leaves and seeds together with black pepper. If you are suffering from diarrhea or nausea and vomiting, you can use the whole plant. Insect bites and eczema can be relieved by using the ointment or essential oils.
Consuming Tulsi as a Tea
One of the best ways to take tulsi is in the form of tea or as a herbal infusion. It is easy to prepare. To make a tea out of tulsi, start by boiling a cup of water. You can use fresh leaves, dried tulsi leaves, or tulsi powder. Let it soak for about 30 minutes to maximize its healing benefits. When thoroughly soaked, take out the leaves and enjoy. You may choose to add honey for a little sweetness. You can consume the tea at night since it does not contain caffeine. You may have it up to 6 times a day.
Tulsi is sacred for a reason. Many people take it because it is an inexpensive way of treating significant illnesses. Some Ayurveda practitioners recommend taking it in tea form as the act of drinking tea contributes to calming the nerves. It helps in clearing the mind of stress, aiding in relaxation, and contributing to an overall sense of well-being. Don't let the bitter taste discourage you. It is a lot easier to swallow than a hefty hospital bill.