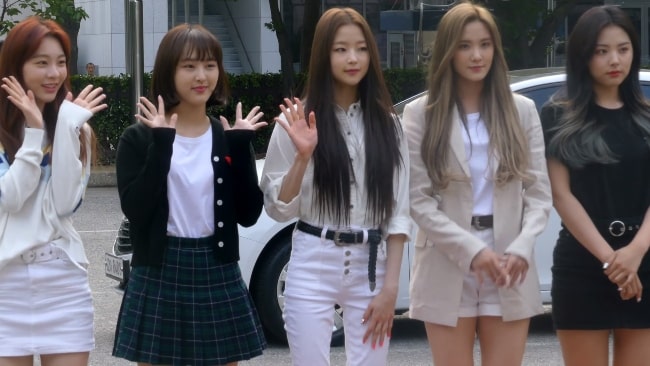 Bvndit is a South Korean K-pop girl group that was put together by MNH Entertainment in 2019. The group mostly includes an extraordinary mix of dance and music while performing, hence, keeping wide audiences engulfed in their songs.
Members
Origin
South Korea
Genres
K-Pop
Labels
MNH Entertainment
Formation Date
2019
Singing Portfolio
Bvndit's music consists of an amazing mix of Korean pop music with dance. Along with that, their tracks also include a considerable amount of rap to them.
Bvndit Facts
The group was brought to life in 2019.
They released their first single album titled Bvndit, Be Ambitious! on April 10, 2019. The album consists of 3 tracks in total – Be Ambitious!, Hocus Pocus, and My Error.
The first official release on the group was titled Hocus Pocus which was released on April 10, 2019. This is the lead track of the single album Bvndit, Be Ambitious!.
Bvndit made its first official stage appearance at the M Countdown on April 11, 2019.
On May 15, 2019, Bvndit released its 2nd digital single titled Dramatic.
They released their debut EP titled BE! on November 5, 2019.
As a part of MNH Entertainment's new music project which is called New.wav, Bvndit's digital single Cool was released on February 6, 2020.
Vocalist and rapper Yiyeon is the face of the group.
Bvndit has released a number of singles including Children and Dumb.
They have been nominated for several awards including the Genie Music Award's category for "The Top Artist" and "Global Popularity Award" as well as Mnet Asian Music Awards category for "Artist of the Year" and "Worldwide Fans' Choice Top 10".
The band had close to 100k subscribers in April 2020, on their official music YouTube channel.
The most-watched videos on their YouTube channel as of early May 2020, were BVNDIT(밴디트) – "Dumb" Dance Practice, BVNDIT(밴디트) – "Bishop Briggs – River" Dance Performance, BVNDIT(밴디트) – "Cool" Performance Video, and BVNDIT(밴디트) – "BE! + Dumb" Performance Video.
The girl group is stylized as BVNDIT.
Featured Image By M Countdown Studio / Instagram