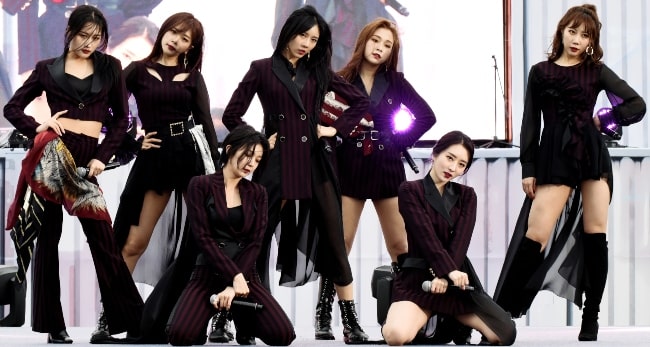 Dreamcatcher is a South Korean K-pop girl group that was formed by Happy Face Entertainment. It consists of 7 members in total, Jiu, Sua, Siyeon, Handong, Yoohyeon, Dami, and Gahyeon. They have released a number of albums, EP's, and singles that have gotten them the success they thrive in today.
Members
Origin
Seoul, South Korea
Genres
K-Pop, Rock, R&B
Labels
Dreamcatcher Company, Pony Canyon
Formation Date
2017
First Tour
On August 1, 2017, Happy Face Entertainment had announced the girl group's first international tour which was held in February 2018. Dreamcatcher had performed in London (February 14), Lisbon (February 16), Madrid (February 18), Amsterdam (February 21), Berlin (February 22), Warsaw (February 23), and Paris (February 25).
Singing Portfolio
As they are known as one of South Korea most prominent girl groups, they have released a number of hit albums, single albums, EP's, and singles such as The Beginning of the End (2019), Prequel (2017), Why Did You Come to My Home (2014), Nightmare (2017), and What (2018).
Dreamcatcher Facts
Initially, the band was formed under the title MINX that included only 5 members at the time and they were Jiu, Sua, Siyeon, Yoohyeon, and Dami.
On September 18, 2014, the girl group released their first single titled Why Did You Come to My Home? under the group name MINX.
In November 2016, it was announced that MINX would be reintroduced under the title Dreamcatcher with an addition of 2 new members. The new members were Gahyeon and Handong.
The Korean named for Dreamcatcher is 드림캐쳐.
On January 13, 2017, the girl group released their first single album as Dreamcatcher which was titled Nightmare. It was compiled of 4 tracks Welcome to Dream (Intro), Chase Me, Emotion, and an instrumental version of Chase Me.
They made their debut stage performance at M Countdown on January 19, 2017.
On April 5, 2017, the Dreamcatcher released their 2nd single album titled Fall Asleep in the Mirror. It was their first album to receive #5 on the Billboard World Albums Chart as well as peaked at #1 on the US iTunes K-Pop Top 100 Chart.
They released their first extended play on July 27, 2017, which was titled Prequel.
On October 3, 2017, it was announced that the girls were going to join the show Mix Nine in order for people to see what they were capable of individually. However, 2 months later in December, it was announced that Jiu, Siyeon, Yoohyeon, and Dami would not be competing in it.
There was an announcement of a fan meeting to commemorate the first anniversary of Dreamcatcher on January 13, 2018. On January 2, 2018, 400 tickets that were kept for the public were sold out in less than a minute. The fan meeting was held at the Mary Hall Grand Theatre at Sogang University.
In 2018, they were presented with the Keum Yeong Star Award for "Promising Idol".
The hit tracks Chase Me and Good Night were composed by Ollounder(오종훈) and LEEZ(이수민).
On January 12, 2018, they debuted with the first digital track titled Full Moon. It was an instant success for them and was ranked on iTunes Top 100 K-Pop chart globally as well as successfully managed to attain a #16 on the Billboard World Digital Song Sales chart.
Their fandom name is InSomnia.
They released their first studio album titled The Beginning of the End on September 11, 2019. It consisted of 11 songs in total that included Breaking Out, My Way ~Kono Michi no Saki e~ (My Way~この道の先へ~), Chase Me (Japanese), Good Night (Japanese), Wonderland (Japanese), Piri ~Fue wo Fuke~ (Japanese) (笛を吹け), What (Japanese), I Miss You, and You and I (Japanese).
In September 2023, they released the English-language version of their song BONVOYAGE.
Featured Image by Explicit / Wikimedia / CC BY-SA 4.0