American actor-model of French origin, Gilles Marini has an unforgettable face and personality.
After appearing in several television commercials and print ads for companies like Budweiser, Clairol, Coca-Cola, Ross, Chrysler, Fila, GNC, Infiniti, Mervyn's, Avon, Lord and Taylor, and Robinsons-May, Gilles was noticed worldwide for a small steamy role in Sex and the City: The Movie (2008), which landed him a spot on Dancing with the Stars – Season 8 (2009) that further earned him a place on the acclaimed TV series Brothers & Sisters (2009 – 2011).
Gilles discloses that looks contribute only ten percent to your success.
He made an appearance on several prime time TV shows thereafter. His commitment to his characters often compels the producers to convert his episodic appearances to a recurring presence to sometimes even series regular. Despite his good looks and charisma, Giles stays completely grounded and fulfills every little job he gets to the best of his ability.
In 2017, he will make a fleeting appearance in the TV series Switched at Birth. He plays the lead in fantasy thriller Serah (2017) and also has a supporting role in A Little Something for Your Birthday (2017) alongside Famke Janssen and Sharon Stone.
Marini became a US citizen in 2012, but his journey as an immigrant spans nearly two decades of slow yet steady dedication to survive as an actor. The following facts about Gilles show a remarkable strength of character. Read on to find out what makes his life so inspirational.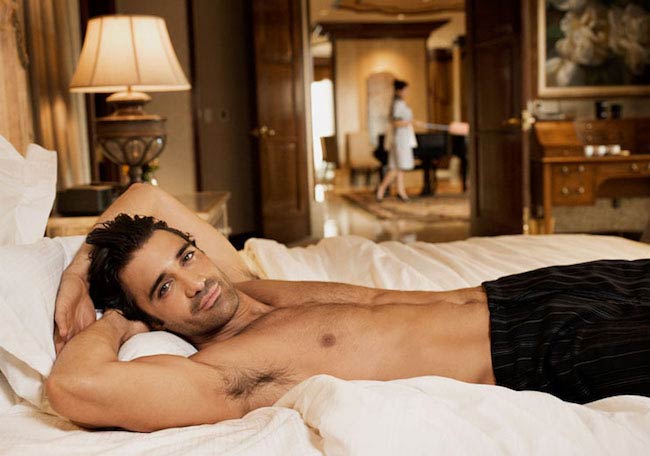 He started working at 7!
Gilles' father was a pastry chef who worked 15 hours a day and ever since he could remember, Gilles was there working alongside him. He was 19 when he lost his father to cancer. Though devastated by his untimely demise, Gilles was also motivated to stay true to his father's values while pursuing his passion.
He enrolled in the army in his late teens which armed Gilles with the discipline to power through the struggle he was to go through in the future. During his service, Gilles was designated to serve as a firefighter. He faced so many difficult drills that eventually he developed a phobia of heights.
Amid these testing times, Gilles came across a photographer who helped him get a few modeling gigs that eventually made him realize that relocating to the United States might offer the best platform to pursue modeling and acting full time.
He could not speak a word of English when he came to America!
With only 460 dollars in his pocket, Gilles had no plan B in case, he failed to make it as an actor. While studying in high school, Gilles' English teacher found his language learning ability completely hopeless. She predicted he will never be able to speak English. Gilles admitted that he struggled to utter a word when he relocated to U.S. looking for work.
Relentless as ever, he not only learned the language but happily took up blue-collar jobs in between modeling gigs until he was financially strong enough to relocate and settle in Los Angeles, California along with his entire family.
Miami in Florida was his preferred city to arrive at first in the United States because he presumed if he was not able to afford a place to stay, the weather there is warm enough to sleep on the beach at night. However, he confessed in an interview that even working three different jobs in Miami did not feel as hard as the life he had back home in France between the age of 6 and 21.
He got his wife pregnant a month after meeting her and has never been with any other woman ever since.
Gilles grew up in a region of the French Riviera which is although very affluent at present but was overcast with drugs and violence when he was growing up. His current wife was born and brought up in a similar adjoining neighborhood.
He developed an instant connection with her while having a conversation by the sea as they both found emotional support in each other as survivors battling to keep themselves safe from dangerous influences.
Gilles gives absolute credit to having a family and a stable relationship for the motivation to take both risks and decisions that contribute to the success he achieved so far. He became a co-owner for a restaurant for additional professional security and stretched his financial budget as much as he could to negotiate a deal to gift his wife the house in Los Angeles that she fell in love with.
He tore his rotator cuff the first day of rehearsal during Dancing with the Stars Season 8, yet won the runners up spot!
To add to that, Giles had never danced in his life before he got a chance to be on the show. Grateful for every opportunity that comes his way, he refuses to give in to discouraging circumstances and quit. He pushed through his pain and rehearsed the choreography he got 8-9 hours a day.
Gilles has never smoked a cigarette in his life and claims he never will!      
Teens commonly used heroin in the region where Gilles was brought up. His father often offered free food to drug addicts at his bakery and taught Gilles the value of compassion. But he also got to witness, up close, how addiction to drugs throws people into a helpless trap. He says it all starts with innocently smoking a cigarette which does not sound so bad. But soon, one would find himself smoking pot in the company of friends.
People who smoked pot in his area were required to sell it further to ensure a continuous supply for them. And one night if any of them would be passed out, somebody would inject heroin in them to get the person hooked on to it to ensure a constant demand for the drug. Sharing needles gave plenty of people AIDS. Seeing the dire situation hardened Gilles, and he vowed to protect himself from that evil influence.
Apart from working out regularly in the gym, he is a huge fan of playing soccer and claims Jiu-jitsu is the fountain of youth!                            
Being a close friend of Bellator MMA fighter Cheick Kongo and a follower of mixed martial arts, Gilles used to practice Muay-Thai and Kickboxing. However, he completely devoted himself to Jiu-jitsu and forgot about other combat forms as soon as he tried it. Gilles defines Jiu-jitsu as a game of physical chess that demands you to be mentally present compared to simply going through the motions in the gym.
At 41, he credits his agility to Jiu-jitsu which is safe enough to practice late in life even way beyond when one enters their 60s. He highly recommends Jiu-jitsu for young men and women explaining that dancing and boxing can potentially cause a lot more injuries. Engaging in mixed martial arts does not involve being a part of any carnage that people tend to associate MMA fighting with.
To lead by example, Gilles' son and daughter both learn Jiu-jitsu at the studio where he trains.