Ron McGovney Quick Info
Height
5 ft 10 in
Weight
72 kg
Date of Birth
November 2, 1962
Zodiac Sign
Scorpio
Spouse
Rene McGovney
Ron McGovney is an American musician and singer best known for the short time he spent as a bassist of the heavy metal band, Metallica, between October 1981 and December 1982. Before they were band members, he and James Hetfield used to be childhood friends, went to the same high school, and formed a band named Leather Charm together. The band practiced covers of new-wave British heavy metal songs and even wrote original material for a few months. However, the departure of some of the members led to the band's disbandment and Ron joined his friend James Hetfield, who formed a new band with a drummer, Lars Ulrich in October 1981 and named it Metallica. At the beginning of 1982, Dave Mustaine joined as well and the line-up started playing live gigs but also recording demo songs at his parents' demolished rental property. Two of the best-known demo songs recorded in Ron's garage includes Power Metal and No Life 'Til Leather.
A song he played bass for, Hit the Lights was featured on a compilation of music by unknown/underground bands in 1982, Metal Massacre Vol. 1 released under Metal Blade Records with the band's name listed as "Mettallica." After a lot of turmoil and clashing with Lars Ulrich and Dave Mustaine, Ron left Metallica on December 10, 1982, and was replaced by Cliff Burton. He sold most of his equipment and gave up on music until 1986 when a singer of a band Hirax, Katon W. De Pena persuaded him to form a thrash metal band, Phantasm. They never released a studio album, only demos, and disbanded in 1988. Despite having arguments with the members of Metallica, Ron performed live for the 30-year anniversary of the band on December 20, 2011, and played 2 songs. He also sang a cover of the song Cold Sweat by Thin Lizzy with Dave's other band, Megadeth on December 5, 2013, at an event in Charlotte, North Carolina, United States. Ron stated that he bore no resentment towards his former band members and realized he would've been a better fit as a road manager rather than a bassist.
Born Name
Ronald J. McGovney
Nick Name
Ron
Sun Sign
Scorpio
Born Place
Los Angeles, California, United States
Residence
North Carolina, United States
Nationality
Education
Ron attended Downey High School in Downey, Los Angeles, California, United States.
Occupation
Former Musician, Singer
Family
Father – Joseph Ray "Mack" McGovney
Mother – LaRae (née Houskeeper) McGovney
Others – Joseph Clifton McGovney (Paternal Grandfather), Matilda Catherine Simmons (Paternal Grandmother), James Edmond Houskeeper (Maternal Grandfather), Alice Elnora Vance (Maternal Grandmother), James McGovney (Paternal Great-Grandfather), Margaret Jane Metz (Paternal Great-Grandmother), Joel B. Simmons (Paternal Great-Grandfather), Clara Ellen Webb (Paternal Great-Grandmother), Thomas Jefferson Houskeeper (Maternal Great-Grandfather), Missouri Jane Owens (Maternal Great-Grandmother), George Harden Vance (Maternal Great-Grandfather), Mary Cashman Wakefield (Maternal Great-Grandmother)
Genre
Heavy Metal, Speed Metal, Thrash Metal
Instruments
Vocals, Bass Guitar
Labels
Metal Blade Records
Build
Slim
Height
5 ft 10 in or 178 cm
Weight
72 kg or 159 lbs
Girlfriend / Spouse
Ron McGovney has dated –
Rene (née Michele Norrod) McGovney – Ron is married to Rene, a passionate biker, chemist, real estate agent, and "a follower of Christ." Ron once stated that she owned a Kawasaki Versys 300 bike. He himself owned a Kawasaki KLX250, 2008 Harley Davidson Sportster, and a 2015 Kawasaki Vulcan S. They were 1st blessed with the birth of 2 sons, Tyler and Justin, and then of a daughter named Audrey. Justin attended Appalachian State University in Boone, North Carolina, United States, and had aspired to be a wrestler. In September 2018, Justin graduated from the wrestling camp created and led by Jimmy Valiant, a Hall of Fame wrestler.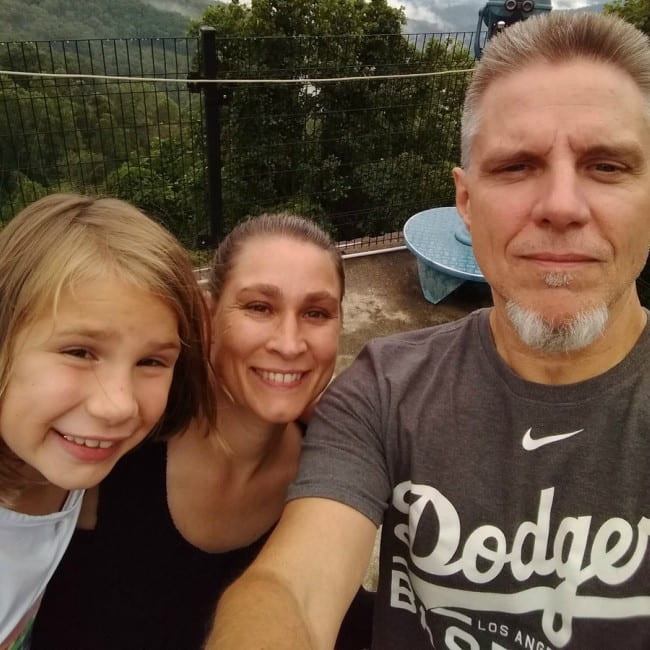 Race / Ethnicity
White
He is of Dutch, English, French, Cornish, Swiss-German, German, Irish, Scots-Irish/Northern Irish, Scottish, and Welsh descent, and also has a small amount of Channel Islander (Jersey) ancestry.
Hair Color
Dark Brown
Due to advancing age, his hair has turned into 'Salt and Pepper' color.
Eye Color
Blue
Sexual Orientation
Straight
Religion
Christianity
Best Known For
Being the former band member and bassist for metal bands Leather Charm (1981), Metallica (1981-1982) and Phantasm (1986-1988)
As a Singer
Ron McGovney appeared on-stage at an event in Charlotte, North Carolina, United States, on December 5, 2013, in support of Dave Mustaine's new metal band, Megadeth. On that occasion, he sang the lead vocals for the cover of the song Cold Sweat, originally by Thin Lizzy.
Ron McGovney Facts
He spent his teen years in Norwalk, California, United States. Decades later, many of the photos taken of wild parties at his apartment in Norwalk in 1984 surfaced in the media.
Most of the earliest songs and demos for Metallica were recorded in his garage near the 605 Interstate (freeway) in California.
Ron had performed at 28 live shows with Metallica in 1982 alone.
In 1982, Metallica opened for a band named Ratt at a roller skating rink. Ron considers people skating while they were playing one of the strangest shows he's played.
At the age of 17, he and James Hetfield posed for a fake cover of the magazine Hit Parader.
In the fall of 1982, he, Lars, and James were invited to watch the performance of a band named Trauma Cliff Burton was in. After he got into a solo, their eyes were wide open in amazement, and Ron thought he was incredible as well. He immediately knew that he was going to be replaced, partially because his bass guitar skills weren't up to Cliff's and partially because he wanted to become a motorcycle mechanic and ride dirtbikes.
Ron left Metallica because he felt he wasn't a respected member of the band. They used him for the connections he made as an amateur photographer. He also stated that his parents helped the band financially, and gas, trailers, hotels, and other things went on his credit card. When Ron confronted them, the band members allegedly told him that he needed a sense of humor.
Dave Mustaine once brought his dog to the band's rehearsal at Ron's house. The dog scratched the paint off his car as well, to which James reacted by allegedly kicking the dog. This led to an altercation and Dave being fired from the band. However, as they needed a guitarist, they had to allow him back a day later.
Dave was the one that would deal weed and drink until he cannot think straight, while other members drank moderately. While drinking, Dave once poured a full can of beer down the neck of Ron's guitar. Ron kicked him and James out of his house and left the band soon after.
Ron organized a get-together with the whole lineup of Metallica in 1983, months after he left the band. The gathering was at his home, the same one that the band started their 1st band practice in. At this point in time, the house was about to be demolished due to the 605 freeway construction. Everyone came – James, Cliff, Lars, Dave, and Kirk Hammett, who replaced Dave in 1983. However, Kirk and Dave couldn't be in the same room due to personal issues.
When he 1st heard of Cliff Burton's death in September 1986 on the radio, the radio host delayed stating the name for hours, leaving him very anxious to find out who it was.
Robert Trujillo calls him "Metallica Mark 1".
In a 2012 interview, Dave Mustaine stated that the band was a "3-piece" band, which offended Ron as he felt his role in the band's creation was being minimized. In reality, Dave came to Ron's garage to try out for the band and the 1st song he learned was one Ron already played in his previous band.
He had used Washburn LYON and Washburn B-20 bass guitars in the early days of Metallica.
A personal senior high school yearbook of his showed up on auction in July 2019. It included an inscribed message that James Hetfield wrote to him in 1981, part of which stated: "…I know 'The Charm' will happen…Too bad you can't go to Ozzy…that party…will be a cranker, especially with 'Leather Charm' playing…Your heavy metal friend…".
After James Hetfield announced he entered a drug addiction rehab and canceled upcoming tour dates in September 2019, Ron expressed his support. He himself went sober in September 2017.
Despite having problems with Dave in the past, Ron expressed sincere support and prayers after he came out publicly with his diagnosis of throat cancer in June 2019.
After Cliff Burton's death, Ron's spot of Metallica's bassist was occupied 1st by Jason Newsted between 1986 and 2001, and then by Robert Trujillo.
He suffers from arthritis.
In 2019, his favorite hobby was hiking as he was drawn to a big waterfall located 10 minutes away from his house in North Carolina, United States.
Follow him on Twitter.
Featured Image by Ron McGovney / Twitter