The college degree is considered the gateway to the future financial success, to high paying jobs and to a privileged lifestyle. Bigger and better reputed the education institute, the more profitable graduation is considered. After all, we all know that graduates from Harvard are picked up by Fortune 500 companies and are paid generous packages for their efforts.
The college degree is considered a status symbol, a sign of a higher intellect and ambitious mind. In short, without a college degree, the road to spectacular success and privileged life is as good as blocked.
However, there are some mavericks and revolutionaries who come along and prove that with determination and strong will, you can achieve immense success even without a college degree. Here, in this article, we will list those immensely successful individuals who, with their strong ambition and self-enforced ambition have fulfilled their dreams.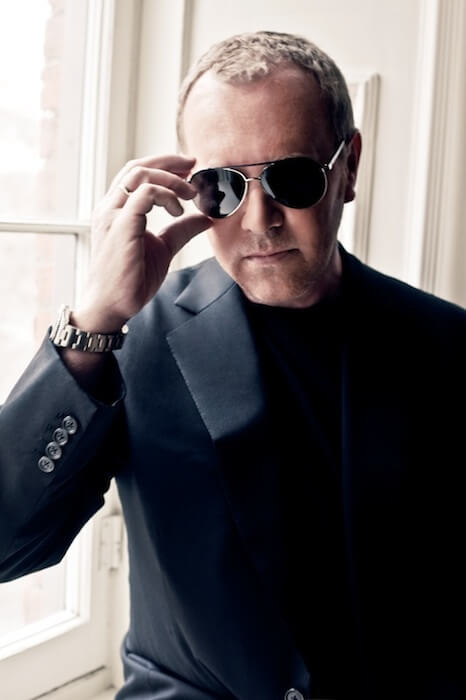 Michael Kors, who was recently named 'Fashion's Newest Billionaire' by the reputed Forbes magazine, had an interest in fashion since a young age. His mother, who was a model believed it might have been due to the fact that he was exposed to the apparel industry at a young age. His earliest endeavor as a designer was to design her mother's wedding dress for her second marriage at the age of five. His first foray into fashion would come in his teens when he began designing and selling clothes out of his parents' basement, which he renamed the Iron Butterfly. He then enrolled at the Fashion Institute of Technology in New York City. However, nine months later having dropped out of college, he took a job at a boutique across from Bergdorf Goodman on 57th Street, where he was given a small space to sell his designs. Since then, his designed clothes have been sold at several leading boutiques and he has also designed clothes for several famous celebrities.
Ted Turner – Net Worth $2.2 Billion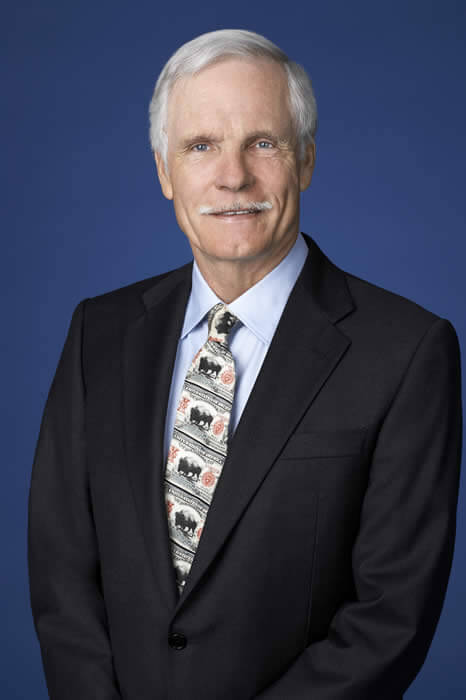 When, at the age of 24, Ted Turner took over his father's billboard business, Turner Outdoor Advertising in 1963, he was worth mere $1 million. A year later, he purchased an Atlanta UHF station and established Turner Broadcasting System. His brainchild Cable News Network, more popularly known as CNN, would go on to revolutionize the news industry. With land holdings of 1,910,585 acres (7,731.86 km2), he is the second largest landowner in the US after John C. Malone, who surpassed him in 2011. The only failure in his life has been the inability to complete his graduation from Brown University. And, that failure wasn't down to Turner's weakness as a student, in fact, he was vice-president of the Brown Debating Union and captain of the sailing team. Though he had his differences with his father on his decision to major in classics, but he was on course to complete his education until a female student was found in his dormitory room and he was expelled.
John Paul DeJoria – Net Worth $4.2 Billion
John Paul DeJoria's success story is a perfect example of 'from rags to riches.' DeJoria was born to an Italian immigrant father and a Greek immigrant mother on April 13, 1944, in the Echo Park neighborhood of Los Angeles, California. His parents divorced when John was two and by the age of nine, he was selling Christmas cards and newspapers with his older brother to support his family. Some years later, due to her mother's precarious financial condition, he and his brother were sent to an East Los Angeles foster home. In his teens, DeJoria was part of a street gang. However, on being told that he would "never succeed at anything in life" by his high school math teacher, he decided to turn his life around. After, graduating from high school, he spent two years in the United States Navy serving on the USS Hornet. A couple of years later, he joined haircare industry as an employee of Redken Laboratories. After being fired from his job, due to disagreements over business strategy, with $700 loan and in partnership with hairdresser Paul Mitchell, he established the famous John Paul Mitchell Systems.
In his lifetime, Sir Richard Branson has proved that even without completing high school education, one can achieve great success, if he has necessary determination and willpower. However, Branson's lack of education isn't because he didn't put necessary effort or his parents were poor to afford it. He was born in a well to do family. His father was a barrister and his mother was a former ballet dancer and an air hostess. Branson has dyslexia, which hampered his ability to learn and contributed to his poor academic grades. However, he didn't allow his problem and failure dishearten him, and he started his record business from a church where he ran 'The Student Magazine.' His decision to sell records cheaper than the retail chains, helped him to establish his own recording label 'Virgin Records.' Since then, he has ventured into myriad sectors including airlines, oil, liquor, and tourism.
David Geffen – Net Worth $6 Billion
David Geffen was born in Brooklyn, New York to Jewish immigrants who met in British-mandated Palestine. Like Richard Branson, Geffen also had a problem with studies due to dyslexia. He graduated from Brooklyn's New Utrecht High School in 1960, barely passing with a 66 percent average. He enrolled in three different colleges – the University of Texas at Austin, Brooklyn College, and Santa Monica College, but had to drop out of all the three. He then joined the entertainment industry with a job in the mailroom at the William Morris Agency (WMA). He left WMA to become a personal manager and his initial clients included Laura Nyro and Crosby, Stills and Nash. After failing to find a record deal for young Jackson Browne, he established Asylum Records. Asylum Records went on to sign talented artists such as the Eagles, Joni Mitchell, Bob Dylan, and Tom Waits.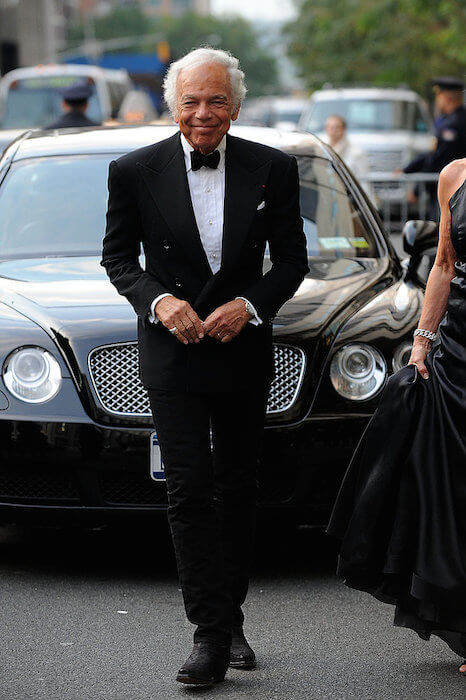 Ralph Lauren, who is one of the richest fashion entrepreneurs and designers, had developed a penchant for fashion and business very early in his life. As a high school student, he used to sell ties to his classmates. Back then, he wanted to become a millionaire and it is safe to say that he has achieved that objective with considerable ease. He went to Baruch College where he studied business, but two years later dropped out and served in the United States Army for two years. He then joined the Brooks Brothers, the oldest men's clothier in the United States as a sales assistant, before deciding to start his own tie company. He started a company in Empire State Building, using rags out of a drawer and turning them into ties. He then received financial backing of Manhattan clothing manufacturer, Norman Hilton and opened a necktie store.
Roman Abramovich – Net Worth $9.1 Billion
Roman Abramovich has everything a man dreams for – ownership of a famous football club, one of the most beautiful yachts, grand mansions in several cities and fleet of supercars. His conglomerate owns companies working in myriads of sectors including oil, precious metals, consumer goods and joint stocks. Abramovich has also served as a governor of Chukotka from 2000 to 2008. It is rumored that he spent over US$1.3 billion (€925 million) of his own money to improve welfare and other conditions in the state. The schools and housing were improved along with living conditions, also new investors were brought to improve the infrastructure of the state. The average salary was improved from US$165 (€117/£100) per month in 2000 to US$826 (€588/£500) per month in 2006. However, he didn't have an ideal childhood as he was orphaned at the age of two and raised by his uncle.
Michael Dell – Net Worth 18.8 billion USD
Long before, he revolutionized the PC selling business, Michael Dell had given a glimpse of his considerable genius. While he was attending Memorial High School in Houston, he used to sell subscriptions to the Houston Post in the summer. In process of making cold calls, he realized that people, who inclined to purchase subscriptions were those who were establishing permanent geographic and social presence. He collected names of his target customers from marriage and mortgage applications and made $18,000 that year, which was more than the annual income of his history and economics teacher. In January 1984, with the conviction that manufacturer selling PCs directly would thrive over the indirect retail channel, he launched "PC's Limited" from his apartment. Driven by overwhelming success, he transferred his company to a business center in North Austin and established "Dell Computer Corporation." Over the years, the company has evolved into one of the biggest IT firms and pulls in annual revenue, upwards of $50 billion.
Due to Facebook's immense success, Mark Zuckerberg requires no introduction. The chairman and chief executive officer of the popular networking website became a billionaire at the young age of 23, and with the current net worth of $35.1 billion is one of the richest personalities in the world. It is a well-known fact that Zuckerberg started working on his ambitious project, while he was enrolled at Harvard, where he had developed a reputation as a programming prodigy. However, many wouldn't know that he dropped out of college in his sophomore year to complete his project. He had planned to return to Harvard to complete his studies, but the success of his pet project made him think otherwise. Once, Facebook started conquering new heights, Zuckerberg started receiving offers from several leading companies to sell Facebook, but he opted to keep it under his control. As of February 2015, Facebook has reached a market capitalization of $212 Billion.
Bill Gates – Net Worth $80 Billion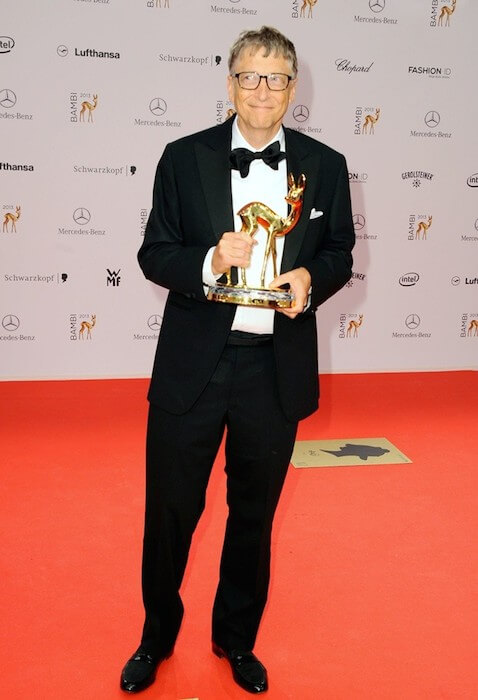 Last, but not the least, we have world's richest man in our list of billionaires who never got their college degree. Bill Gates, like Mark Zuckerberg, dropped out of Harvard to pursue his business venture. In 1975, Gates along with his old friend Paul Allen founded "Micro-Soft" with the first office located in Albuquerque. Within a year, the company had dropped hyphen from the name and had also started working independent of Micro Instrumentation and Telemetry Systems (MITS), the creators of the new microcomputer. By 1980, Microsoft had started developing an operating system for IBM's then, upcoming PC. That operating system was called 86-DOS and it would go on to establish Microsoft as a major player in IT industry. A year later, Bill Gates launched the first retail version of Microsoft Windows and rest as they say is history. Microsoft's immense success would make Bill Gates world's richest man, the distinction which he has held since 1995 till now, barring few brief periods post 2008.