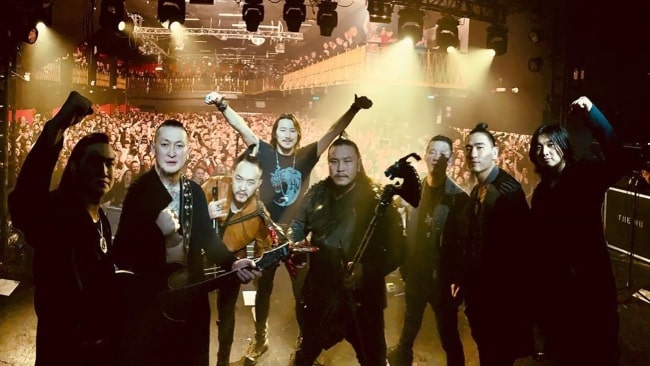 The Hu Band is a Mongolian rock band that originated in 2016, that performs with the musical traditions of Mongolian instrumentation that includes Morin khuur and Mongolian throat singing. The band until February 2020 conquered every level of diversity with its music and garnered themselves a huge social media fan following.
Members
Galbadrakh Tsendbaatar
Nyamjantsan Galsanjamts
Enkhasaikhan Batjargal
Temuulen Naranbaatar
Origin
Mongolia
Genres
Folk Metal, Heavy Metal, Folk Rock
Labels
Unsigned
They have released their music with various records labels such as Eleven Seven and Dashka Productions.
Formation Date
2016
Singing Portfolio
The Hu Bands music is mostly based on Mongolian instrumentalization that includes Morin khuur and Mongolian throat singing. They have referred to music style as "hunnu rock."
The Hu Band Facts
The Hu Band was formed in 2016 in Mongolia.
Their music is derived through traditional Mongolian instrumentalization that they call the "hunnu rock".
The word "Hu" in from the band's title name means "Human" in Mongolian.
Their music video, Yuve Yuve Yu which was released on September 27, 2018, had close to 40 million views and Wolf Totem which was released on November 16, 2018, had more than 28 million views on it until early March 2020. Other popular music videos on their channel are Song of Women (2019), The Gereg (2019), The Legend Of Mother Swan (2019), 2019 (2019).
Wolf Totem was the band's first song to top Billboard's "Hard Rock Digital Song Sales" at number 1 on April 11, 2019. They are also the first Mongolian band to achieve this feat.
The band had the privilege of meeting with the Mongolian President, Khaltmaagiin Battulga on May 17, 2019. He had called them to congratulate them on the good deeds that they were doing to promote their country.
On September 13, 2010, The Hu Band released its first album titled The Gereg. It consisted of a total of 9 tracks such as The Gereg (Гэрэг), Wolf Totem (Чонон сүлд), The Great Chinggis Khaan (Их Чингис Хаан), The Legend of Mother Swan (Хун ээжийн домог), Shoog Shoog (Шөөг шөөг), The Same (Агаар нэгэн буй), Yuve Yuve Yu (Юу вэ юу вэ юу?), Shireg Shireg (Ширэг ширэг), and Song of Women (Бүсгйн дуун).
They went on their first international tour from September 2019 through December 2019.
They were presented with the "Order of Genghis Khan," which is Mongolia's highest award on November 27, 2019.
Featured Image By Jeremy Saffer / OutBurn Magazine / Instagram