Contracting herpes doesn't have to mean the death of your dating life. As long as you look after your health and take precautions, you can avoid transmitting your herpes to others. However, there is still a lot of stigma and misconceptions about STDs. So many people living with herpes are reluctant to put themselves out there for fear of rejection once they disclose their diagnosis.
A number of herpes dating sites have sprung up to create a safe environment, accepting online dating space for people with herpes. In addition to providing a stigma-free environment for those dating with herpes, they are actively challenging the misconceptions around oral and genital herpes. Here is your definitive guide to the main dating sites for positive singles.
First Look at Herpes Dating Sites
Positive Singles – Best herpes dating site overall
MPWH – Exclusive herpes dating website
Meet Positives – Best for filtering your matches
HSV Singles – Best US-only herpes dating community
HWerks – Best for herpes resources and support
Highly Recommended Herpes Dating Sites in 2023
Using dating sites for people with herpes can feel safer, especially for people coming to terms with a recent diagnosis. It removes some of the stress from dating because everyone on the app is positive. While you will still have to have "the conversation," you don't have to fear the reaction of the person you are dating because they are also living with herpes. In that way, herpes dating websites can feel safer for people coming to terms with their diagnosis.
There are 5 major herpes dating sites in the US. Let's take a look at the pros and cons so that you can decide which ones to try.
Highlights:
Community resources and support
Largest positive dating site
Expert dating advice
Overview:
Positive Singles is one of the biggest STD dating sites out there. It has more than 2.23 million registered members from all around the world. The large community means a large selection of potential dating partners – perfect for people who are used to popular dating apps.
Positive Singles takes privacy really seriously since they are dealing with medical information. They have strict community guidelines to protect member privacy and are fast to remove accounts of members who are breaking community guidelines. Their resources and advisors have created a supportive community that rallies around each other, so it is a very safe place for people who are nervous to date following their diagnosis.
Users:
All Positive Singles members are living with an STD. It is not limited to people who have herpes. However, unlike other herpes dating sites, membership is not open to people who don't have an STD.
Features:
In addition to normal dating features, Positive Singles also boasts:
Positive Singles Chatroom – The chatroom is open to all members to discuss their diagnosis, dating, or anything else on their minds. It is very active and offers a way to make friends and meet potential matches. There is a chatroom dedicated to premium members.
Members Events – Positive Singles has recently added a feature that allows members to invite other members to their events. Try new hobbies and meet other people living with herpes in your area.
Treatment Stories – Find information about treatments or vent about your experiences here. This feature is available to all members and is completely anonymous.
Dating Advisor – Premium subscribers can connect with Positive Singles Dating Advisors so they can ask questions about dating or safety. They can support people with the psychological and emotional challenges of dating after diagnosis.
Pros:
Social networking and community support
Private dating profiles
Large-user-base
App is available
Cons:
Many profiles don't have photos
Limited filtering options on a free membership
Highlights:
Exclusive herpes dating website
Resources for those living with herpes
Anonymous profile options
Overview:
MPWH (short for Meet People with Herpes) is exclusive to people living with herpes. It is unique to other herpes dating sites in that members can create anonymous profiles on the site. This is great for people who are still coming to terms with their diagnosis or who have reason to keep their diagnosis private. They can then share photos and information upon matching rather than being visible to all users. The profile creation process is strict and comprehensive to prevent that anonymity from attracting fake profiles and lurkers.
Like Positive Singles, MPWH provides resources and support for people living with herpes. It offers member forums for sharing information and personal experiences. MPWH staff and experts have also created resources and guides about herpes and related topics.
Users:
All MPWH members have herpes and are based in the US.
Features:
In addition to the standard dating features, MPWH offers resources that support and educate members. Learn about how to navigate life after diagnosis, treatments, and how to stay safe dating with herpes.
Pros:
All members live in the US
Anonymous profile options
Online and app versions
Cons:
Small community
Restricted functionality on a free profile
3. Meet Positives – Best for Filtering Your Matches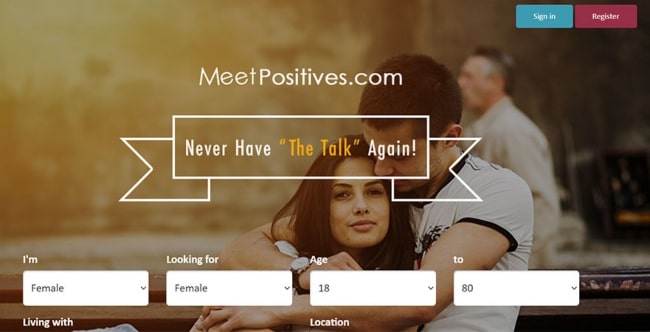 Highlights:
STD-specific filter options
Filters members by intentions like friendship, marriage, fun, and more
Large selection of membership tiers is available
Overview:
Meet Positives is open to people living with STDs, not just herpes. It is a discrete dating website that matches members with other people living with STDs. Members can set STD preferences even with free accounts. That means if you only want to date people who are also living with herpes, you can set your preferences.
It has user feedback from members to develop rigorous privacy features to protect its members' diagnosis status. Meet Positives encrypts account information so that member profiles are not visible on search engine results. It also has a dedicated anti-fraud team backed by several security agencies to proactively detect suspicious activity.
Users: Meet Positives members are all living with an STD, so it is not strictly a herpes dating app.
Features:
Meet Positives is strictly a dating app. It doesn't have the community engagement and resources of Positive Singles. Meet Positives features include:
"Living with" search – Filter members by STD to date other people who have herpes.
"Quick Exit" button – Allows confidential and safe browsing.
Pros:
Extensive filters even on free membership
Multiple membership tiers available
Encrypted account information
Cons:
No community features
Limited gender options and preferences
4. HSV Singles – Best US-only Dating Community
Highlights:
Global dating pool
Members are all living with herpes
Overview:
HSV Singles has been specifically created for people living with herpes to give them the traditional dating app experience. They have created a small yet motivated dating pool. The free version has limited functionality, but members can try premium membership in a low-cost 5-day trial before committing. The paid membership means there are very few abandoned profiles.
The herpes dating website has a large number of success stories of positive couples who found love. Browse them and see photos of current users before creating your profile. Keep in mind that your profile will not be as private on HSV Singles as it is on the other herpes dating websites.
Users:
All users are living with either HSV-1 or HSV-2. It is a global dating website but has a large United States membership base.
Pros:
Low-cost 5-day trial
Special dating platform for HSV singles only
Cons:
Limited gender options
No app version
5. HWerks – Best for Herpes Resources and Support
Highlights:
Community support and resources
American and Canadian-specific
National events
Overview:
HWerks is a community dedicated to helping people living with herpes and HPV to live full lives. It offers a safe space to access online resources and support like community forums, treatment information, and local support groups. They help members to find both online and in-person resources. While focused on life with herpes, these resources are holistic and support all areas of life, not just medical concerns. The dating website is just one arm of the available community support.
HWerks also runs member events so you can build a community of people who share your diagnosis. These range from hobby groups to events focused on addressing the stigma of STDs.
Users:
The users are Americans and Canadians living with herpes or HPV. HWerk members are active in both online groups and local groups.
Pros:
Access to a huge range of resources for life after diagnosis
An active community
Emphasis on privacy and discretion
Cons:
There is no free or trial version
Safety Tips for Dating People with Herpes
Dating someone who also has herpes makes dating with herpes easier, but it doesn't make it risk-free. Here are some safety tips for people dating with herpes:
Be Upfront About Your Diagnosis – Even on dating websites exclusively for singles with herpes, be transparent about your diagnosis before having s*x. There are two strains of herpes, and those with a different strain of herpes to their partner need to take similar precautions to those dating someone without herpes.
Use Protection – Protect yourself against pregnancy and other STDs by using c*ndoms and dental dams. Herpes can be transmitted to other parts of your body, so partners who both have herpes still need to take some care when experiencing an outbreak.
Pursue Treatment – Speak to your doctor about treatment options. Herpes treatments can lower transmission risk and improve your health and comfort.
Respect Boundaries – Everyone has the right to decide their own comfort level. Be respectful of others' boundaries and accept their decisions.
Report Harassment – All online dating sites allow you to report and block harassers. Don't be afraid to use that feature when dealing with rudeness or illegal activity.
FAQs for Using Herpes Dating Sites
Is Dating Someone With Herpes a Big Deal?
No, it's not. You can still have a fulfilling and intimate relationship as long as you take some precautions to avoid transmission. There are treatment options that reduce the risk of transmission.
Can I Have a Normal Dating Life with Herpes?
Yes, people with herpes can find love after their diagnosis. If your partner doesn't have herpes, then precautions need to be taken to reduce the risk of transmitting herpes to your partner.
Many people living with herpes prefer to date people who also have herpes. They may fear discrimination or want someone with shared experiences. There is also no transmission risk to worry about if your partner has the same type of herpes.
Should I Tell Someone I'm Dating I Have Herpes?
You must tell someone about your diagnosis before you have an intimate time so they can make an informed decision. Aside from that, it is your decision how early in the dating process you tell people about your diagnosis. Some people prefer to bring up the topic before meeting for a date. Other people prefer to broach the topic after getting to know their date a little bit.
Should I Use Herpes Dating Sites or Mainstream Dating Sites?
The decision is yours. Dating site experiences are largely dictated by the quality of the users, and every dating site has a few duds. Try out both herpes dating sites and mainstream dating sites to see which you prefer.
The Bottom Line
Your herpes diagnosis does not doom you to a life alone. Start by choosing the dating website that speaks to you. We recommend trying Positive Singles to take advantage of the resources and meet other people living with herpes or other STDs. You can start building a support network you can talk to about your experience without fear of judgment or discrimination.
Don't feel like you have to stick to herpes dating sites or STD dating sites. They are a great place to come to terms with your diagnosis, find support, and gain confidence in dating while positive. However, plenty of people have success dating with herpes on mainstream websites. All it takes is a little patience and diligence to avoid transmission. You may be pleasantly surprised at how many people know that transmission risk is low when both partners take precautions.