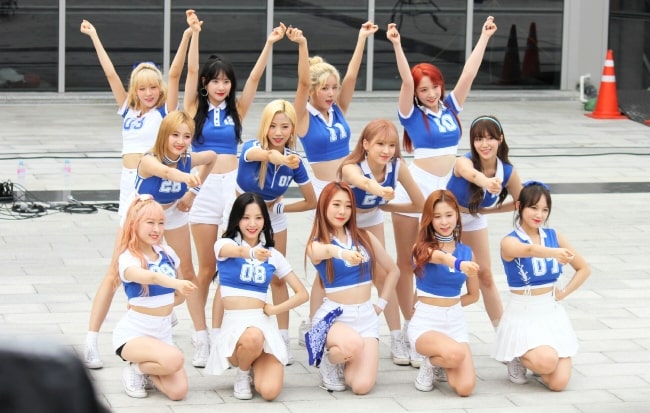 WJSN is a South Korean girl group formed by Starship Entertainment and Yuehua Entertainment and it comprises of Bona, Exy, Soobin, Luda, Dawon, Seola, Eunseo, Dayoung, Yeoreum, and Yeonjung. The group was originally a 13-piece ensemble including Yuehua's Xuanyi, Cheng Xiao, and Meng Meiqi but they left the group on March 3, 2023. Also known as Cosmic Girls, WJSN has released several extended plays, albums, and tracks such as Would You Like?, The Secret, Kiss Me (키스 미), La La Love, I Wish (너에게 닿기를), Happy Moment, From. WJSN, WJ Please?, WJ Stay?, Mo Mo Mo (모모모), Super Yuppers! (슈퍼 그럼요), Dream Your Dream, For the Summer, As You Wish, Neverland, Unnatural, Easy, Super Yuppers!, Sequence, My Attitude, Catch Me, Dreams Come True (꿈꾸는 마음으로), Boogie Up, Happy, Secret (비밀이야), Last Sequence, Butterfly, As You Wish (이루리), Hmph! (흥칫뿡), Let Me In (너의 세계로), and Save Me, Save You (부탁해). Moreover, the group has also been a recipient of many accolades including the Asia Artist Award, Genie Music Award, Korean Entertainment Arts Award, Seoul Music Award, and Soribada Best K-Music Award.
Members
Past Members
Origin
Seoul, South Korea
Genres
K-pop, Bubblegum Pop, Synthpop
Labels
Starship Entertainment, Yuehua Entertainment
Formation Year
2016
Singing Portfolio
WJSN debuted with the release of the extended play Would You Like? on February 25, 2016, and it included songs like Take My Breath, Mo Mo Mo (모모모), and Catch Me. The EP peaked at #7 on the Gaon Digital Chart.
The group released its debut studio album Happy Moment on June 7, 2017, and its tracklist consists of Mr. BADBOY, Happy, Babyface, SUGAR, Follow Me, B.B.B.Boo, and others. The album peaked at #3 on the Gaon Album Chart and its song Happy was placed at #77 on the Gaon Digital Chart.
WJSN Facts
WJSN's subunits include WJSN Chocome (including Soobin, Luda, Yeoreum, and Dayoung), WJSN The Black (including Seola, Bona, Exy, and Eunseo), Wonder Unit (including Bona, Cheng Xiao, and Dayoung), Joy Unit (including Xuanyi, Eunseo, and Yeoreum), Sweet Unit (including Exy, Seola, and Soobin), and Natural Unit (including Luda, Dawon, Meiqi, and Yeonjung).
On August 17, 2016, the group released its 2nd extended play The Secret and it peaked at #6 on the Gaon Album Chart.
WJSN's first summer special album For the Summer was released on June 4, 2019, and it peaked at #1 on the South Korean Albums (Gaon) chart.
On March 31, 2021, WJSN released its 9th extended play titled Unnatural and it peaked at #3 on the South Korean Albums (Gaon) chart. It consists of 6 songs – Last Dance, New Me, Super Moon (원하는 모든 걸), Unnatural, Rewind (잊지 마), and Yalla (음).
In 2023, it was announced that Luda and Dawon have decided not to renew their contracts with Starship Entertainment. Later, it was also made clear that the two have not left the group.
WJSN has been a part of various shows like Would You Like Girls (My Cosmic Diary), Living Together in Empty Room, Queendom 2, Watch WJSN Show, and TMT Cosmic Girl.
Featured Image by 미의 기준 / tistory.com / CC BY 4.0