To hire a personal trainer is a growing trend. Though it can tend to be a bit on expensive side, but you know the trend is trend and majority of us have a compulsion to follow it. It doesn't matter that most of the personal trainers are saddled with more clients than they can handle and they often tend to pay more attention to the new clients. But, as I said the trend is a trend, and you have to follow it blindly.
However, if any of you like to buck the trend and have the habit of analyzing something before doing, then this article could be helpful for you. Almost everyone these days has a smartphone. So, why not utilize it for some other use than chatting and playing games for hours. The apps listed in this article are completely free (though you might have to pay for the pro version) and can help you achieve your fitness goals without having to pay gym membership fees or personal trainer fees.
Seconds, a timer for interval training
Did you know that an intense 15-minute interval training workout burns the same number of calories as an hour of jogging on the treadmill does? In fact, the interval training is your best option, if you are too hard pressed for time. Another great thing about interval training is that you don't need equipment or a place on it. You can mix pull-ups, push-ups, squats, crunches, plank, and lunges to create a great interval training workout.
And, the Seconds app, which is available for free on iTunes allows you to do your interval training circuit more efficiently as you no longer have to worry about the time. The best feature of this app is that you can customize exercises in your circuit and app will speak the interval names aloud to let you know which one you are supposed to do. And, at the same time, you can listen to your music and can hear the alerts.
The countdown is clearly visible in both landscape and portrait mode, which means you will never lose track of time. You can upgrade it to pro version for $5 and save timers for different types of workouts such as 7 minute, Tabata and HIIT.
Only the Pro version of this app is available for Android.
The Nike Training Club, which is available for free on both iTunes and Android is a wonderful fitness app that gives you all the benefits of a personal trainer. And, the best thing is that it is completely free and you can carry your personal trainer in your pocket. This app gives your fitness plan a direction and allows you to customize your workouts according to your fitness level.
In the start, you have to choose your fitness goal from – Get Lean, Get Toned, Get Strong and Get Focused. Each category has a one-line description to help you understand what you will get with each category. After that, you can select your fitness level depending on the frequency of the workouts you do. For example, those who average four to five workouts a month can select beginner's level, whereas those who do at least three workouts weekly can go for the advanced option. And then, you can select a workout which appeals to you from a plethora of routines available.
The voice over helps you through the workout and you can check the videos available for every exercise to get the form right. Those, who have iPhone can use AirPlay to stream the exercises on TV, while Android users can do the same using Chromecast.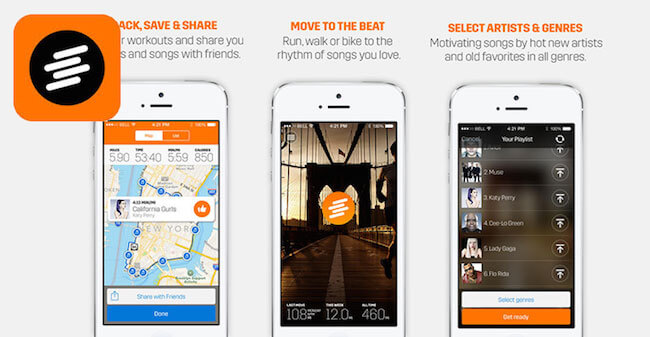 The Spring Moves is an innovative app that combines music with physical activities such as running, power walking, swimming, and hiking. Available for free on iTunes, this app makes sweating out fun and interesting. This app encourages you to match your steps to the beats and your intensity to the rhythm of the music. You can tell app, your steps per minute or RPMs for cycling, and it will select music that will be ideal for your pace. Or, instead of telling, you can allow the app to calibrate your pace on its own. If you don't like the song being played, then you can swipe to the left and tap forward button.
Like several other workout apps, Spring Moves uses your iPhone's GPS to automatically track your route, distance, speed and other such things. With more than 30,000 songs, available across different genres, this app makes it fun to explore new music and burn calories at the same time. However, as this app streams music, you need to have Wi-Fi or good internet pack available to use this app. The first five hours are absolutely free, after which you can subscribe at $4 per month or $20 per year.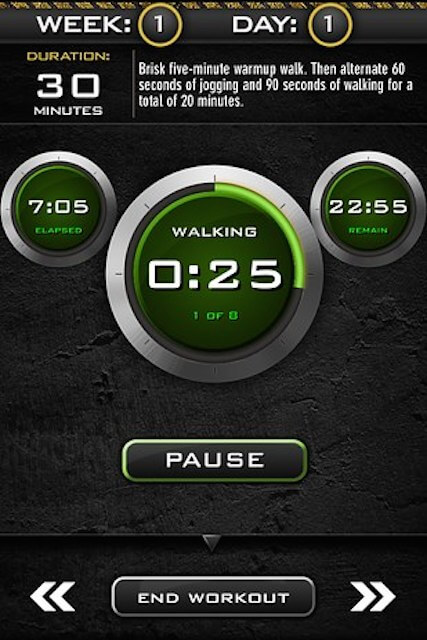 Couch to 5k is a wonderful app that works in a very straightforward way to get you off the couch and running. This app is a training course stretched over the period of eight weeks with a mixture of running and walking drills that will get you running 5 km by the end of the training period. In every running session, the voice or alert will let you know when to switch from running to walking and vice versa. Also, the voice alert lets you know that you have reached the halfway mark and when it is the time to stop, which means you won't have to check your phone, again and again, to know how much there is left to go.
The app allows you to play music while running as well. You can listen to whatever music is being played on your device or can create a dedicated running playlist within the app as well. The music will fade slightly when the app wants to inform you about a milestone. Like other running apps, after you complete the run, the app will inform you how much distance you have run, your average speed, your highest speed and route you took.
This app is available for free on iTunes and Play Store for free. However, if you find ads annoying and distracting, then you can upgrade to the pro version.
The New York Times' 7-Minute Workout Web app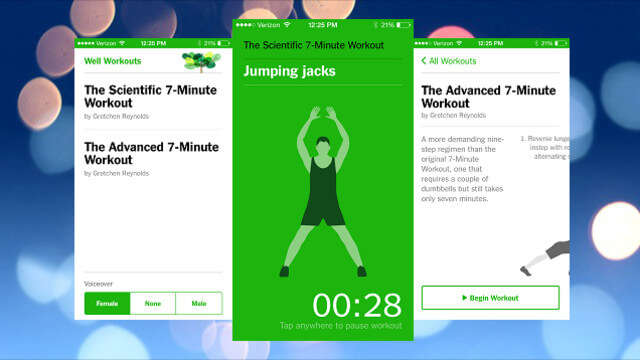 The New York Times believes that all it takes is a seven-minute to scientifically lose weight. The web app developed by the prestigious publication is compatible across all platforms. Not only you can access it via any smartphone, it is also available on tablet and web browsers. This app contains quick, scientifically proven and high-intensity workouts that will help you to lose weight and achieve fitness even from confines of your drawing room. To access the app, just open this link.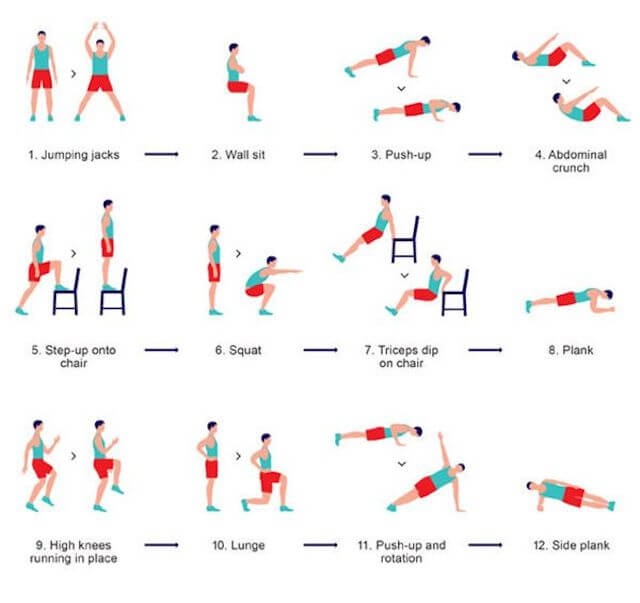 The usage is very straightforward and simple. You can select from the beginner and advanced level. Then, select the gender of voice over you prefer, you can even keep it mute. Now, the app with the help of series of illustrations will guide you through the workout. Also, the app has a giant stopwatch that helps you keep track of your time. You can tap or click anywhere on the screen to pause the workout. Click again to resume the workout.
Sworkit Lite is an answer to all your excuses. Whether you had to travel or had slept in. This app will give you a workout that will fit right into the busiest of schedules. No longer, you have to adapt your schedule for your workouts. Just open the app, tap "Fit in 5 minutes," and get straight to business. No need to go through a complicated and long sign up procedure. The Sworkit places the exercises and workout upfront so that you can get it done as soon as possible.
The app has four categories – strength, cardio, stretching, and yoga. Also, you can create your own custom workout by selecting the specific exercises from the comprehensive database. Once you have selected the type of workout routine, then the app will automatically play related videos and will guide you through your workout. The routines and the interface of the app are very simple, which makes working out fun and hassle-free.
Sworkit Lite is available for free on iTunes and Play Store.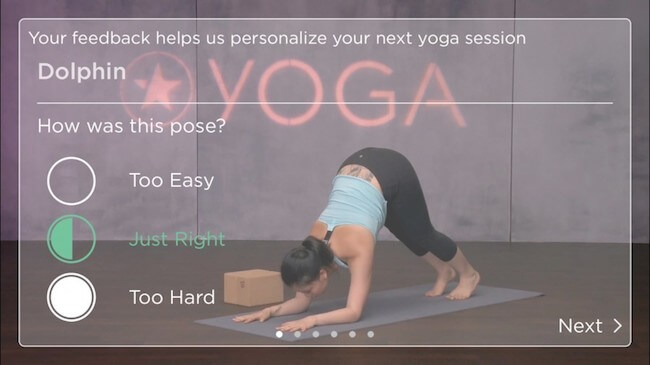 FitStar Yoga is a great app in which Yoga guru and Strala Yoga founder Tara Stiles guides you through flowing, fully customizable yoga workouts. The yoga workouts can be selected according to your skill and fitness level. You can start as a beginner and slowly work up your agility and fitness to become an expert yogi. The best thing about this app is that it gives you so many valuable features for free on iTunes. The basic free version gives an access to one full-length yoga session per week and few freestyle sessions. The app is loaded with high definition videos that will guide you through various yoga poses and give you all the benefits of a Yoga studio at your home. The Yoga workouts present in the app are made using more than 300 yoga poses. The app also has a 20-minute relaxation session called "Before Bedtime," and another 15-minute flexibility workout called "The Flexible 15."
The freestyle sessions are themed, with some designed for recovery, while others are programmed for strength. To access unlimited videos, you will have to sign up for a monthly subscription ($8) or an annual subscription ($40).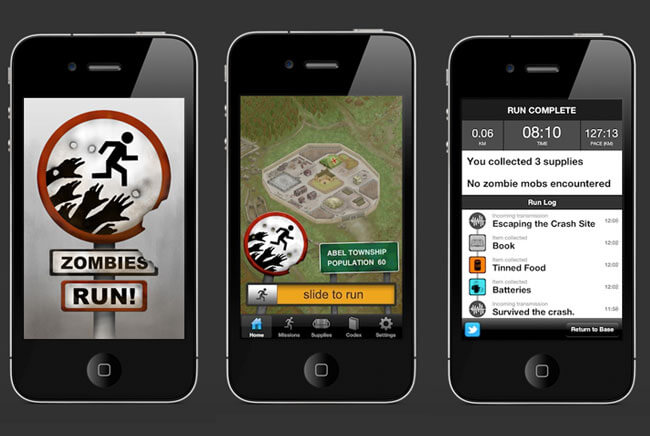 If you were looking for an extra motivation to get your butt off the couch, then here it is. And, it is a horde of undead running after you. The scenario in the app is that the world has been overrun by the zombie endemic and the small portion of the population has survived. You will have to take part in group excursions tasked with gathering food, information, and secret to combat undead. The points you earn for completing missions help you unlock new challenges and fortify your base camp. The variety of missions allow you to select different types of workouts.
The audio recordings guide you through your missions. You can opt to play your favorite music while doing the missions as well. The app also tracks your route, speed and distance run. Though this interesting and fun app is available for free on iTunes as well as Play Store, but you will have to pay to enjoy full features.
The Bodeefit brings CrossFit to your home. You don't have to go to the gym to get a decent workout, neither there is any need to spend money on equipment. An intense bodyweight workout is enough to keep a regular person fit. And, Bodeefit workouts are intense and challenging enough to make you break a sweat and improve your endurance level. The best thing is that you get a new workout every day with this app, which makes working out interesting and fun. The app has a great catalog of exercise gifs that guides you through the workout. The app also has a huge timer that keeps track of your intervals and rest periods.
The Bodeefit is available for free for iOS, Android, and Windows phone.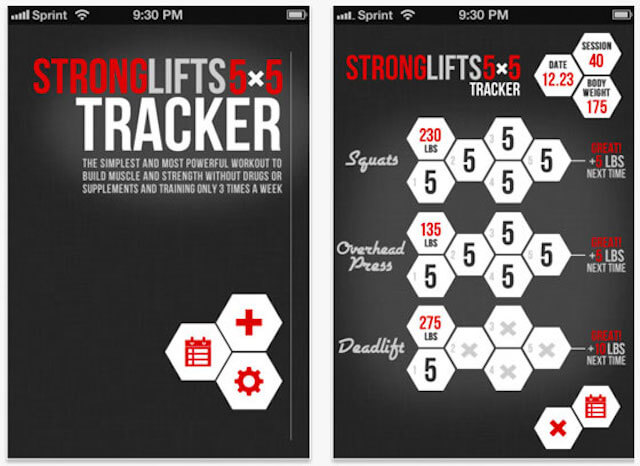 StrongLifts 5×5 is a great app for those who are looking to build muscles. It certainly is ideal for beginners who struggle to find right direction and guidance. If you don't mind putting in hard shift and repetitions, then this app will show you how to build muscles effectively. The concept of the app is very simple – you do three 45 minutes workout, three times a week. The app will tell you which exercise to do and when to do, and the amount of weight to add as well. The app automatically alternates between two workouts and at the end of each set, the automatic timer appears to time your rest period.
StrongLifts 5×5 is available for free on iTunes and Play Store.