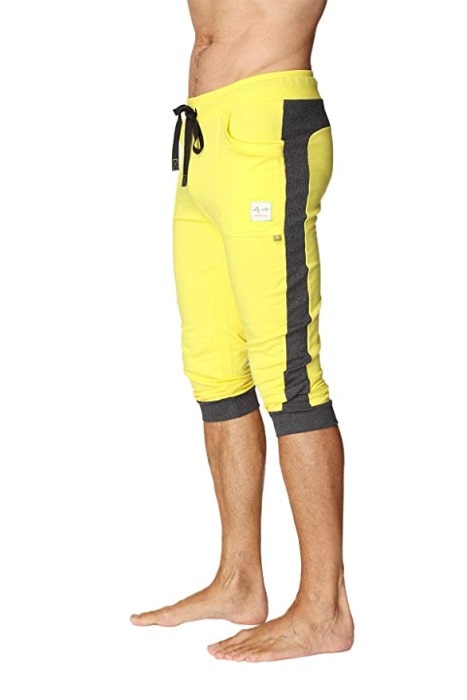 Yoga is getting more popular nowadays due to the different exercise videos you see on YouTube and fitness channels. Many celebrities now opt for yoga due to their physical and mental health benefits. Yoga can help to reduce weight, keep your body fit, and maintain good balance and posture. It also uses breathing and other techniques to make you feel relaxed and stress-free. Along with women, many men are now also getting interested to join yoga classes. The first thing you need to do to start your yoga class is to buy a good yoga pant. Yoga poses are difficult and you need the freedom of movement to perform them well. So, you need a pant that is stretchable and comfortable. Here, we are going to review the 4-rth Men's Transition Cuffed Yoga Pant which is a favorite choice of many yogis.
Design
This yoga pant is very stylish and comes in beautiful colors. The color choices include yellow, orange, blue, gray, black, and more. You can get them in 2 different styles. One is just solid color and the other has black or other colored thick single stripes of the sides and thick black borders on the ends. The waistband is elastic and has a white or black colored drawstring so that it fits you well.
The length of the pant is below the knee which is a very comfortable length for doing yoga. There is cuff at the bottom. There are pockets on the top of the pant that are flat and deep. The size of the pockets is large enough to keep your Galaxy or iPhone. There is rib piping that extends from the side fo the pant and to the rear providing flexibility and stability when doing yoga or other vigorous exercises. This is ideal for those who don't like wearing either full-length pants or shorts for their yoga classes.
Build Quality
These pants are made of custom Modal fabric that comes from sustainable Birch Tree wood. So, the pants are durable. The pant will remain in good condition even after an intense workout. The cuff that is at the bottom of the pant is form-fitting and relaxed. The drawstring on the waistband is of good quality and won't tear off easily. The waistband and cuff won't' lose their elasticity with intense use. You can wash the pants with cold water and soap.
Size
The pant is available in different sizes from small to X-large. The small size is ideal for people with waist size 27 inches and the X-large size is perfect for those with waist size 36 to 38 inches. If you want a more relaxed look or if you have thicker legs, then you should go a size higher than your normal size.
Comfort
The waistband is flexible and it will fit you comfortably. You can tighten the pant in the waist area using the drawstring. This ensures that your pants won't get displaced when doing inversions or other difficult yoga poses. The cuffing at the bottom of the pant also helps in keeping the pant in place.
Ease of Use
You can easily regulate the width of the drawstring on the waistband. As a result, you don't have to adjust or pull the pants up during your yoga session. If you find the pant to be too long, you can fold the waistband over to get a comfortable length so that you can make the most out of your yoga sessions.
Effectiveness
These pants are ideal for different kinds of yoga styles including Ashtanga, Hatha, Bikram, and others. You can use them for pilates and different sports as well as tennis and soccer. The pant is made of eco-friendly and high-quality material. There are elastic cuffs at the bottom of the pant, just below the knees. These cuffs prevent the plant from coming down when you do a handstand of inversions. You will feel very comfortable wearing these pants even during intense workout sessions. As you won't need to worry about the pant falling off, you will be able to concentrate more on the yoga poses and perform better. These pants are perfect for yoga and other activities that require a lot of movements.
Pros
It has a smart design and is found in many colors.
You can get this pant in multiple colors.
It is made from eco-friendly materials.
It feels soft and comfortable.
It is lightweight and stretchable, allowing greater movements in yoga classes.
The pant is breathable and wicks away sweat.
The elastic on the waistband allows proper fitting along with the drawstring.
There are cuffs at the bottom to keep the pant in place.
There are 2 deep flat pockets.
Excellent customer service; you can order a custom color or size alterations.
Cons
It may absorb moisture and get heavy when it gets wet.
Some users felt that the pant is too snug in the groin region.
It is expensive.
Final Verdict
These high-quality yoga pants will make your yoga sessions successful. The pant is stretchy, soft, and form-fitting. It is found in several different colors which are very attractive. You can even order a custom color as well from the manufacturer. There won't be any sizing issues as the pant will fit you properly. This pant is made from environment-friendly material. You can wash the pant as many times as you can without ruining its shape, size, or color. This is one of the high-end yoga pants for men in the market, so you have to spend some money here. However, you will be benefited a lot in the long run. You can wear these pants every time you go to your yoga class and concentrate more on the exercises you do so that you can quickly get the desired body you want. These yoga pants will make you feel relaxed and comfortable; you will be able to make the most out of the yoga classes.