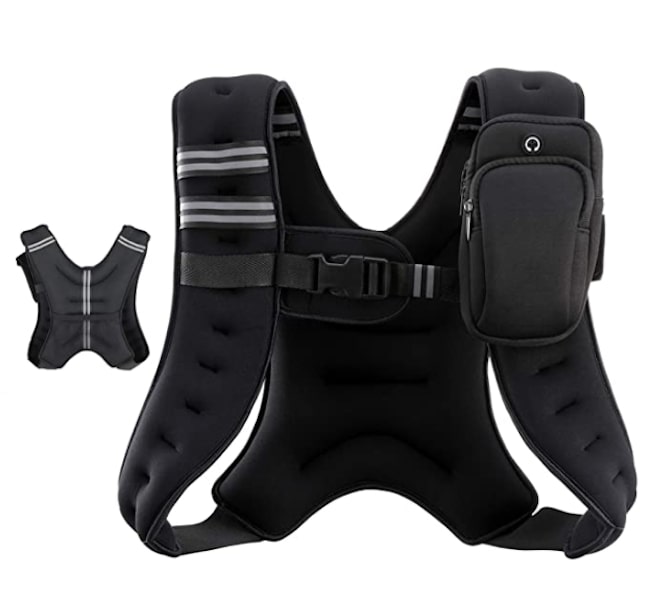 A person dedicated to working out knows how crucial weighted vests are in providing extra resistance to the workouts by making them more challenging and strenuous. They help in making exercises like running, pull-ups, squats, planks, and high-intensity training more laborious by creating a desired increase in the bodyweight and, hence, demanding more engagement from the muscles which further helps in muscle gain. So, below we have reviewed the ZELUS Weighted Vest to help you make an informed choice.
Design
The design of the vest includes detachable front zipper pockets where you can secure your mobile phone, car keys, music player, and related valuables and essentials without having to worry about finding a secure place to keep them and interrupt the workout. It also has a rear elastic-mesh pocket to provide extra space in order to keep you hassle-free as you engage in the exercises.
Enjoy a stress-free workout with a promising fit! The adjustable elastic straps assist in perfect adjustments according to various body types and, hence, ensure the flexibility required by a body while working out. Another feature that cannot go unnoticeable is the reflective stripes on the shoulder and back support of the vest which reflect light at night making sure that even those who prefer working out during the late hours of the day receive absolute safety and comfort.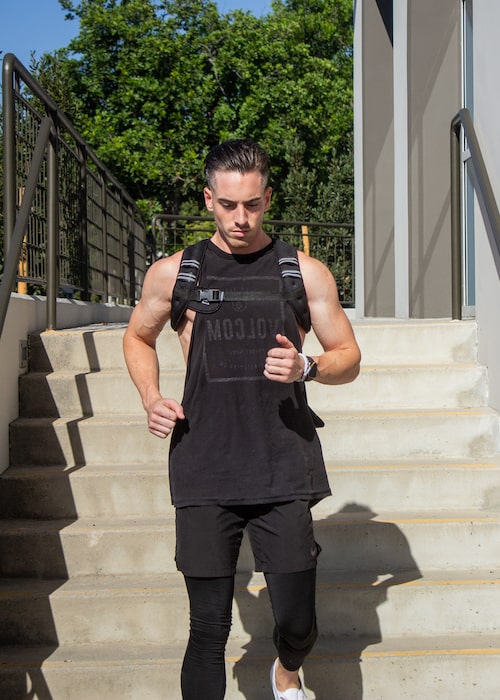 Build Quality
The product is built with durable neoprene rubber fabric which, accompanied by double-stitching, provides a superior fit. The vest is weighted with evenly distributed chemical-free iron sand which makes sure that you receive lasting and extreme durability during hundreds of your grueling workout sessions while also providing balanced support.
Size
The compact design of the vest ensures an uninterrupted workout and unlike other vests. It is sleek and helps you avoid the distractions created by a bulky weighted vest. The product comes in different sizes with regard to the weight like 4lbs/ 6lbs/ 8lbs/ 12lbs/ 16lbs/ 20lbs and you can pick whichever size you are comfortable in. If you are someone who is new and has limited knowledge and experience with weighted vests, you can start with lower weights and gradually increase as you build your muscle and endurance. Also, the adjustable straps help you get a much-required fit regardless of your body size.
Comfort
Enjoy a comfortable workout as the product comes with cushioned shoulder straps, soft fabrics, and sturdy stitch which does not require much adjustment on your part. Hence, it becomes more convenient to wear it without additional complexities. The ZELUS weighted vest makes sure that it provides you with ultimate comfort and breathability to enhance your fitness regime. With mindful manufacture and design, the vest will certainly help you go a little extra with your workout and achieve your fitness goals!
Also, the well-measured and even distribution of iron sands ensure that you receive proper support while also decreasing the risk of injuries that may occur during workouts due to the uneven distribution of weight.
Ease of Use
The vest is easy to wear as the straps help you adjust it accordingly and there aren't any complexities in the design which further help the user. Also, the detachable pockets are a user-friendly option which can also be used as per your convenience.
Effectiveness
As long as you wear your ZELUS weighted vest, you can rest assured about having a grinding workout! The designing finesse of the vest, as well as the well-proportionated distribution of weight, make this vest a very promising requirement for all the fitness enthusiasts. The straps are adjustable which helps in acquiring a proper fit and as the product comes in a variety of weights, you can further push your limits by increasing the weight of your vest which in turn will be effective in building a stronger endurance and overall strength of the individual.
Pros
It is made with durable neoprene rubber fabric which helps in achieving a comfortable fit.
The adjustable straps guarantee a firm torso that is well-supported by the vest throughout the workout as the straps guarantee an adjustable fit for bust between 35-45 inches.
A better fit is ensured by the elastic edge of the vest.
The product comes with detachable pockets which is a brilliant feature added to make sure that you don't have to worry about your essentials and, in fact, keep them handy even while in the middle of an intense workout.
The pockets also help you stay more active and entertained as you enjoy the music from your music player placed in one of the pockets.
The reflective stripes will help you be safe even while working out at night.
It is helpful with a wide range of exercises which include strength training, running, planks, pull-ups, weightlifting, and squats and is also beneficial in muscle building and weight loss.
The weighted vest is available in 3 colors, black, gray, and blue, and you can choose a vest as per your liking.
The amount of comfort provided by the vest is remarkable.
It's compact design results in a better look.
Cons
Some people are allergic to neoprene.
The product is available in limited colors.
The adjustable straps might not work out well for everyone.
Final Verdict
The weighted vest is a great way to add some challenges in your workout and you can eventually increase your own capabilities by going heavier on the weight. The product is made with high-quality fabric and is tailored to provide you with promising support as you march towards your fitness goals!
In addition to that, the weighted vest provides durability and includes various key features that can only be covered by a detailed designing method. So, hurry up and revamp your workouts with Zelus!