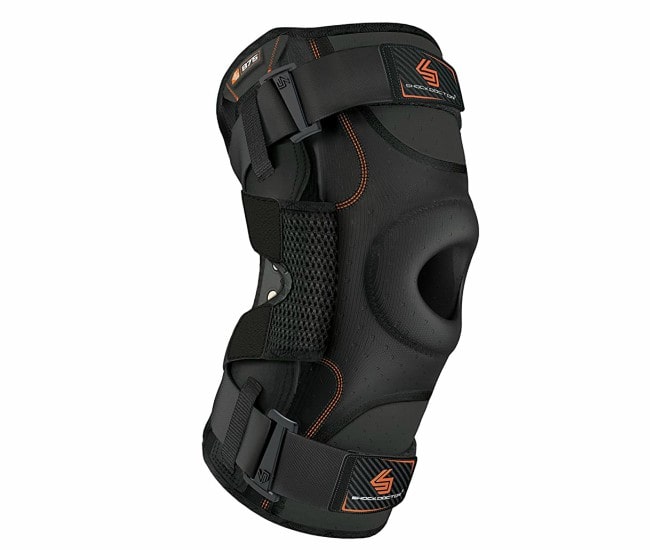 Our knee has various types of bones and ligaments. Any of these can get worn out or injured and result in knee problems. The location of the knee keeps it in a vulnerable position to various kinds of impacts. You can protect your knees by wearing a knee support. You can take care of your weakened or injured knee with the help of a knee brace or support. You can find different types of knee braces in the market. Some are lightweight; whereas, others are moderate or robust. Here, we are going to review the Shock Doctor Maximum Support Compression Knee Brace.
Design
It uses antimicrobial and airflow vented tech that lowers or prevents bacteria growth, moisture accumulation, or unpleasant odor. This lets you stay comfortable all the time. It has a pre-curved anatomical design that easily covers the knee. There is a four-way stretch Lycra mesh on the backside that provides flex ventilation for added comfort. The integrated side stabilizers make sure that the knee brace doesn't slide down during workouts. This knee brace is designed to provide the right amount of compression that supports even soft tissue. It helps in joint alignment and relief as well. It increases therapeutic heat that allows improved blood flow, thus helping in healing muscle and tendon.
Build Quality
It has premium stitching and is latex-free. It uses heavy-duty bilateral dual hinges that provide great support. At the same time, it allows you to move comfortably due to the four-way stretch Lycra mesh. Its pre-curved anatomical design also helps in flexible movement. The integrated side stabilizers allow it to stay in place. There are also easy-grip tabs that allow accurate fitting. 
Its X-Fit strap system wraps the leg contours properly and overlaps the hinge to improve stability and comfort. It has bilateral support hinges and hyperextension stops. There are impact-absorbing base pads as well. Its tempered aluminum stability remains securely anchored in the Hypalon sleeves. It has premium stitching and patella support finishing that provides lasting comfort. The N-Tex air flow vented neoprene wicks away moisture and provides therapeutic warmth which helps in healing injuries and pain.
Size
This knee brace is close-fitting, so it provides the best protection for your knees. The sizing varies and you should measure the circumference of the knee to ensure that you get the right size. You can get this knee brace in various sizes from Small to XXXL. You need to measure the circumference above the knee and get the right size.
Comfort
There are durable base pads that provide added comfort and absorb external impacts. The four-way stretch Lycra mesh at the back flexes your knee properly and provides good ventilation. You will feel comfortable doing any activity. The moisture-wicking material keeps the knee brace dry and prevents the sweaty feeling. It retains therapeutic heat and helps in healing your injuries faster as more blood will pass through the body repairing the damaged tissues.
Ease of Use
It has convenient finger tabs that provide easy grip pull which makes it easy to adjust the fitting. The knee support is easy to put on and you will get the right security and balance of movement. There are bilateral hinges with specialized stops that prevent accidental hyperextensions. It securely fastens around the leg's natural contour and covers the hinges for giving more stability and control during activities.
Effectiveness
This knee brace is ideal for those suffering from ACL/PCL injuries, sprains, hypertension, patella support, arthritis, and more. So, you can do the activities you like without feeling any pain. It has bilateral support hinges that provide stability and protection. It provides therapeutic warmth and healing by increasing blood flow. It provides soft tissue support and joint alignment also. Whether you have any knee problem or you just want to ensure that you don't have any great impact on your knees while doing various activities, you should wear this knee support.
Pros
It provides excellent support and various ranges of motion.

It protects the knee fully which allows you to do different types of activities.

It has a futuristic design and looks great.

It has an anatomical pre-curved design that provides a better fit, stability, and comfort.

It has added bilateral hinges on the sides which acts as knee stabilizers.

It uses a unique X-fit strap system that makes it easy to put on.

The Velcro strap fastening and tug and pull finger tabs make things easier.

It is made from N-tex neoprene which is durable.

It has a four-way stretch Lycra mesh that allows flexibility.

It is made of latex-free material.

It is affordable.

It is easily washable.

You can get a 60-day warranty for it.

Cons
You might feel a bit stiff and scratchy when you use the knee brace for the first time.

It is not waterproof, so you cannot use it for swimming.
Final Verdict
This knee support is perfect for those who are suffering from ligament sprains, arthritis pains, and joint instability. You get the right stabilization, compression, durability, and breathability. By using this knee support, you can get back to your normal fitness easily. It provides support when doing various activities.
It is made of durable latex-free material and high quality. It stretches to allow flexible movement. It doesn't accumulate sweat, so it will keep you dry all the time. It has straps that help to get a snug fit. So, it won't roll down when you run or do other exercises. If you are looking for high-quality knee support at an affordable price, then you should buy this one.