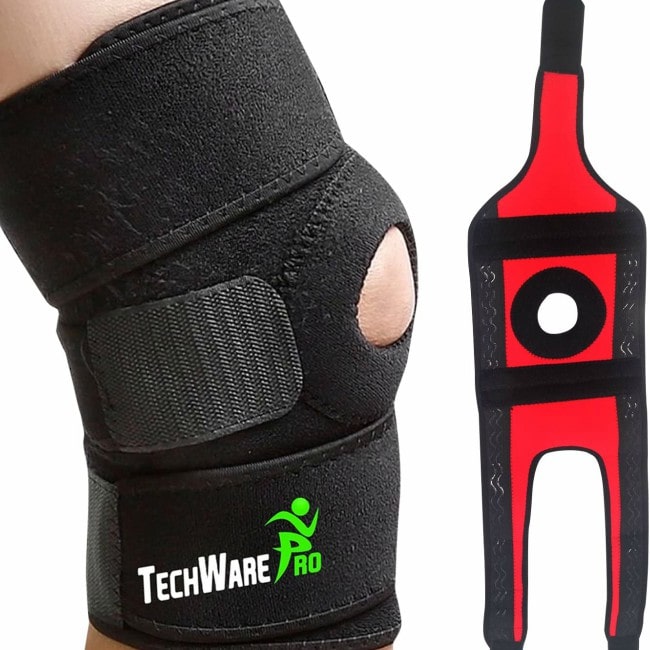 Knee support is a very useful thing for people having some knee problems. Whether you are an athlete or just a casual jogger, knee support can help you to overcome your knee problem. You will find various high-quality knee supports in the market today. You need to compare different products and find out about them before buying one. You should consider the durability, level of comfort, size, price, and other factors. Here, we are going to review the TechWare Pro Knee Brace Support and look at the features that make it a desirable product.
Design
It has an open knee support design. As a result, it offers maximum compression in the kneecap region and the surrounding tendon areas. It provides adjustable bi-directional support, thus helps to stabilize the patella. It is designed to cover the knee entirely and still allowing full mobility. The alternating closure strap system provides even compression and support around the knee region. There are 4 spring stabilizers for providing better knee stability. You can get relief from your knee pain by wearing this knee support. It is slim and will fit under most clothes.
Build Quality
It is made from high-quality neoprene that has a non-slip silicone strip. Neoprene is similar to rubber, but it is much stronger and tougher. The stitches are tough, making it durable. The material is breathable and wicks away moisture, keeping you dry all the time. It has Velcro straps on the top and bottom that provides vertical reinforcement. The open patella design keeps the kneecap in place. The neoprene is padded that protects the knee from nicks and dings. It is easy to clean.
Size
You can choose from 4 different sizes. The Medium one is 10'' to 13''; the Large one 13'' to 17''; the X-Large is 17'' to 20'', and the XX-Large is 20'' to 23''. It is appropriate for both men and women. You should measure the circumference around the knee and thigh to get a proper fit.
Comfort
You will find that the other knee supports that are in the market have straps on one side. This creates uneven support. The TechWare Pro Knee Brace Support has straps on both sides, thus providing even support. It won't make you feel sweaty when you do various activities with it as it is well ventilated. The non-slip silicone strips ensure that the knee support stays in place. It will make you feel comfortable if you are suffering from bursitis, tendonitis, tears, arthritis, or other conditions. You can comfortably play basketball, football, and do other activities wearing it.
Ease of Use
It has a slim profile which makes it easy to wear under or over your clothes. It holds the knee firmly. There is a center strap in one direction and upper and lower strap in the other direction which allows you to adjust the tightness in any direction. ​
Effectiveness
This knee brace provides outstanding support to the kneecap and surrounding tendon areas. It also helps to stabilize the patella. It can help you get relief from knee pain. It will help to heal your previous injury and prevent further injury as well. It is great knee support for the athletes and sportsmen. You can play volleyball, basketball, golf, or any other sports comfortably wearing this knee support. It is also appropriate for martial art and powerlifting. It can help you get relief from conditions such as ACL, LCL, MCL, Arthritis, Meniscus Tear, Tendonitis, and other conditions.
Pros
It is long-lasting.
It provides great value for money.
It offers excellent support to the knees by providing bi-directional support.
It is made of breathable moisture-wicking neoprene.
It has no-slip silicone strips to ensure that the compression is uniform and it stays in place.
It is lightweight, so you won't feel that you are wearing anything extra.
The alternating strong closures stabilize the patella which eventually reduces knee pain.
It helps to heal knee injuries by providing support and compression around the kneecap.
It has 4 flexible spring stabilizers that provide better knee stability and knee cap protection.
You can get relief from arthritis, tendonitis, and Bursitis.
It has a gel pad that reduces inflammation and swelling.
It allows better knee mobility, so you can perform your exercise or participate in sports easily.
You get to return it if you don't like it without incurring any extra cost.
Cons
The non-slip strips may be uncomfortable for some people, especially those with sensitive skin.
You will find it uncomfortable to sleep wearing it.
Final Verdict
This knee support is great for using if you are into some sort of physical activity. The knee support will help to stabilize and protect your knees. As it's made of neoprene, it won't break down when you wash it. The open patella design provides extra breathability and stability. It provides great support to the knee from all directions. It is one of the best knee supports in the market for helping you with ACL, LCL, MCL, tendonitis pain, and arthritis. It provides bidirectional support and you can easily adjust it according to your size.
It is affordable and you can easily buy two for both your knees if you need to. The slim design makes it easy to wear under your clothes. As it has a stylish design, you can wear them even wear it with shorts and manage to look good. So, if you are suffering from any kind of knee problem, you won't have to worry about it anymore. Just wear this knee support and you will see that the pain is gone. You can get back to your regular activities wearing this knee support.