Famous with stage name 50 Cent, Curtis James Jackson III is an American actor, rapper, and entrepreneur. Colors of name and fame got firmly attached to the star with the release of his popular albums namely, Get Rich or Die tryin' in 2003 and The Massacre in 2005. His musical career, being very rewarding, had him win numerous prestigious awards such as Grammy Award, six World Music, 13 Billboard Music Awards, and myriad others. And the sale of his 30 million albums worldwide certainly testifies the popularity of his albums.
Instead of keeping his fitness ideas to him only, the handsome guy loves sharing them with the world. In the book named, Formula 50: A 6-Week Total Body Transformation Plan, 50 Cent not only shares the secrets of muscular physique, but also shares wonderful strategies of appeasing mind. You can totally count on the book because all the fitness secrets are totally based on his self-experiences. He reckons, before embarking on workout regime, you should have pre-set weight loss objective in front of you, and your fitness goal should be powerful enough to inspire you to linger to your workout regime.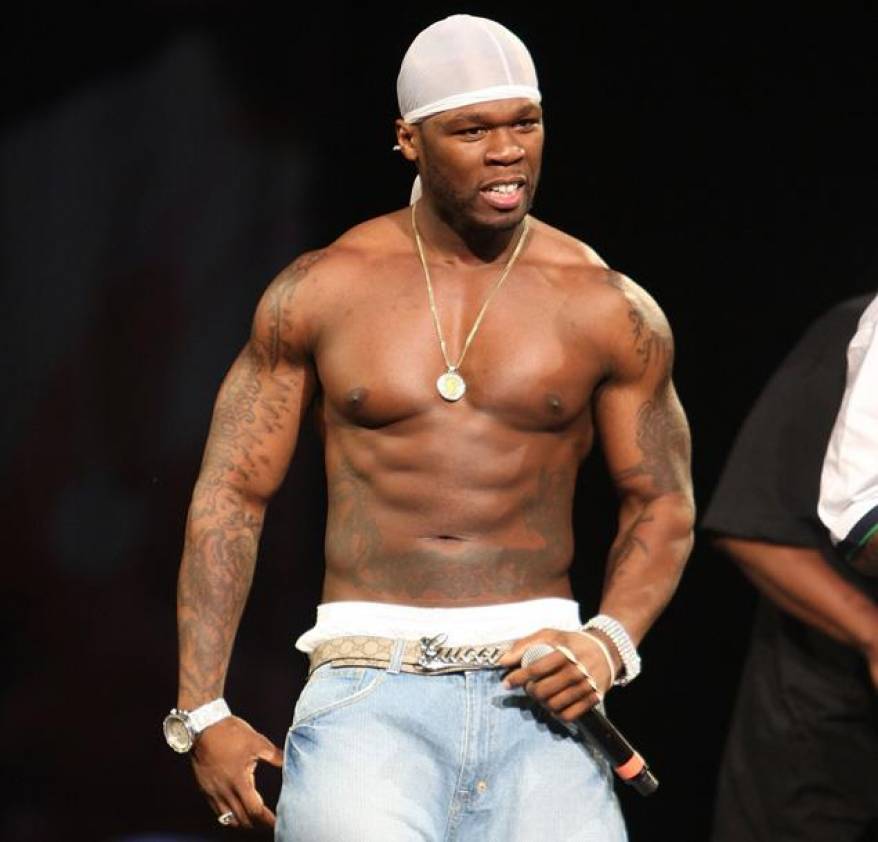 The spectacular star has been through wide transformation in his weight and he shares, his roles in the movies and his keenness to look dashing in his albums inspire him to stay in outstanding physique. The resilient guy seems to drive his body as per his wishes. In 2011, when he was to shed 54 pounds for his role in the movie, All Things Fall Apart, without being stressed, he flawlessly torched pounds from his body. Without making things complicated, he conveniently switches from one makeover to another, and his retrieval of sculpted physique after torching 54 pounds within two months is the testament of the ease with which he handles his weight.
50 Cent Diet Plan
50 Cent indeed swears by very healthy diet regime comprised of tremendous sources of lean protein. His bulky muscular body requires one to follow very nutritious diet having copious supplements added to it to trigger muscle repair and muscle building process. However, since there are array of supplements available in the market, he makes sure that he consumes only high quality supplements.
Along-with quality of supplements, he also stays vigilant of the timing of their consumption. To enhance his efficiency, he also consumes supplements while executing workouts. He contends, people often assume that workouts in alienation can have them their desired ripped body, which is seldom true. Should you really wish to make radical and rewarding changes possible for you, nurture the habit of aligning your intense workouts with wholesome diet. He considers starvation diets the worst ways of melting weight.
50 Cent Workout Routine
50 Cent is one of the fitness freaks who are prepared to do anything to maintain their physique. He hits gym six times in a week and after beginning his workout session with fifteen minutes cardio workouts, he practices varied workouts. His workouts are proportionate mix of cardio and strength training, and weight lifting practiced by him always succeeds cardio workouts.
The rap star has allocated his workouts in days meant to tone his upper, middle, and lower body parts. For instance, on Monday and Thursday, he executes workouts of upper body, Tuesday and Friday are for back and biceps, and Wednesday and Saturday are for Lower body.
To save his body from overtraining, he gives complete rest to his body on Sundays. He never makes his body deprived of foods, and succumbs to high impact cardio workouts, when he has to scorch weight very swiftly. Cardio workouts being appetite suppressants have him get gratifying results without having him embrace depriving diet programs.
He shares, due of his hefty body frame, his legs have to bear all the weight, as a result of which they seem to have become miserable. However, he loves flaunting his body in shirtless shoots, and seeing his images being published on the cover page of his albums. Along-with tough and intense workouts, 50 Cent also practices soothing workouts such as Yoga and Pilates to relax both his body and mind.
Healthy Recommendation For 50 Cent Fans
You can bring significant reduction in your weight, should you abide by arduous exercise regime. Here comes one recommendation, which will foster fat burning process in your body. You can practice cardio workouts such as running, swimming, jogging etc. in routine. Being great workouts, these workouts will torch pounds from your body.
Should you make it a habit to divide cardio workouts in group of high intensity and low intensity workouts, you can pave way to amazingly effective results. While high intensity workouts will lead you to the level of muscular failure, low intensity workouts will provide your body time to recover from the loss. A body having muscle building process at par naturally has catalyzed fat burning process. So, you naturally will shed more pounds and will attain slimmer body.