It is not every day that you get to hear about celebrities who were also inventors. Inventors play a very significant part in our lives and the way it has come around through innovations based on design, is truly unreal sometimes. Can you believe that Leonardo Da Vinci drew sketches of technologies to fly as well as reach the depth of the ocean bed, way before the first plane and submarine were created? It's really about the way, we look at everyday life and simple elements that could make living easier. Of course, there is a science beneath it, but the heart of an innovation is the idea behind it, which only comes with observance of daily life.
Les Paul had started playing in a drive-in restaurant when he realized that if more people could hear his music, he would get tipped more. He then started shoving socks and cloth inside the acoustic guitar to make it resonate less, thus making it louder. Soon after that, the electric guitar was born.
A celebrity or not, the next set of people have created some pretty impressive designs. You will even read about one that helped win World War II and created an idea that helped develop the Wi-Fi system.
Michael was and still is very popular for his smooth moonwalks and gravity-defying dance moves. Women around the world would start crying looking at the way, he would sway his body. He was known as the best dancer apart from being a fantastic singer. He would always come up with something new and innovative to add to his videos. During MTV's early days, Michael was considered as one of the few who gave so much importance to dance. However, here is something you don't know! Michael had made some of those dance moves with a little mechanical help, invented by him! Yes, him!
In 1988, Michael was shooting for "Smooth Criminal," the video began with him and the dancers executing a rather gravity-defying move, pushing their upper body way ahead of their legs while keeping their body straight. Now, this is not something that one can usually do but during this time, Michael co-patented a shoe that would allow them to lean forward without falling. The video received many awards for its music and visual appeal. The patent was granted six years later!
To make this idea come to life, Jackson along with two others, designed a hitching mechanism which was built on the floor of the stage as well as the dancer's shoes. The dance floor had pegs attached to them while the shoes had cut-outs in it. The peg would get attached to the cut-out in the shoes and allow the performer to lean forward without losing balance. This way Jackson and the other performers made that dance move look very real and of course, super cool like the king of pop himself.
Hedy Lamarr, the Wi-Fi innovator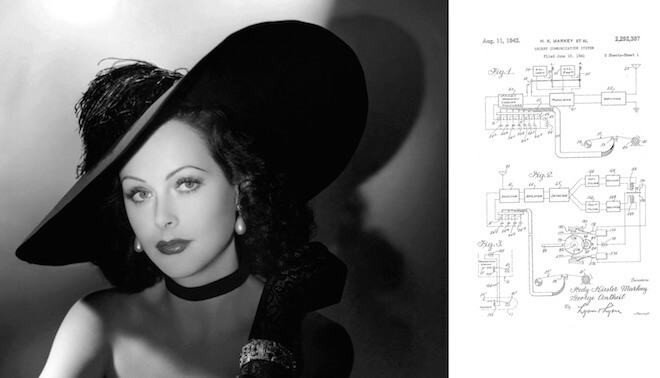 Who would have ever thought that a gorgeous woman like herself, Hedy would be the mastermind behind one of the greatest technologies ever created, Wi-Fi? There was a time when she was known as the most beautiful woman in the world. Beauty with brains, we'd rightly call her. She was the star behind Cecil B. DeMille's "Samson and Delilah." This actress has contributed greatly to the world of communication and we all owe her one, for sure.
Hedy was an emigrant from Austria and was assigned to sell war bonds. However, this smart lady wanted to do way more for the United States. During a dinner party, she met a composer who went by the name George Antheil. They had a long conversation on Allied subs that were wasting a lot of torpedoes. Lamarr was married to an ammunition manufacturer and had then learned a lot about different weapon technologies. She also was knowledgeable about torpedo control.
Both of them devised a torpedo that would be controlled by radio frequencies. They were aware of the fact that their enemies could easily hack and jam the signals. They then added an idea which they called, "frequency-hopping." A brilliantly thought of the concept, frequency hopping would allow the sequencer to randomly jump through 88 different frequencies, which was derived from the 88 keys of a piano. This made it impossible for the Axis to follow. In 1942, they were awarded the patent for their secret communication system and handed it to the Navy for further use. Lamarr's innovation is the reason and source for most of the wireless technologies available today. GPS, cellular networks, and Bluetooth are all inventions derived from her idea. In 2014, at the National Inventors Hall of Fame, Lamarr and Antheil were inducted for their invention.
Paula Abdul's Mike Stand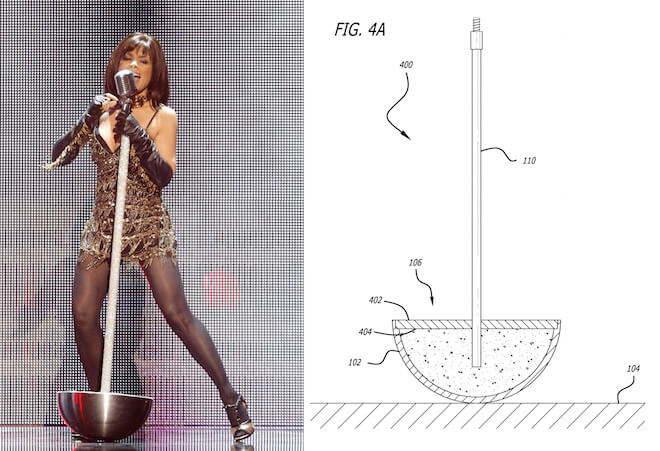 Every single person who has watched The American Idol would know who this lady is. Her career's peak was during the 80's when she was one of the main pop sensations in the music industry. The voice behind "Straight Up" and "Opposites Attract," Paula was one of the top choreographers and singers of her time. She later got even more popular due to her presence on The American Idol as the judge for many consecutive years. During her music career, she realized that the Mike was pretty inconvenient. It was heavy, didn't move easily and had many wires running through it that would eventually get tangled. It was then when Abdul decided to design a microphone that would help her not only dance and move around but also reduce the number of wires running through.
She designed the "Dynamic Microphone Support Apparatus." The apparatus had a base, concave in shape and would position itself on any flat surface. In addition to that, the apparatus had a cover that is positioned over the open part of the concave. This way if an individual had to stand on the apparatus, the weight on the cover made the concave structure tilt according to the direction of the pressure and would move in circles, without actually hitting the ground. To make it simpler to understand, a performer can stand on the apparatus and move in any direction he or she wants. The center of gravity won't shift, allowing the performer to dance or move, making their live performances even better than ever!
Bill Nye and his Ballet shoes
William Sanford "Bill" Nye who is 60 years old now was popularly known as Bill Nye, the Science Guy. He is an American science educator, comedian, television host, actor, writer and a scientist! Now, that's what you call a multi-talented person, right? He was best known for his popular Disney show for children based on science called, Bill Nye the Science Guy. He was always known for his whacky and out-of-the-box approach towards science especially when he taught kids. A Cornell graduate in mechanical engineering, Nye was known to give practical solutions to most technical problems or issues.
During the time, Nye was shooting a show on bones and muscles at the Pacific Northwest Ballet, he noticed that the dancers had bloody shoes. He was then told that most of the ballet dancers had already undergone surgeries due to the pressure and pain shoved on the toes. Looking at the situation, Bill knew that there had to be a solution to this grave problem. He then built shoes for support. The support system of the shoes involved a longitudinal member, a foot covering tubular sleeve and a toe ridge. All these were made considering the daily wear and tear of a dancer's foot. He received great appreciation for the same and his innovation received a patent in 2005! He had updated and reinvented a shoe that wasn't changed in more than a century. Brilliant! We must say.
Jim Henson and his 'proto-Muppets'
When you think of Jim, you could be thinking Kermit the Frog, Sesame Street or The Muppet Show, right? But has it ever crossed your mind that a Swedish Chef was making instant coffee or could you imagine an animal drinking too much of it? From 1957 to 1961, Jim created 179 commercials for Wilkins coffee. He made newly patented puppets to convince America to lighten up with coffee without using a percolator. A percolator is a type of pot made to brew coffee by continuously cycling the beans. During the 50's, puppets were made of cloth and wood with faces that didn't allow much flexibility or room to play around with. Henson then came up with the idea of using "foam rubber" wrapped in material which helped in making it more flexible and allowed the characters to display much more emotion, compared to the previous puppets. He created two of these proto-Muppets to play the lead role in Wilkins coffee advertisement. One was the cheerful Wilkins, who loved the coffee and the other was the grumpy muppet called Wontkins, who didn't like the coffee and was punished! We aren't sure if you remember these or have seen it before, but the concept was such a hit that vinyl dolls of the puppets became high-order items. Bravo Jim.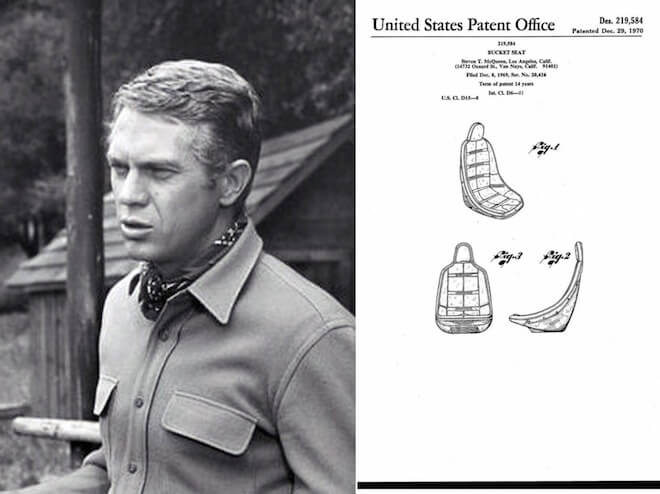 Terence Steven McQueen was an American actor called "The King Of Cool." He was at the top of the box office during the 1960's and 1970's. His persona reflected that of a laid back and easy guy. He was an action-actor, always on the move whether he was in a car or on a motorcycle. So it made complete sense when Steve decided to design a seat for a four-wheeler which represented comfort as well as protection. He made this design specifically for a Ford Mustang.
During the filming of his movie Bullitt, Steve found the original seats extremely uncomfortable and then innovated a seat which follows the back structure of a human body, in a seated position. His innovation was mentioned in a book called, "Origin of Everyday Things." In August 1966, during his interview with Sports Illustrated, McQueen said that according to him, there are two kinds of things, cars and transportation. Both of which are different in nature. He didn't seem to have a lot of interest in cars that didn't go fast or didn't stop well. He even liked it when it cornered a little. His love was basically for fast, comfortable cars. He said that he would rather sink his back side into a bucket seat than use a bench, which is not ideal anyway. If you think about it, it is actually a great idea which he practically made for his own comfort, initially. In 1970, he was awarded a patent for the design of his bucket seats used in the 68 movie, Bullitt. Way to go Steve, your designs are still used in most high end cars today. Steve died on November 7th, 1980.
Julie Newmar's Cheeky Buttocks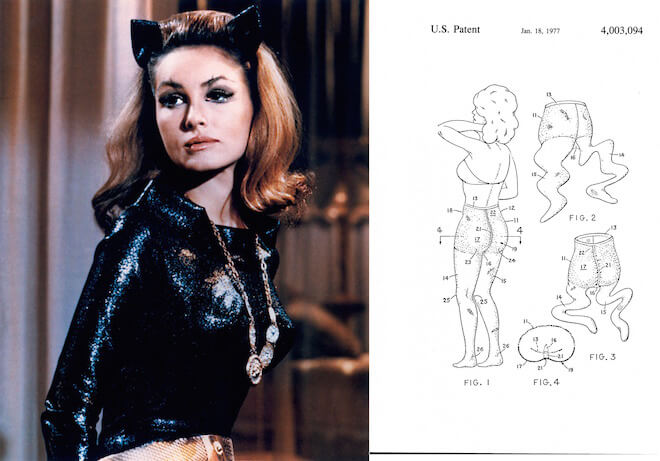 Women around the world have always been obsessed with owning a pair of well shaped buttocks! There is no denying of that. Let us introduce to you, Julie Newmar who is every woman's god-gifted angel. Julie is an American actress, singer and dancer. She acted in the hit TV series, Batman during the 60's. She played the very popular role of "catwoman". Julie came up with skintight leggings which got patented.
Newmar had started designing the costume for herself and her curvaceous body. Black in color and skin tight, her costume was getting more popular than you can imagine. In the 70's, she noticed that women started wearing pantyhose which would compress the mid section, in turn helping display a much curvier butt rather than a flat-ish one. She then designed her own product which would help women look rounder and figured a better way to display their favorite part, the butt. The current innovation, thanks to Newmar, provides pantyhose of semi elastic material which enhances one's shape. In 1974, she patented her design and called it the "cheeky derriere." She explained her design in much cuter manner to the PEOPLE magazine in 1977. She said that the purpose of her invention was to make a woman's butt look more like an apple rather than a ham sandwich." Touche!