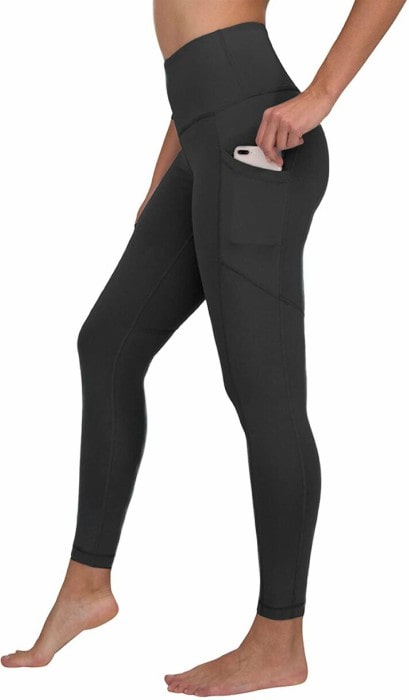 Yoga is a popular form of exercise today. People love yoga because it impacts the body and mind positively. For doing the yoga poses correctly, you need to make your body flexible. The poses are tough, but with the time you will learn to do them without any trouble. If you are into yoga, then you need a good pair of yoga pants to perform well. The pants must be comfortable and durable. When you buy cheap and low-quality yoga pants, they tend to tear while doing the difficult bending or stretching positions. They also irritate the skin and you will find uncomfortable wearing them. You should buy a good yoga pant to perform well and get better results. You will be happy to know that there are now high-quality yoga pants in the market. One of them is the 90 Degree By Reflex Women's Power Flex Yoga Pants. Here, we are going to review this pant in detail.
Design
You can get these pants in various colors. It has a high waistband that provides better tummy control. It is designed to provide excellent fit, so you will feel comfortable during a workout. It has 2 side pockets where you can keep your phone or other accessories during a workout. There is a hidden key pocket as well, so if you are away from home, you can keep your home key or car key there. So, you can do multi-tasking in between workouts to utilize your time. These pants are a bit shorter in length having 25'' inseam. You will look stylish in these pants in the gym, at home or even on the go. There is a reflective logo on the back which looks attractive.
Build Quality
These pants are made of 76% polyester and 24% spandex. This combination makes the pant super comfortable. It has interlock stitching which ensures that the pant won't tear easily. The fabric is 4-way stretchable, so you will be able to perform any movement conveniently and without feeling restricted. It has moisture-wicking technology, so you will stay dry no matter how intensive your workout is. The pant won't get worn out easily even if you use it every day. It is a top-quality pant that will help you perform better in your yoga sessions and make you look super stylish and slim as well.
Size
You can get this pant in sizes from extra small to extra-large. Thus, it is suitable for both slim and oversized people. The pant will fit you perfectly and the stretchable fabric will ensure that the pant feels comfortable when you stretch or bend. The length of the pant is up to the ankle which makes it convenient to walk, do yoga, or other exercises.
Comfort
The pant is lightweight and ultra-soft. It has a 4.5-inch-high waistband that provides extra comfort and can boost up your confidence as you will feel well. The pant is squat proof and it will keep you covered whether you bend, lunge, or squat. You won't need to worry where you put your phone when you are doing yoga. The pant has 2 side pockets where you can easily slide your phone and receive calls when an emergency.
Ease of Use
As the fabric is stretchable from all sides, you can wear it easily no matter what your size is. The high waistband holds your tummy in place and helps to trim your mid-section by applying gentle compression. The pant compresses on the right places which allow ease of movement. You must wear underwear before wearing the pant as it can be see-through. The pant won't get sweaty as it wicks away moisture. You can clean it easily and keep it in the best condition.
Effectiveness
As the pant has a high waistband, your tummy will remain tucked inside. Eventually, you will get a flatter tummy along with losing weight. So, you will be able to get rid of your muffin top and won't feel embarrassed anymore wearing any dress. This pant acts as a slimming gear and will compress your midsection, giving you a sexier body. You will be able to do yoga for long hours wearing these pants. So, you will lose weight and get slimmer by wearing these pants.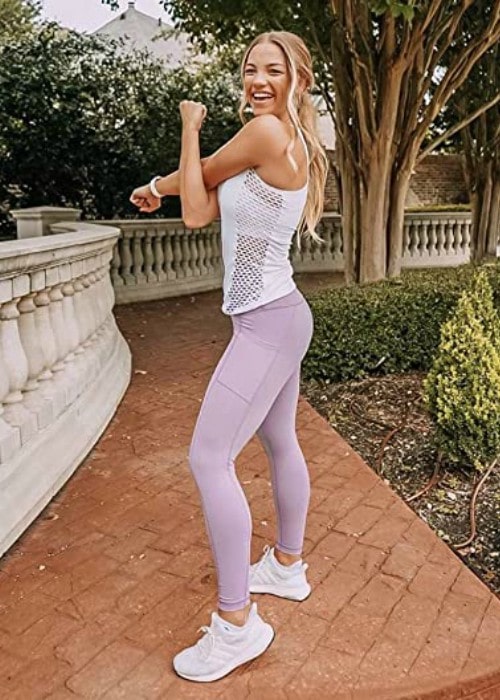 Pros
You can get it in 30 beautiful colors.

The ankle-length makes the pant look stylish.

It is available in different sizes, making it suitable for different people.

It is made of high-quality materials which makes it durable and comfortable.

There are 2 side pockets where you can keep your mobile and other accessories.

There is a hidden pocket inside to keep your keys.

The fabric is stretchable from 4 sides, so you can perform different movements easily.

It provides good compression, so your tummy will become flat eventually.

It is breathable, thus giving you comfort during exercise.

It is affordable.

You get a 30-day money-back guarantee for the product.
Cons
Some people complained that the fabric is see-through.

The high waist design can get in the way of certain poses.

The pant may lose its shape over time.
Final Verdict
This is a reliable brand and you can count on their quality. The pant will last you for many years and it won't tear even when you stretch too much. You can use it for yoga or doing other exercises. It is suitable for users of different sizes; even plus-sized women can wear these pants. The pant is affordable compared to the other pants available in the market. You will be able to do different yoga poses conveniently and comfortably wearing these pants. You can pick from 30 different colors choose the right size as well. If you don't like the pant, you can get a full refund of your money. So, if you are doing yoga regularly, you should buy these yoga pants to get better fitness.