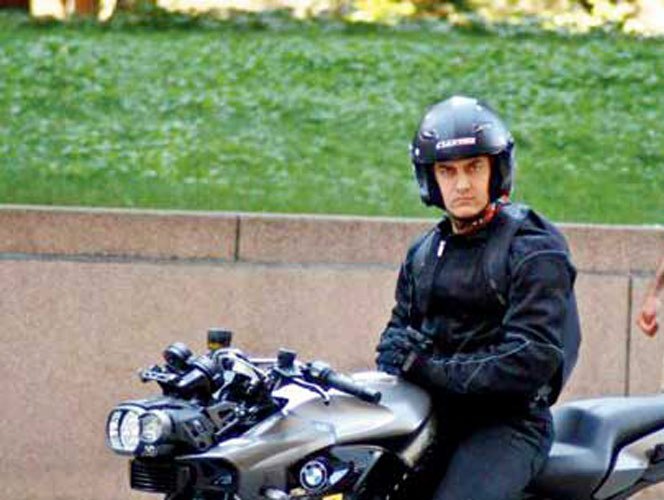 Aamir Khan toned up his physique for the movie "Ghajini" in the year 2008. The then eight-pack boasting star has again worked on his body and physique for the movie "Dhoom 3: Back In Action". The actor used to check his BMI (Body Mass Index) every morning so that he could trace the changes in his body. His diet plan and workout routine were made so that he could suit his role in the movie of antagonist.
Aamir Khan wanted to have a lean yet fit look for the movie "Dhoom 3". He used to check his weight every morning. Khan also hired a personal trainer, Gerald Zarcilla (of British origin) for the action thriller movie. The trainer taught him martial arts and gymnastic techniques. Aamir Khan, who is also popularly known as Mr. perfectionist aimed to have a 10 percent of body weight as fat with total weight of the body being 60 kilograms. Though, Amir's weight in the movie "Ghajini" was nearly 73 kilograms. He reduced his weight by 7 kilograms to support his role's look in the movie "3 Idiots" back in 2009. For the antagonist in the third installment of Dhoom series, Aamir needed to look lean and fit. To get that look, he had to shed extra fat and needed to build more lean muscle mass.
Aamir's body is more fit, light and flexible and suits the role of villain that he plays in the movie. He also performs some mid-air stunts in the movie just like a gymnast. Apart from free hand exercises, Aamir Khan has also undergone functional training for the movie. Satyajit Chaurasia, the personal trainer of Aamir Khan during the movie "Ghajini", says that
"Aamir has got a flexible body and therefore it is easy for him to have the shape, he wants for his body. We know that the actor gives everything to his character and his efforts are commendable again for the movie Dhoom 3".
Aamir Khan Diet Plan for Dhoom 3
For the movie, Aamir Khan ate many times a day in smaller proportions. This kind of eating pattern helps to increase the Basal Metabolism Rate of the body and a person is able to burn more calories during the day. Aamir now eats more meals each day and drinks at least 4 litres of water everyday. On a typical day, his diet plan is given below –
Breakfast – Green tea with muesli, egg whites and fruits
Mid Day – Fruits and vegetable juices
Lunch – Dal roti, curd and sabzi
Evening Snacks – Rusk or cheese cubes and tea
Dinner – Grilled chicken or boiled vegetables and fish
Aamir Khan Workout Schedule
Aamir went for hours of martial arts and gym sessions apart from swimming for 1 hour each day. Aamir trained himself for the antagonist character for the movie Dhoom 3 at his home in famous hill station in Panchgani in Satara district in Maharashtra.
It is speculated that Khan now has again set his goal for an 8 pack physique. He went on a 5 day exercise routine i.e. in 1 week he exercised for 5 days. He performed 4 sets of each exercise with 12 to 15 reps. His weekly workout schedule is given below –
Monday 
Back Workout
Lateral pull down
Cable seated row
One arm dumbbell row
T bar rows
Biceps workout
Dumbbell curl
Preacher curl
Concentration curl
Barbell curl
Tuesday
Leg Workout
Barbell squat
Barbell lunge
Leg press machine
Leg curl machine
Standing calf raises
Wednesday
Chest Workout
Barbell bench press
Incline barbell bench press
Decline barbell bench press
Dumbbell fly
Triceps Workout
Triceps extension
Cable press down
One arm triceps extension
Triceps Dips
Thursday
Abdominal / Core Workout
Seated leg tucks
Back extensions
Vertical bench crunches
Hanging leg raises
Crunches with stability ball
Friday
Shoulders Workout
Dumbbell press
Bent over shoulder raise
Dumbbell shrug
Lateral dumbbell raise
Military barbell press
Saturday and Sunday – Rest
Aamir is entirely dedicated towards his role in movies. Katrina Kaif stars opposite Aamir in the movie. She has also learned parkour, martial arts and other fighting techniques to play her part in the movie. The movie is set to release on 20 December, 2013. So, this year will definitely end with a dhoom. We will see a new look of ripped Aamir in the movie.
Take a look at the trailer of the upcoming thriller Dhoom 3 –