Abbey Lee Kershaw, an Australian model knows that the first requirement to be a successful model is to be thin. That is why she stayed on diet coke and apples for 2 years. She said that like most other models she is also under pressure of staying super skinny. On being asked about the pressure of remaining ultra-thin in the Australian night television show "Today Tonight", she responded with –
"That's like asking a bodybuilder how they feel about the pressures to be incredibly muscly. An elite performer is always put under some sort of extreme pressure that the rest of society can argue, might not quite understand."
This model, who had already earned millions of dollars till the age 20, is relieving on baby food diet. So, what is it?
For baby food diet, you need to replace breakfast and lunch with the 14 jars of baby food. Eat your dinner properly and sensibly. 1 jar is approximately equivalent to 25 to 75 calories. This kind of diet is packed with fruits and vegetables in their natural state (with little or no preservatives), which aims at fulfilling all your body requirements – like vitamins, minerals, and all other vital nutrients. This diet is best for babies or kids, at growing stage as these are low in calories and full of nutrition. Also, it is cheaper and you don't need to cook food. But, regarding adults, it may not be that much beneficial as you are not a kid. Adults have different nutritional requirements. Baby food lacks in proteins and fiber (babies don't essentially need this at such an early stage). So, it is lacking a balanced diet concept. Hence, these are insufficient and not good for an average adult.
Abbey is also known for her nudity and she has also pierced her one of the nipple. What she thinks about her comfort level of nudity is
"I find nudity quite imperative to the expression of fashion.  I'm quite comfortable with saying no, so I don't think I've done anything too outrageous."
Abbey Lee Kershaw Workout Routine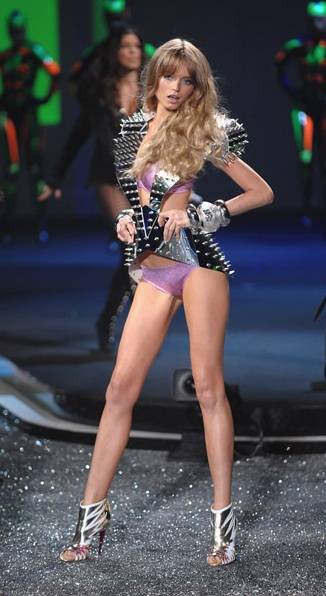 Dancing and yoga are the ones which she really likes, but for that, a sports bra is must as it is the most significant piece of equipment for a workout session. To avoid aches, it is necessary to wear supportive undergarments. This is what she told to InStyle magazine –
"I mix up my exercise routine with yoga, dancing and running. I used to run outside in NYC, but I have bad knees and it's too hard running on concrete, so I've resorted to treadmills. The most important thing is a good sports bra, otherwise it hurts!"
She further says that as she is growing older she is also considering herself to introduce with strength training and more of the cardio vascular exercises. She likes to do exercises on cross trainer as it is a good option for weight loss and it reduces strain on legs and back. Also, it improves one's fitness levels in less amount of time.
One thing more, Abbey Lee does not workout without music.