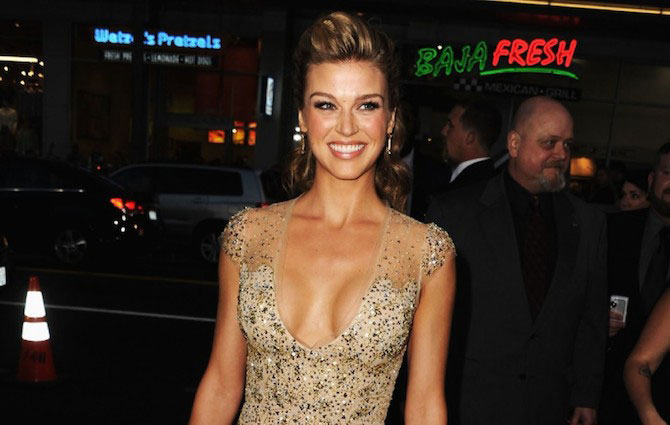 5 ft 11 in, Wonder Woman, Adrianne Palicki is endowed with perfect athletic body. Her slender body, ridiculously toned stomach, long and sexy legs are sufficient enough to make any woman envy the girl. The goddess of hourglass figure is well aware of her pristine figure and so she shapes up her body with prudent workouts and diet. Here are some of the diet and workout secrets of the mesmerizing beauty, which makes her look smashing hot in all kinds of outfits.
Gluten Free Diet
Palicki being suffering from celiac disease, which is an auto-immune disease eats gluten-free foods. Having renounced the consumption of wheat flour, rye, foods containing additive named dextrin, pancakes, pasta, bread etc., she eats enormous green foods in her diet. Besides purging her from the symptoms of disease, gluten-free diet also keeps her from packing up surplus pounds. Turkey sandwich being her beloved food often reserves place for it in her diet regime. However, she makes sure that she maintains the size of bread very meager. Despite swearing by restrictive diet, the blue-eyed stunner doesn't fail to incorporate proteins, carbs, and fats in proportionate amount in her diet.
Vigorous Workouts with Personal Trainer
The hottie hired celeb trainers Bobby and Alicia Strom to execute customized workouts to sculpt her figure. The fitness fanatic works out four to five days in a week while devoting forty-five to seventy-five minutes to workouts per day. She executes myriad high intensity cardio workouts. Her circuit training exercises have very short rest period that is one to two minutes. However, when she has to prepare her for audacious roles in movies, she doesn't step away from executing intense workouts. For the movie, G.I. Joe: Retaliation, she executed myriad arduous exercises such as combat training, stunt training, physical training, muscle building, gun training etc.
Her fitness instructor had her do workouts incessantly for eight hours in a day. She followed the same workout routine for one month to hone her body parts and render them sleeker look. She performed diverse circuits on different days to strengthen her core and tone her legs, arms, and butts. Here is one the circuits of her circuit training.
Warm Up – 15 minutes running on treadmill
Roll ups – 20
Kettlebell squats – 20
Sidekicks on beg per leg – 20
TRX rows – 12-15
Walking lunges with oblique twist – 20
Side to side push-ups – 15-20
Medicine ball slams – 30
Dumbbell presses – 12-15
Running And Dancing – Most Reliable Cardio Workouts
Among cardio workouts, running and dancing are her most reliable workouts. Palicki being into sports enjoys playing myriad sports activities such as basketball, football etc., which rejuvenate her body as well as mind. She runs for six miles in a day. And among varied dance forms, zumba is her favorite. She dances unless she gets totally drenched in sweat. She chirps, it really transforms her body and mind when she dances in the company of her pals. Hiking too does come under the list of fun workouts of Palicki, which ensures good health of her heart.
Healthy Workout Tip
Should you too wish to acquire svelte figure like Adrianne Palicki, here are few exercises you shall do in routine.
Split Squat – Take both your hands behind your head. Get a chair or stool and stand two feet far from it, your back shall be facing the stool. Now lift your left leg in backward direction and place the toes of your left foot on the stool. While doing so keep your back straight. Bend both your legs until your left knee touches the ground. Return back to the initial position. Make minimum fifteen reps of these on each leg.
And if you wish to enhance the influence of exercise, instead of taking your hands behind your head, you can hold five to ten pound dumbbells in both your hands. The workout working on your quadriceps, glutes, and hamstrings will render you toned thighs, and flat belly.
Have an eye on the correct form of doing the workout from the video below –
Second Workout
 (
Criss-Cross Lunge
) – Stand straight while keeping both your legs one feet apart. Now put hands on the side of your butt. Take your right leg in forward direction and left one in backward direction while criss-crossing your legs. Return back to normal upright position. Make fifteen to twenty reps with each leg. The workout will render you honed thighs, lean legs, and taut butts.
Check out the correct postures from this video –