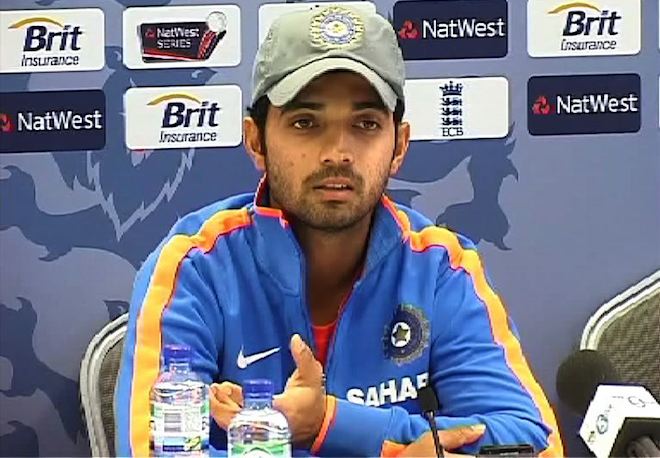 If you are a fan of cricket, then you must have noticed the performance of Indian opener Ajinkya Rahane in the recent tours. He is steady, reliable and can handle pressure too. When it comes to his looks, he may look a bit skinny but he has proven to have shown enormous amount of stamina. After all, playing for hours and hours especially if you are an opener and under tremendous pressure to give a nice start to your team is not an easy task.
So if you are impressed by the field performance of this rising cricket star and want to know about his workout, fitness and diet secrets then you have come to the right place. Here we have mentioned some fitness and diet habits of Ajinkya Rahane that can come in handy for you especially if you want to have a body that is fit and has a lot of stamina.
Run a Lot: The first tip offered by Rahane is to run a lot. You should at least run 3 miles on a daily basis to keep yourself fit and active. It's not necessary that you should run on a treadmill only. Rather it would be better if you would run around the neighborhood and especially in the morning as it would allow you to take in a lot of fresh air on a regular basis. The fresh air would keep you healthy and a good run would clean out all drowsiness from your eyes and make you alert and ready to face the day.
Meditate: If you want to make yourself healthy, you should not forget to focus on getting inner peace. Rahane opts for meditation on a regular basis as it helps him to clear out all the stress and tension related to the game. So if you are stressed out about something, stop worrying and start mediating. It would help you to make yourself calm in the toughest of situations and you would be ready to face any challenges without getting nervous or jittery.
Quality Matters: As far as the issue of gymming is concerned, Rahane opts for spending quality time in the gym. He thinks that even one or two hours are enough if you are doing core exercises as compared to doing light exercises throughout the day. So stop pretending that you are putting in time in the gym and instead, opt for doing heavy exercises on a regular basis. If you can do some crunches for a few minutes only, it would be far better than doing light exercises for hours.
Be an all-rounder: Rahane also suggests everyone to be an all-rounder. As a batsman, he is quite good but in the training session he also practices bowling and fielding in order to improve his reflexes. So if you want to be an all-rounder, you should not stick to a single form of exercise on a daily basis. After all, variety is the spice of life. Isn't it?
Diet Tips
Now let's have a look at the diet tips suggested by Rahane that would surely help you out.
Oats: Rahane starts his day by consuming oats. It is a healthy food that would give you a lot of energy and keep the protein quotient up in your body.
Milk: Rahane also focuses on consuming a lot of milk especially in the morning or after workout sessions as it boosts his energy levels.
Salad: Fresh salad is a must for Rahane in dinner as it keeps him healthy and keeps his weight in control. Eating light in dinner is one of the key tips offered by health experts and if you adopt this habit, you'll surely be satisfied with the results.
Juice: Fresh juice is another must have for Rahane. If you adopt the habit of consuming fresh juice on a daily basis, you would surely feel more active as juices play a key role in removing the toxins from our bodies.
Most Valuable Tip
Rahane is a big fan of Misal Pav created by his mother. As it's a spicy dish and not so healthy, he compensates his indulgence by spending a few minutes extra in the gym. So Rahane's last tip is that you may indulge in a weakness now and then, but you should never forget to compensate for it by working out a bit extra.