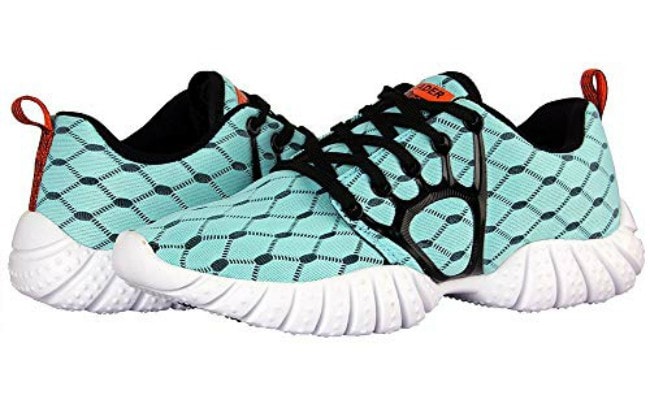 If you want to hit the track, then you will need to be well equipped with the right cross-training shoes. If you wear improper shoes, then it may lead to soreness, uncomfortable feeling, and even cause blisters. Cross-training is very effective in improving fitness and flexibility. You can lose weight and it can even be useful after surgeries. But, you won't be able to meet your expectations if you don't wear the proper shoes.
There are lots of options available when it comes to training shoes. So, selecting the best one can be difficult. You should buy the shoe according to the budget and several other factors. You should make sure that the shoes are flexible and breathable so that you can use the shoes for performing various types of exercises and also use them for doing intense exercises. The shoes should have proper cushioning so that they feel comfortable. The most important factor is the size; the shoe should fit properly. If your shoes don't fit in properly, then blisters will form and you may have other serious problems.
There are various brands available and ALEADER is one of the leading brands for training shoes. Here we are going to review this shoe and find out about its unique features and advantages.
Design
The shoe has a very simple yet smart design. These come in colors such as black, grey, royal blue, and teal. It is made of mesh fabric that makes it super comfortable. The fabric design allows adequate airflow which keeps your feet cool. The shoes are very lightweight and you will feel as if you are not wearing anything. They are breathable and so they will keep your feet cool all day long. It has a flexible design and so you will be able to move your feet freely. The outer sole of the shoe is flexible and doesn't obstruct the natural range of motion. These shoes are great for running and doing different cardiovascular cross-training. They have hydro grip traction outsoles and so provide better traction in both dry and wet surfaces. So, there is no chance of slipping or falling when you wear these shoes.
The insole of the shoe has a lot of cushioning for providing more comfort and also reducing the impact by absorbing it. By wearing these shoes, you will get well-supported feet from the bottom upwards. The 5-claw side design provides better stability and support from all sides so that your feet don't ache. The lace-up design ensures that lateral movement is prevented to improve your performance.
Build Quality
These shoes are made of mesh fabric that is extremely light and very comfortable. The soles are made of rubber that makes the shoes durable. The insole is well cushioned and provides great support. The insole also has a breathable inline that creates a drier, cooler, and healthier environment inside the shoe. The fabric used in the shoe is durable and the mesh upper is breathable. The shoe has good arch support and great cushioning, so you will feel very comfortable wearing the shoes.
The Solyte midsole makes the midsole lightweight and has a bounce-back feature. The shoes have a hydro-grip rubber outsole that provides excellent traction any both dry and wet surface. The shoes are perfect for cardio and other cardio-related exercises.
Comfort
These shoes are made for the ultimate comfort of the wearer. The breathable mesh always keeps the feet well ventilated. So, the feet remain dry even after long hours of workout. The insole is cushioned to provide extra comfort and support. The outsole provides great traction to let you perform comfortably on any surface. You won't feel any pain after wearing these shoes. The shoes are lightweight and you won't feel even the weight of the shoes while exercising or running. So, as these shoes are super comfortable, you will be able to improve your performance by wearing these shoes.
Effectiveness
These shoes will enhance performance in extreme conditions also. The sole has a rigid rubber that provides additional grip and traction. The mesh material ensures proper air ventilation so that your feet remain cool and dry for a long time. This material also allows quick drying so that sweat doesn't develop. The insole is cushioned which provides excellent comfort and will let you wear the shoes for a long time.
These shoes stand out from the other brands because of the sturdy construction and impressive design. The 5 claws side design provides great support and comfort. There are cushioned insole and hydro-grip quality rubber outsole for comfort and stability. The shoes are flexible and you will be able to do cross-training and cardio exercises with them. The design is simple and so the shoes can be used for running and casual wear as well.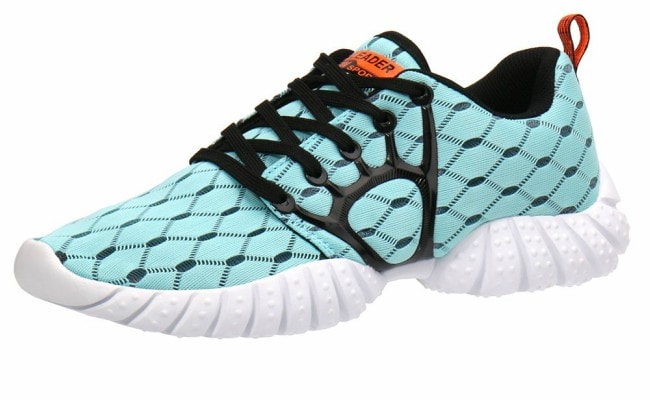 Price
The shoes will cost about $40 and it is one of the most affordable cross-training shoes you will find in the market today. Though the price is low, the shoes provide great support, stability and cushioning.
Pros
It is lightweight and has a simple design.
It is made of mesh material which ensures breathability.
The hydro-grip sole provides better traction.
It has a lace system to ensure that your feet remain in place during workouts.
EVA midsole provides better shock absorption.
The midsole has a bounce-back feature and allows for natural movements.
The outsole is made of rubber and is durable.
The lacing system keeps the feet in place so that they don't wobble during workouts.
It comes in various sizes and so is suitable for different users.
It is flexible and you can do different exercises with it.
You can buy the shoes at a very affordable price.
Cons
To many people, the sole may be too thin making it uncomfortable to wear.
These shoes are not perfect for weight lifting.
You must order half size bigger than your feet; otherwise, it won't fit properly.
Final Verdict
Cross-training needs energy and dedication. If you don't wear the right shoe, it will hurt your feet. When buying shoes for cross-training, you need to consider several factors. These shoes have an attractive design and are of superior quality. The construction is so sturdy that it will last for a long time. The breathable upper mesh lets the feet stay dry and cool all the time. There is no scope of sweat building up. The shoes are well cushioned and are designed to give comfort and support.
It can be difficult to find the right shoes for your workout. A lot of research and effort is required to choose the right shoe. If you are looking for a pair of shoes that will be stylish, functional, and durable, then you should buy these shoes. These shoes will ensure that you don't have any blisters on your feet or suffer from any kind of foot ache. You can use these shoes for various types of cross-training and cardio-related workouts. Considering the price and features, these shoes are a great choice for those who are serious trainers and want to get the best performance.
Buy ALEADER Men's Mesh Cross-Training Running Shoes