Many people assume that as they are too busy in life, it's okay if they don't workout. This approach and ideology is not altogether correct. It has been proven by popular singer and the judge of Britain's Got Talent (2007-Present), Alesha Dixon.
She is so busy with her professional and personal life that she barely gets any time to exercise. But when she does, she puts in a lot of effort in it. She also stays healthy by investing time in pleasurable and healthy activities like running after her daughter or walking her dogs. Following a healthy diet plan, getting ample sleep and taking care of her skin are a few things that help her look so great. What else does she follow to look so gorgeous? Let's find out.
Workout Routine
The diva has always been very athletic, even as a child which may be a factor behind her athletic body. But she has no fixed workout routine. She trains with a trainer, Janet Malinowska occasionally and does 1-hour sessions. Her preferred workout routine is to exercise twice a week, but she can't always manage it due to her busy schedule. When she works out in the gym, her preferred exercises are conditioning exercises like squats, lunges, etc. She adds that performing on stage also keeps her heart rate up.
Another way of exercise preferred by the TV personality is to run after her toddler, Azura. She also likes to exercise by walking her dogs and thinks it's a necessary task that needs to be done daily no matter what the weather conditions are.
Workouts for Different Scenario
When the singer has a performance coming up, she likes to spend some time with her trainer in doing cardio exercises as they boost her stamina. If she is feeling tired or her body needs stretching out, she does some yoga or Pilates.
Post Workout Essential
While talking to InStyle, the model revealed about the post workout essential she uses. It's coconut oil. It helps her to maintain a healthy glow as she rubs it on her skin. She also uses it on her daughters' hair. She uses it to keep her skin hydrated when she is at home and is not wearing any makeup.
No Weighing Scales
The stunner reveals that she doesn't like to weigh herself, so she is not so fond of weighing scales. Her focus is on being happy and healthy. She doesn't have a fixed dress size too. She changes dress size depending on what shop she is in.
Diet Plan
The rapper shared her diet plan with OK.co.uk a few months ago.  It is mentioned over here:
Breakfast
The current partner of dancer Azuka Ononye likes to start her day with an omelet made by him. If both of them are busy, she eats some porridge or bran flakes.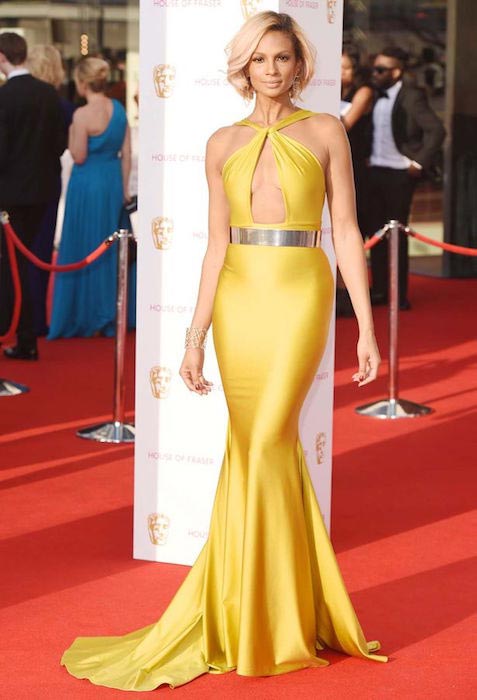 Lunch
The afternoon meal of the brown-eyed beauty includes having a vegetable juice or a big fat salad.
Dinner
During dinner, the founder of Mis-Teeq likes to have some roast sweet potatoes, some mackerel, onions, fry peppers, spinach, Brussels sprouts, quinoa, and avocado. She likes to eat loads of fish in her meals too because she has given up meat.
Giving up Meat
The brunette gave up meat a few years ago because she loves animals. She adds that her mother (who is a vegan) inspired her to do that.
Other Diet Changes
The star has made several other diet changes too. She has given up cows' milk and uses almond milk instead.
Diet Indulgences
The philanthropist likes to indulge in foods like pizza, Indian takeaways, square crisps, Maltesers, etc. Alexa also loves chocolate. She says that whenever she feels like having a pizza or some chocolate, she does it.
Healthy Diet
When asked how the judge of Strictly Come Dancing (2004-Present) likes to decide her diet, she said that she just listens to her body. She loves food, eats a lot, and likes to indulge but at the same time, she is conscious of putting goodness in her body. She says that at the end of the day, her body is like a machine that needs the right fuel to go on. Having vitamin supplements is also a part of her life. She also believes that no one should ever be a slave to dieting.
Beauty Secrets
The Welwyn Garden City-born likes to keep her skin healthy by eating right and confesses to using loads of natural oils like Vitamin E and coconut oil. She thinks that simple things work best and says seeing a dermatologist is too fancy for her. She believes that a good night sleep can work wonders for a person's skin and gives better results than any cream. Hydrating is also vital for looking great according to her. The TV presenter especially loves her skin after a workout as it looks and feels great after a good sweat.
Did you like the workout, diet and beauty ideas of Alesha Dixon? If so, you can get more ideas by following her on Twitter or visiting her official website. You can also have a look at her previous workout routine and diet plan over here.