Victoria's Secret Angel, Alessandra Ambrosio is no doubt has one of the sexiest bodies in the world. She can be frequently seen in the fashion shows wearing lingeries, gracing the covers of countless fashion magazines. Now, she measures around 34-25-35 and can fit in any type of cloth. But, this Brazilian model was not always like that. The story of her success begins 11 years back from now.
She approached Brazil based fitness teacher, Leandro Carvalho, who has now become famous with his "Brazil Butt Lift" idea. Ale (or Alessandra) demanded that she wants to have long legs, thinner thighs and also a tight buttock. Leandro worked on her query and as a result, he gave birth to a great idea called "Brazil Butt Lift", now for which, the models are sailing up to him for the same.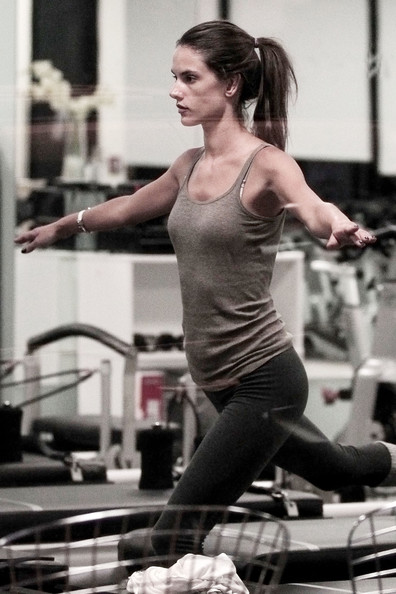 Majorly, there are 3 kinds of muscles in the butt – gluteal maximus, gluteal minimus and gluteal medius. He worked on these 3 muscles and have provided with great solutions to Ale, without adding any bulky mass to the thighs. This has helped other models also to achieve a butt like her. Though, it requires endless efforts but surely this can be obtained.
In the following video, she is working on her butt exercises. He insists on keeping a diamond like shape between legs while working out as this will give better shape to your butt muscles.
Elastic Bands – Working with elastic bands can give you a better booty. By keeping the foot in between them and then swinging the arms in the air will involve the butt movement and hence can lead to shaped booty. She performs a dynamic blend of Brazilian dance and cardio.
Capoeira – She also practices Capoeira (Brazilian martial arts that combines elements of dance and music) for her target figure. Carvalho says that this can make your butt rounder and fuller. For that, sit in a crouched position, by sticking out your butt. Move your leg back or behind and then return back. Now, do this on the other leg. For a support and maintaining the body balance, you can touch the ground with your hand. This is 1 repetition. Repeat this many times and increase the speed of doing capoeira as you gets comfortable.
There are numerous floor exercises which you can do. Some of which are shown here –
Ankle Weights – Balance your body weight on your both the knees and elbows. Now, extend one of the leg out and touch the floor on the other side in a rainbow style. Take the leg back to its original extended position. Do this on both the legs. Do watch the below video for a clear idea.
On the beach – Lay down on the floor. Raise your both the legs, a slight higher. Now, keep the lower leg in that position and lift the upper leg upwards and then downwards. You can do this 20 times. This really works upon your thigh muscles and body balance. This is 1 set. For other set, you have to do just the reverse of the previous one. That is, this time make the to and fro motion of the lower leg by holding the upper leg in that particular position.
Now, all you have to do is, see this video and perform these to get your desired beautiful butt.
Alessandra Ambrosio Diet Plan
Now, Ale needs to maintain her toned legs and butt and this can be done by taking proper care of dieting habits. So, let's see what she eats.
Morning
She likes to have eggs with bacon and eats them daily in her breakfast. Though, her fiance cooks them for her. He makes them in a variety of ways – benedict eggs (Ale's favorite ones), scrambled or sometimes fried eggs. Besides these, her other items are coffee, muffins, sandwiches, bagels, bread, fruits. That is, she intakes carbohydrates.
Afternoon
In the lunch, she likes to have salad sometimes with non-veg food like filet mignon, or with chicken breast and with veg food like rice and beans. She also likes to have food from a nearby restaurant called Mishima. She would order miso soup, tuna rolls, california roll, salad. Post which, she likes to have candy sometimes. But, if she is out for a photoshoot, then she simply eats slighter lunch, which consists of a light snack.
Evening
Ale takes little amount of nuts as her evening snack, and a cup of coffee.
Dinner
Now, her dinner includes lobster ravioli, salami, caviar, and Italian dessert – tiramisu. Or, she would simply visit the Japanese-barbecue restaurant called Gyu-Kaku where she takes spicy Kalbi soup, filet mignon, different kinds of meat, sweet potato, mushrooms and s'mores as a dessert.
So, in nutshell, she is a foodie and hence does not restrict herself in case of eating, unlike other anorexic celebs like Lady Gaga.