Alexandra "Binky" Felstead is one of the TV divas who like to stay fit. She hasn't let go of her addiction towards fitness even in pregnancy. Alexandra was exercising during the first trimester and she is doing it in the second trimester as well.
Here we try to find out more about her pregnancy workout and regarding the fact that she was named as a fitness inspiration recently. We also get to know her pregnancy style ideas and have a look at how the baby has the potential to change her relationship with her boyfriend.
Pregnancy Workout Routine
The girlfriend of JP (Josh Patterson) is expecting her first kid right now. She announced the pregnancy a few weeks back. Her pregnancy workout routine was recently highlighted by Closer. During the first trimester, she was focused on doing small and modified workouts often.
She believes that regular exercises throughout the pregnancy are beneficial for a mother as well as the kid. Your focus should be on listening to your body and not overdoing it.
Now, the reality star has shared her second-trimester workout regime. It is a trimester in which most of the pregnancy training takes place. Her body is going through a lot of changes, so her workout routine consists of doing a bit of cardio and strengthening exercises to gain better posture and core. Getting a better posture is vital because her abdominals have begun to stretch due to the pregnancy.
She also does a lot of leg exercises as her knees have started to feel sore and stiff. The stunner also does pelvic floor exercises like fast and slow twitch as it will help her when she is giving birth to the baby.
Workout Fundas
When she is working out, the TV star never puts on any makeup. She also believes in staying hydrated throughout the workout. Alexandra exercises regularly as the workouts make her feel great.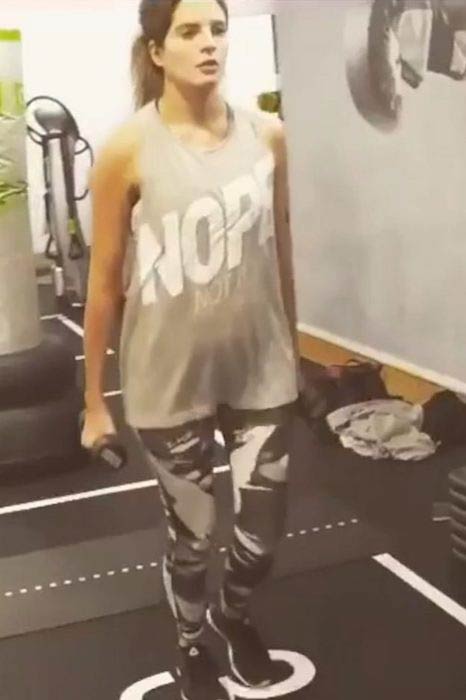 The Fitness Inspiration
The Made in Chelsea (2011-Present) star was named as the Gymspiration of the Year by Aesthetic specialist 3D-Lipo Ltd. The results were announced post a survey that was taken by 2,000 women. It is clear that Binky has inspired women from all over the world to get to the gym.
The new face of Reebok has also succeeded in beating the fitness fanatics, Lucy Watson and Louise Thompson. The second place was bagged by the Queen of the Jungle Scarlett Moffatt as she had lost 3 stone during the last year. Third place was bagged by Khloe Kardashian, the face of Protein World and Revenge Body. OK Magazine reports that TOWIE stars Billie Faiers and Kate Wright were also on the list. Geordie Shore originals Vicky Pattison and Charlotte Crosby were also on the list.
Pregnancy Style
Though she did buy some maternity jeans but her style has always been loose fitted and baggy. She always wore comfy clothes. She plans to shop for new clothes only when the bump grows bigger. Right now, she is sticking to her old tops as her tummy has not grown too much. She also admitted to living in maternity trousers and a baggy jumper currently.
New Chapter in Life
In January 2017, the beauty admitted that the pregnancy was a shock for her and JP. This is a new chapter in their lives and she wishes to have a little family. But, she will be okay either way. She is firm on the fact that whatever happens in her life, the baby won't be affected. She also believes that Josh will be a part of the baby's life even if they are not together. Since she has become pregnant, they have become a unit.
The duo is starting this year with a blank slate and is considering it a new start. They also feel lucky and blessed to be bringing a new life into the world.
Is the Pregnancy Positive For The Relationship?
A few days back, Felstead admitted that she and JP will not get together just because there is a baby involved as that would be wrong. They are now the happiest, they have ever been since a long time. She feels that the things are going in the right direction and it's an exciting experience for her.
We hope that your relationship will be strong in the future and you will continue to be a fitness inspiration for women for a long period Binky. Good luck!!