Famed for her toned body, Alice Matos is an IFBB International bikini athlete and fashion journalist. Besides that, she also owns one clothing company namely LABELLAMAFIA which has great stock of fitness as well as regular line of clothing. The brunette bombshell who has become a fitness icon among young girls has more than 1000,000 followers on the internet. And needless to mention, they keep their eyes set to see the next move or exercise routine followed by their favorite star. Let's see how this Goddess of bikini figure maintains her paragon figure.
Source of Inspiration
Petite celeb shares that the zeal to see herself cross her self-defined threshold motivates her the most. She states that it renders you really awesome feeling when you know that your body can act as per your commands. She adores ripping her body with grueling workouts. Although the athletic beauty has been an active player of diverse sports such as soccer, volleyball, basketball, etc. since her teen days, but she was still not familiar about the incredible benefits of workouts. It was only after she challenged her body beyond its endurance levels that she came to witness their astounding impacts.
Workouts with Personal Trainer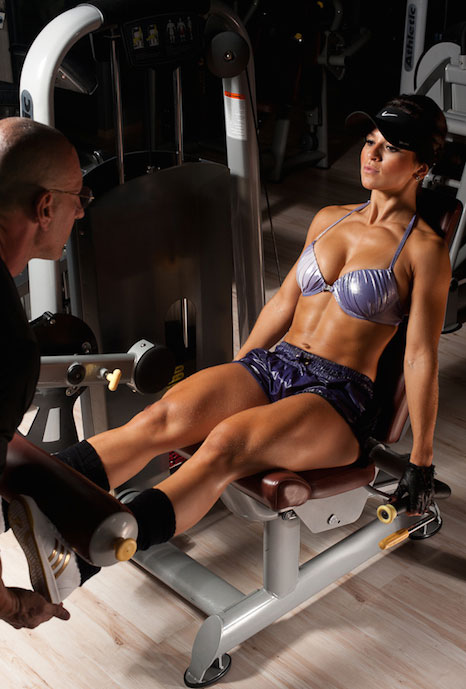 Having resolved her mind to prepare for bikini contests, which inevitably requires one to have impeccable body, Alice hired a personal trainer to get proper training and guidance. She tried her butt off and executed rigorous workouts under his supervision. She found that the outcome of those rigorous workouts were really flattering. Thanks to workouts that Alice got amazing boost in her confidence, which further aided her become part of challenging bodybuilding competitions and come out with remarkable awards. Alice works out six days in a week and devotes one complete day to rest. Her personal trainer alters her lower body workouts with upper body workouts. Here is a sample workout routine followed by Alice.
Day One – Lower Body
Sets – 3
Reps – 12-18
Leg Extension with Leg Curls
Leg Press
Lunges on Smith Machine with Pop Squats
Squats with Switch Lunges
Walking Lunges with Free Weights
Day Two – Upper Body
Sets – 3
Reps – 12-18
Pullovers
Machine Shoulder Press
Black Row Machine
EZ-Bar Curl
Cable Pushdowns with Body Dips
Triceps Pushdown
Front Raises with Shoulder Side Raises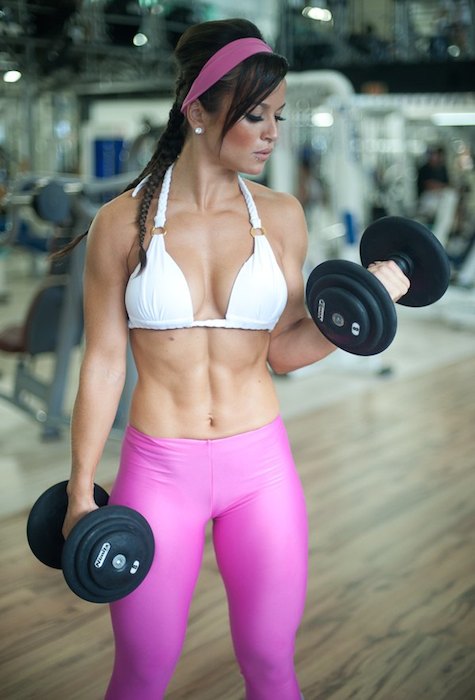 Day Three – Lower Body
Sets – 3
Reps – 12-18
Lunges
Leg Press Unilateral
Squats
Glute Extensions with Legged Deadlifts
Abduction Machine
Day Four – Upper Body
Sets – 3
Reps – 12-18
Front Raises with Seated Rows
Chest Press Machine
Hammer Curls
Tricep Curls
Inclined Lateral Raises
Shoulder Press
Day Five – Lower Body
Sets – 3
Reps – 12-18
Seated Leg Curls
Lying Hamstring Curls
Lunges on Smith Machine
Stiff Legged Deadlifts
Day Six – Upper Body
Sets – 3
Reps – 12-18
Side Raise with Seated Rows
Flies
Hammer Curl
Biceps Curl
Cable Bench Press
Although she swears by diverse variety of workouts but she particularly loves exercises, which are meant to provide full body workouts. Barbell squats, back row, and bench press are her most beloved workouts for they tone majority of the muscles of her body. Compounded movements in these workouts are best for building muscle mass too. In addition to that, for cardio workouts, she relies on running on elliptical and biking for 40-50 minutes in a day. She abides by this routine for five times in a week.
Six Small Meals in a Day
When preparing for tough contests, Alice embraces very strict diet plan. She completely forbids the consumption of sugary, salty, and fatty foods. Instead of eating three hefty meals, Alice eats six small meals in a day. Her diet consists of myriad foods opulent in lean protein and complex carbs. Foods such as oat bran, chicken breast, brown rice, salmon, whole wheat pasta with salad, casein protein etc. come in her healthy and nutrient dense choice of foods.
Reliance on Supplements
The stunner being lunatic about fitness adores building abs and magnifying muscle mass in her body. She consumes plentiful of supplements to suit the objective. Following are the supplements Alice consumes in her routine.
BCAA Powder – During training sessions and prior to cardio workouts
Glutamine – Before, during, or after workouts, and prior to hitting bed to sleep
L Carnitine – Prior to cardio workouts
Vitamin E, Mega Women, and Omega 3 Fatty Acids – At Lunchtime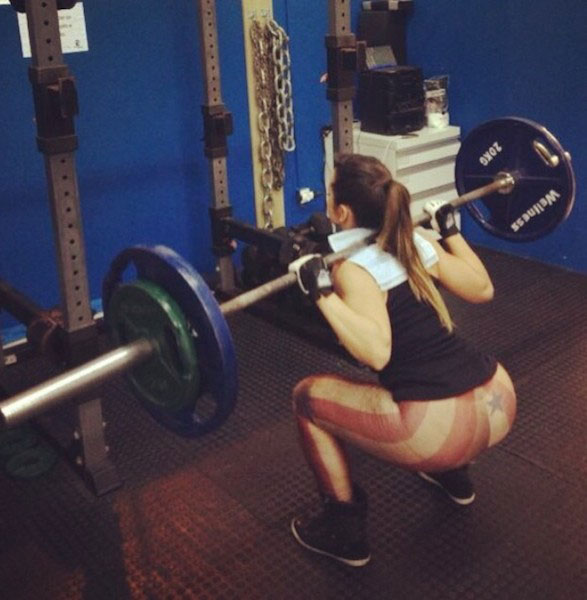 Since your body's requirement for nutrients is tremendous, even balanced diet might not be able to fulfill the nutrient needs of your body. So, you can always trust on supplements for adequate nutrition. That said, there are proper timings and quantity of supplements you shall consume. Also, you cannot blindly consume supplements and expect pleasing results. For example, if you are taking all kinds of supplements without doing workouts, you are unlikely to relish their benefits. In fact, intake of supplements in such cases might bulk up unsolicited pounds in your body. Henceforth, don't fall in the gimmick to transform your body in a bunch of days with mere consumption of supplements for there are no quick fixes to lean and curvy figure. You have got to put needed efforts.