Born on 3 Dec, 1985, Amanda Seyfried is a multi-talented and beautiful actress cum singer-songwriter. She had started her career as a child actress at the age of 15 and today, she is one of the most famous actresses of Hollywood. Like her acting skills, her well maintained figure is also popular among people all over the world. She does not spend much time working out in gym, but still she worked hard and followed a very strict diet plan to get such a developed and attractive body. Regular and organized workout along with natural form of exercise such as yoga, dancing, cycling has helped her to get a svelte body, radiant skin and fabulous youth. Her svelte body is what each girl dreams of, she is neither to lean nor too massive, she is just perfect! Just go through the diet plan and workout schedule of Amanda to get the awesome shape.
Amanda Seyfried Workout Routine
Amanda has a balanced shape of body with proportional stress on the lower as well as upper area with perfect coordination between her mind and figure. Long legs, attractive waist, outlined collar bone as well as well-outlined body describes the figure of Amanda. She prefers to workout daily for 45 minutes. She has included general yet important exercise forms such as Pilates, cardio exercises and yoga. Not only these exercises are responsible for what Amanda is today but jogging, cycling and dancing also contributed equally.
Cardio warm up – Amanda prefers this form of exercise (also known as Aerobic workout) to reduce the extra fat from all over her body especially form the abdomen. She does running, cycling, rope jumping, etc., for her body warm up. These forms of exercises not only warm up her body but also make her active all day long.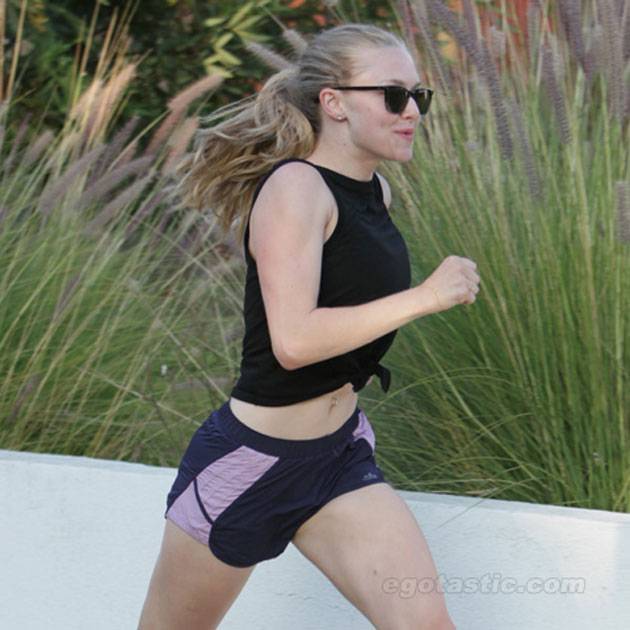 Bent over Dumbbell Rows – This form of exercise is very crucial for maintaining upper body strength and keeping back straight.
Reverse Lunges – It is helpful for the lower body parts where the extra fats over the thighs and hips will reduce and its gives strength also.
Double Crunches – It is the most popular form for developing shoulders and making it look attractive.
Amanda Seyfried Diet Plan
Amanda's diet plan also plays an important part for staying her fit. She consumes foods 5 times a day as stated by Harley Pasternak. Her food has a low-fat protein, proper and balanced carbs, roughage, healthier body fat and a sugar-free drink. She has completely left unhealthy meals.
Breakfast – Raw vegetables, fresh fruits and healthy drinks like lemon and ginger drink are the important part of her morning meal.
Snacks – For her first snack, she prefer to have milk protein or milk products from which she can get natural protein in the best form.
Lunch – Though, Amanda is maintaining a planned and nutritious food habits, but in her lunch, she prefer to have a piece of fat less pizza. She does not want to appear like a skeleton that is why she also gives some break to her food habits also.
Snacks – In her second course of snack, she takes fruits and a glass of juice to fulfill the demand of her body. Taking fruits helps her to acquire natural vitamins and antioxidants.
Dinner – Low carbohydrate foods characterizes her dinner. She believes it is better to take only such amount of food, which is required by the body as eating too much at night and doing workout the next day to burn the extra material won't help at all to maintain a good body.
So, now you have the workout schedule and food habits of Amanda, just follow it well and you will be on your way to have a well toned body just like Seyfried. She really worked hard to get a perfect figure that she has today. She had left eating junk foods and consumes only those foods that help her to keep healthy and energetic.