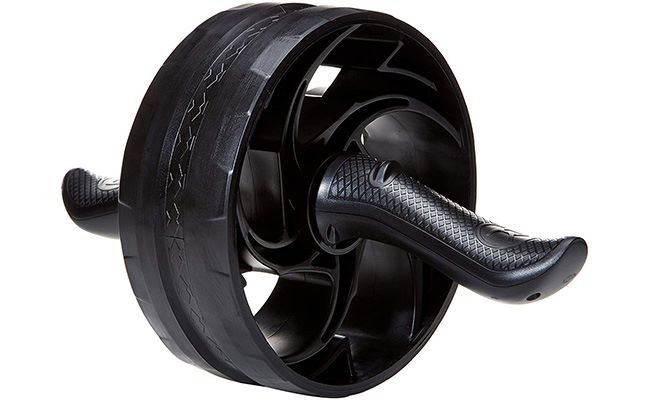 Today workouts are not limited to push-ups and crunches only. You will find various exercise equipment in the market. More people are now going to the gym than before. However, there is some equipment that can be used at home as well. The ab roller is one such equipment that lets you get the desired body you want without going to the gym. It is compact in size and you can easily store it anywhere in your house without taking much space.
Ab roller wheel is ideal for people who want to get six pack abs and also get their arms and legs toned. It can also reduce fat and improve your overall health. Being fat-free lets you stay away from diseases. If you have fit body and strong muscles, then, you will be less prone to injuries as well. There are many types of ab roller wheels in the market. The first thing you should look into when buying an ab roller wheel is to see if it has a comfortable and ergonomic set of handles. Then you should consider the quality of the wheel. One of the best ab roller wheels having these features is the AmazonBasics Abdominal and Core Exercise Roller Wheel. Here, we are going to review this product in detail.
Design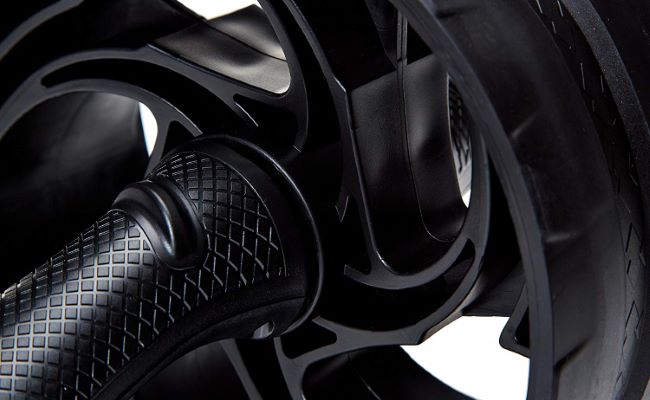 This ab roller has a simple design with two handles on either side of a vertical wheel which makes it easy to use. The handles of this ab roller are ergonomically designed. The ergonomic shape and angles of the handles are such that they are easy on the palms and helps to take the pressure off from your wrists. The handles are wide which makes it safer and more comfortable.
The wheel is sturdy and will be able to handle lots of pressure of intense workout. It is sleek black in color and so will coordinate with the other exercise equipment you have at home. After assembling, it measures 13.3 X7.6 X 7.6 inches which are quite compact and so won't take much space when exercising or storing. Its sturdy design provides reliable support to perform even the most intense exercises.
Build Quality
This ab roller wheel is great for core-strengthening workout and if used properly, it can help strengthen the core, abs and other parts of the body as well. It is lightweight and weighs only 2.1 pounds. It is constructed with Polypropylene Plastic and Thermoplastic Rubber which makes it durable. The wheel is made of strong stainless steel, durable PVC and non-slip rubber. It has a steel pipe axle as well which makes it even stronger.
Grip
It has handles on either side of the wheel which provides an ergonomic grip. The handles are comfortable to hold and help to keep the wrists in alignment. The proper grip ensures optimal result during ab rollout exercises. The handles are non-slip, so even if you sweat after an intense workout, you won't feel any problem controlling the ab roller with your hands. They are also designed in a way that user fatigue is less as well. It has a smooth-rolling wheel which provides stability on any surface.
Control
The thick steel tube makes it more stable and therefore, safer to use. The wheel can roll smoothly on any surface and has good traction, so there is no chance of tipping over and causing injury. As the wheel is wide, it provides better stability and control.
Effectiveness
This ab roller wheel will help to strengthen your core, tone your abs and burn calories. It is made of very high-quality material that can withstand large body weights. This product has received very good reviews from the customers. It is perfect for both beginners and expert trainers. By exercising using this ab roller wheel, you will be able to strengthen and tighten the ab muscles and the surrounding core muscles as well. It even engages your shoulders, hips, back muscles and triceps, thus providing you a comprehensive workout. You can improve your posture also by using this ab roller wheel.
Price
You can get this ab roller for less than $30 at Amazon. Many people go to the gym for working out. The gym membership cost is quite high and you can get this ab roller for a fraction of the cost of your membership fees in the long run. This ab roller is also much cheaper than the other similar products in the market. So, buying this will actually give you good value for money.
Pros
It is very easy to set up the ab roller and takes less time as well.
It is portable, so ideal for use at home or at the gym. You can also carry it with you when traveling.
It is constructed using strong and durable materials, so you can do the intense exercise over a long time.
The wheel has a rubbery, non-slip surface that works smoothly on any surface.
The wheels don't make any noise, so you won't be disturbing others when exercising.
The handles are ergonomically designed for a better grip. They also prevent any strain on the wrists.
It comes with a 1-year warranty.
Cons
There is no extra padding on the handles for a softer grip.
No knee mat is provided to avoid strain or injury on knees.
The handles are locked using metal buttons and there is little chance that they might come off with routine use over time.
There is no instruction manual, so users need to look up other sources online to find out how to use the product the right way.
Final Verdict
Many people have this misconception that ab wheels only work on the abdominal muscles. But, the truth is that it works on the entire body. It helps to tone your arms, back, shoulders and legs also. Exercising using the ab roller is much more effective than crunches and sit-ups. It will not only get you in shape but will also help to lower back pain. Exercising with ab rollers will help you to keep the back aligned and prevent over-extension of lumber.
Most of the exercise machines are huge and difficult to move from one place to another, like the treadmill and other equipment. So, when you go on a vacation, you have to compromise your exercise routine. Well, not anymore, because you can easily carry your ab roller with you anywhere you go. It is lightweight and durable, so will be able to handle any pressure.
When using ab rollers, you need to make sure that you use it correctly so that you can get the best result possible. Otherwise, you may hurt yourself and not get the result you desired. It is always better to watch how-to-video before starting your exercise. You should start slow always and slowly increase the intensity of exercise. If you suffer from back pain, then you should refrain from using this equipment. In such a case, you should consult your doctor before using it.
Overall, it is great equipment to build up muscles and support the spine. It provides a great core workout. It is strong, durable, and very comfortable to use. It is easy to use and so is ideal for the beginners. The experts can also get all the benefits from it through an intense workout. Moreover, it is one of the best ab roller wheels you can find in the market at an affordable price. So, if you want to tone up your abs fast, you should buy this ab roller wheel.