Angelina Jolie is one of the most famous American actress. She started her career by working since the age of seven by doing small roles in movies. She achieved fame by doing the movie "Lara Croft: Tomb Raider". This movie made her the most popular actress worldwide. She is in relation with Brad Pitt. Angelina Jolie has a huge list of fans all over the world. She has also received the world's most beautiful woman title too. The main reason why she looks beautiful includes her perfect body shape. It is because of her lean and svelte body shape that she has been offered action movies like the Tomb Raider. She is 5'8" in height and has a weight of around 59 kg.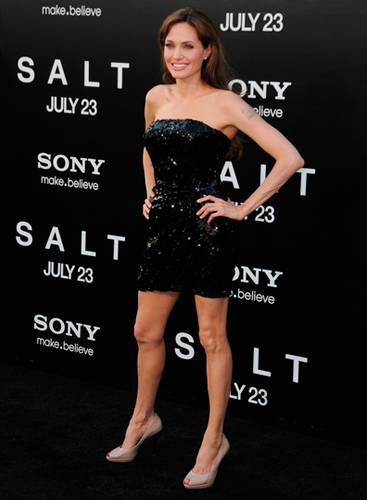 Angelina Jolie Workout Routine
She uses an array of workout to make sure that she gets a perfect body.
Yoga workouts: Angelina Jolie likes to keep her body in perfect shape and for this she uses the yoga workouts. She uses the muscle toning yoga session which is an excellent choice for a workout. This kind of workout makes sure that she maintains a sleek body. It ensures strength and sleekness in body without getting bulky. Yoga is the best exercise to distress. It provides an opportunity for an individual to unwind. It is important especially for a person like Angelina Jolie who has a hectic life.
Kickboxing: Angelina Jolie performs the kickboxing workouts and martial arts training to keep her feet. We have seen the action moves in movies like Tomb Raider and salt. She uses kickboxing to boost her stamina and strength. It also helps in enhancing the flexibility of the body. It helps in building the strength in her hips and thighs. It also helps in burning a lot of calories from the body.
Twisted Lunge: If you want to tone your butt just like Angelina Jolie, then this exercise is one of the best ways of doing that. You can do this with the help of an exercise known as twisted lunges. This exercise was developed by the personal trainer Gunnar Peterson.
She is also known for adding resistance in her workouts. She has combined aerobics with resistance to burning the fat. She performs the resistance exercises with multiple others because of her busy schedule. The exercises that you can include to get the same shape as Angelina are:
Step up and shoulder exercises
Lunges and bicep curls
Clean, squat and press
Pull ups
Angelina Jolie Diet Plan
Angelina Jolie has a strict diet regime. During Tomb Raider movie she trained to become a more athletic woman. She used to have a high protein diet, low carbohydrate meal to help her in building muscle. The film required her to be an athletic woman. Like all the Hollywood celebrities she consumes lots of protein, takes steamed vegetables, fruits and lots of water in her diet. They take a little amount of complex carbohydrate, enough to replenish the body with the required energy. These days celebrity trainers are forcing their celebrities to perform intense aerobic and anaerobic exercises that help in burning the fat quickly. She opts for a diet plan that includes fresh fruits. She avoids the use of red meat and wheat based food items. She also likes having raw salads in her meal.
Conclusion
If you want to get a perfect body just like Angelina Jolie then you must not only need to keep a check on the exercises being performed or the type of food that you consume, but you must also be determined to work hard for your body. Otherwise there are the chances that you would not be able to achieve the desired results at all. The above mentioned tips can help you in achieving the perfect body shape that you have always dreamt of.  It requires your complete determination and focus. You should also focus on improving on your eating habits. Also, try not to eat your dinner or any food item after 8 pm. If you can do all these things, then there are chances that you can surely achieve the body shape just like Angelina Jolie.