Blue eyed, lustrous blonde hair, Anna Faris is an American singer and actress. Gorgeous from head to toe, Faris possesses incredible curves. The smoking hot beauty is popular for her roles in the movies such as Lost in Translation (2003), My Super Ex-Girlfriend (2006), Yogi Bear (2010), The Dictator (2012) etc. Married to Chris Pratt since 2009, the couple got blessed with their first child, son Jack in August 2012.
The House Bunny star shares of being not inclined to vigorous workouts and strict diet to tone her body. However, when she has to groom her body to look fit and slimmer for specific roles, she abides by all the recommendations rendered to her by her personal trainer. She specifically got conscious towards her weight after giving birth to Jack.
Anna Faris Diet Plan
Faris doesn't accentuate the idea of following crash diet plans. She rather points up the consumption of wholesome and nutritious food items. While preparing herself to turn leaner, she inculcated ample lean protein, low carb foods, and good fat in her diet. She also gave the detox diet plan named Acai Berry a try to burn calories. Faris shares of being greatly benefitted from the diet solution, for it eliminated all the poisonous toxins from her body.
Faris is also a big fan of Alkaline Diet Plan. She succumbs to the diet plan when she realizes that her body is getting more and more acidic. The diet plan makes her to consume copious green and leafy vegetables, and low carb foods which aid in enhancing the alkaline base of her body. As the name suggests, the diet solution fetches balance in the pH level in the body and sets the body ready to dropping pounds. Her bikini-hugging svelte figure indeed is the outcome of her judiciously chosen food items.
Anna Faris Workout Routine
The pretty actress relies on Pilates when it comes to toning and strengthening her core muscles. However, Faris shares, prior to appearing in the movie The House Bunny (2008), Pilates was just like an alien workout to her. Unlike all other celebrities, she had seldom experienced it. She has all words of accolades for her Pilates instructor, Nicole Stuart who has her learn and execute the most effective tools of Pilates to sculpt her body. While being supervised by her personal trainer, Faris practiced multiple exercises in gym and practiced workouts for forty-five minutes in a day and six days in a week. Weight lifting, sit-ups, lunges, running on treadmill etc. come under some of the most favored workouts of the star. Faris doesn't step back from running for three miles in a day for it accentuates her agility and strips off surplus pounds from her body.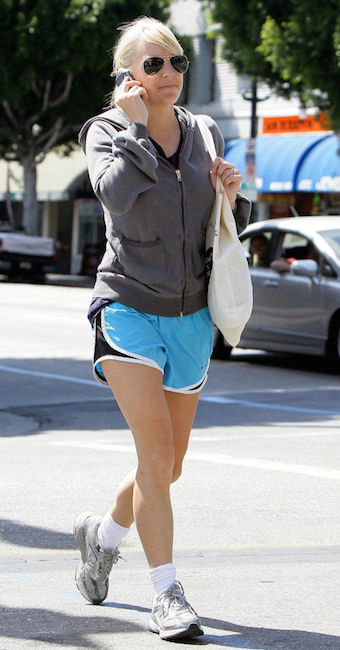 Among outdoor activities, Faris loves hiking and enjoys doing it while being accompanied by her friends. She reckons that the company of pals actually makes the strenuous physical activity stress-free and full of fun. Not only does your body gets an exercise through this way, but also your brain get relief from the hustles of life.
Healthy Recommendation For Anna Faris Fans
You being one of the fans of Anna Faris might wish to have svelte figure like her. By following right approach and perspective, you certainly can do that. However, one of the common problems many people face while endeavoring to losing weight is that they don't know how many calories they should consume in a day. And due to dearth of adequate awareness, they either consume too many or too less calories. Under both the situations, the weight loss process is likely to be hindered. While excess of calories don't let your body create calorie deficit, dearth of calories might make you become victim of overtraining.
Even if you reach the level where calories consumed by you are in parity to the calories burned by you, you are likely to see no change in your weight. Ideally, calories burned by you should be 20 percent more than calories consumed. Now, you must be pondering about how to know your correct calorie consumption. Well, there are myriad calorie calculators available free of cost on internet. By using them, you can know how many calories are apt for you to lose weight. Little prudence and watch over your calories can get you flattering results in a very short span of time.