Six pack abs, flamboyant look, Arjun Kapoor is the newest face of Bollywood equipped with chiseled body. Having made his entry into Bollywood with Ishaqzaade (2012), the heartthrob actor has become the favorite actor of countless girls. His appearance in the movie, Gunday has actually magnified his fan list more than ever.
Who would believe that the star with ripped body was a chubby, plump, overweight, and grumpy chap few years back, prior to starting his acting career? You believe it or not, but he used to weigh 140 kgs at the age of twenty-two. Not only was he overweight, he was also a victim of asthma and could not persistently run for more than ten seconds.
His metabolism, immune system, or say entire body system was in peril. But the stream of makeover came up when the famous actor of Bollywood, Salman Khan advised him to shed weight and become an actor. It's the outcome of his fair counsel that the actor is in the most enviable shape of his life and he doesn't step back from crediting Salman Khan for his miraculous transformation.
Torching sixty-five kgs is not a joke, but with his sheer dedication, perseverance, and hard work, Arjun made the seemingly impossible makeover possible for him. Though it took him two years to melt so many surplus pounds, but his relentlessness rewarded him with amazingly carved body.
Arjun Kapoor Diet Plan
The dashing actor was among the people who are always ready to eat foods, and use foods as their strongest weapons to combat against stress. Being a big time foodie, he consumed all the high-fat junk and trash foods to please his tongue. However, since the realization to prove himself grew stronger in him, Arjun made radical shifts in his food habits.
His strong determination can very well be gauged from the fact that he maintained strict distance from bread, rice, and pasta, which were his most adored foods. Being high carb foods, they cause spike in your blood sugar level and catalyze fat accumulation process in your body.
While forbidding all the foods having high content of trans fats, the handsome actor soared to healthy and nutritious foods. He incorporated plenty of protein rich foods such as lean red meat, beans, protein smoothie, cheese, yogurt etc. in his diet. Instead of eating high carb and high fat foods, he banked on whole grains, nuts, cereals, fruits, veggies etc.
However, to remain aligned to his fitness objective, he allowed him to have two cheat days in a week. In his cheat days, he relishes all his favored foods. But again, he doesn't endeavor to devour all the unhealthy and junk stuff on these two days. Fitness being pivotal to him still dominates his cravings and resists him from consuming bountiful unhealthy foods.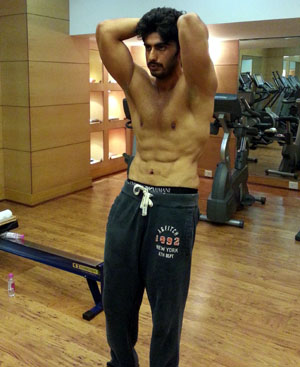 Arjun Kapoor Workout Routine
Prior to embarking on workouts, Arjun reminded himself about his fitness goal. Being overweight and beginner, his personal trainer had him begin with endurance training. And gradually shifted him to workouts aimed at building up muscles such as strength training, interval training, and cardio workouts. Within two years, the hunk scorched fifty-five kgs and attained his sought after body.
However, for the movie Gunday, Arjun further ripped his physique by shedding ten more kgs. Due to being busy in his shootings, he could not give much time to workouts, but still he never avoided five days in a week workouts for sixty to ninety minutes.
Since he already had become adroit in workouts, he mainly relied on high impact cross fit training for shedding surplus pounds. He persistently executed it for twenty minutes. His workouts consist of squats, bench press, pull-ups, deadlifts etc. All his exercises being high intensity exercises have shorter duration. However, strength training time stretches because he takes fair time in recovering from the exhaustion of workouts.
Healthy Recommendation For Arjun Kapoor Fans
The killer physique of the actor might astound you and instigate you to have kick-ass abs like him. You inevitably can have abs like him, but stay reminded of the fact that it's not going to happen with some magic spell. If you are prepared to put in efforts on your body, your body will be more than pleased to bestow you chiseled body.
Workouts being natural ways of shaping up your body parts will amplify the number of muscles in your body and will strip off unsolicited pounds from your body. Your workouts should be mixture of cardio workouts, strength training, and stretching exercises.
While stretching exercises will enhance your stability and blood circulation, cardio workouts will prompt your body to torch pounds. Strength training will enhance the number of lean muscles, and you all know more the number of lean muscles your body has, swifter is the fat burning process in your body. Workouts kick start the chain reaction of fat burning process in your body.