Radiant face, hazel eyes, bouncy and lustrous hair, Ashley Greene is an American model and actress. Best known for her role of Alice Cullen in Twilight series, the brunette has been playing the role of vampire in the TV show. We all know that the kind of speed, endurance, and stamina required for playing such a role is nowhere easy.
Ashley has been dating Australian actor, Paul Khoury since August 2013. The divine beauty prepares her for the roles through workouts and healthy diet regime. Due to her athletic built; right from bikinis to long gowns, the captivating beauty looks mesmerizing in all kinds of sexy outfits.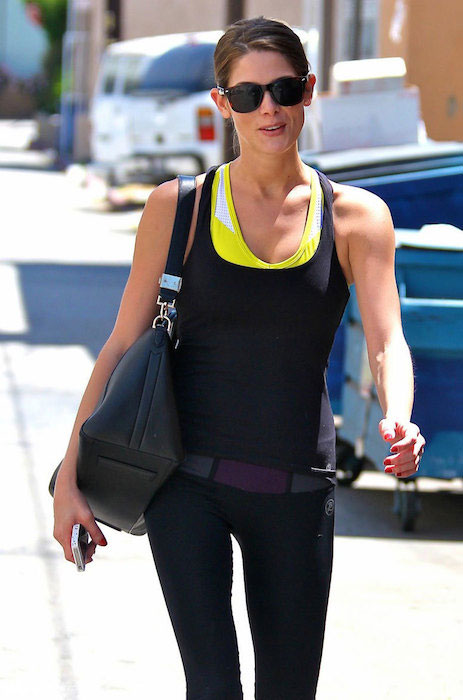 Ashley Greene Diet Plan
Abiding by very wholesome diet regime, Ashley doesn't have faith in crash diet programs. She practices portion control and relishes all her loved foods while keeping their amount small. She prefers eating clean and organic foods. You can vastly cut the chances of your body from being ruled over by stubborn fats by keeping check on your consumption of foods.
However, the gorgeous actress doesn't irk herself by being restrictive about each and every food coming in front of her. She eats wholesome foods such as fruits, veggies, nuts, seeds, tuna, chicken, halibut, sushi, egg whites etc. To relinquish her cravings and temptations, she also savors her favorite foods once in a while. One glass of wine and brownies are her occasional indulgences. She says she is not a nerd that she will spoil the influence of her vigorous workouts by feeding herself junk or unwholesome foods.
Ashley Greene Workout Routine
The sizzling hot actress uses workouts to sculpt her body from right areas. Her incredible curves indeed testify her dedication and love for them. Instead of spending myriad mindless hours in gym, Ashley accentuates quality time spent in gym. Diversity in workouts is what can aptly be called the fitness secret of Ashley. She is simply in love with Pilates and adores doing various exercises coming under Pilates. Her personal trainer, Risa Sheppard guides her about the areas in her body, which require special attention. She has her do exercises meant to sculpt her oblique and lower back. Ashley often complained of having pain in her lower back, so her personal trainer devised her workouts while keeping her problem at the forefront.
She orchestrated her workouts while considering the fact that workouts designed by her don't cause aggravation in her back pain. And it was the influence of accurate workouts only that the pretty actress got rid of the pain. Her workout regime has her do workouts six times in a week. Most of her exercises are targeted to strengthen her back and abdominal muscles. More than strength training, Ashley banks on cardio workouts to strip off unsolicited calories from her body.
She shares, she mostly avoids strength training, for it enhances muscle mass in her body and makes her look muscular. Among strength training exercises, she executes her workouts with kettlebell, and by pushing hefty box across the room. She performs copious workouts such as squats, side planks, martial arts, yoga etc. for one hour to tone her body. She dedicates three to four days in a week to either Pilates or running. Apart from imparting you lean legs, flat stomach, and lithe body, Pilates also appeases your mind.
Healthy Recommendation For Ashley Greene Fans
Ashley shares, she is not size zero, neither does she wants to be one of the size zero celebs. She contends, unless you are genetically size zero, it does not make any sense in having you grow that way by making you devoid of foods and nutrition. The word weight has been put equal to women's beauty, which is totally absurd.
Mostly women try to acquire skinny body shape just to please the world with their tiny waist. While the fact is contrary to that, no matter what you do, you cannot please the world. So, be kind to you and stop being trapped by the dirty gimmicks of weight loss plans. Your health and fitness should be paramount to you and your efforts should be inclined to flatter yourself with hale body and sound mind. Moreover, feminine body is not a matter of sham, it rather is a matter of proud which every woman should comprehend and practice in her life.