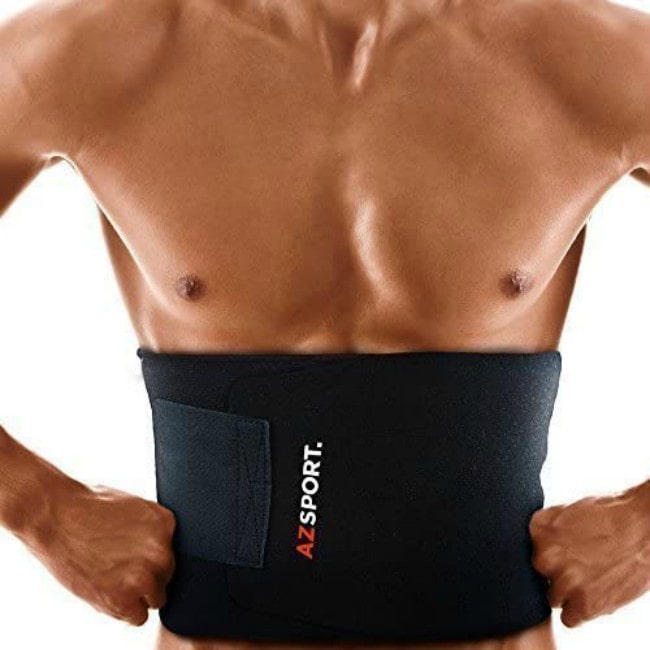 Recently, waist trimmers have received a lot of attention. The fitness experts and enthusiasts have found this belt to be very effective in making the stomach flat. The reason this belt has become so popular is that you don't need to work very hard to achieve the body you want. If you wear it during exercise, you will get very fast results. These belts are comfortable to wear and look good as well if worn on top of clothes. So, you can go anywhere wearing a belt.
Design
The belt is black in color and wide enough to cover your entire midsection. It is ideal for both men and women. The belt is made of thin and soft fabric which makes it ideal to be worn over the skin or on top of your garments. It looks good and you will be able to burn fat in your midsection easily. You can get the belt in one size and using the Velcro strap, it will fit users of different waist sizes. The belt is affordable and you can buy it for everyday use. For more effective results, you should wear it while exercising. It has a heat-resistant design which replaces the heat of the body to reduce the muscle tension, at the same time, promoting fat loss.
Build Quality
The belt is made of high-quality environment-friendly materials that have good elasticity to allow flexibility and ease of movement. So, it will last for a long time. The belt allows for better breathing, circulation of pressure throughout the midsection, and helps to reduce the excess fat. The belt is water-resistant, so sweat won't build up and make you feel awkward. It is easily washable and you can keep it in good condition all the time.
Size
You can get it in one size that will fit different users. The length of the belt is 7.5 inches, width 41 inches, and height 0.12 inches. Its maximum elastic limit is 50 inches and it can fit waist up to 44 inches.
Comfort
It is made of adjustable stretchy fabric that will make you feel comfortable. As the belt is water-resistant, no sweat will accumulate and you will feel comfortable all the time. The lightweight material makes it very comfortable to wear both directly over your skin or on top of your clothes. You can do different types of exercises comfortably wearing the belt. The belt will stay in place while you exercise and you can fully concentrate on your workouts to get effective results.
Ease of Use
The belt is easy to wear and you can fasten it with a Velcro strap. The belt will remain in place during exercise and can give effective results. It is breathable and flexible, so you can exercise for long hours comfortably wearing the belt.
Effectiveness
You should wear the AZSport Waist Trimmer during your cardio exercises at home or gym, Zumba or yoga classes. Even if you are going for a morning walk or a hiking trip, you can wear it. The belt will make you sweat a lot and you will be burning fat in the abdominal region. By preserving heat, it will get rid of your excess water weight. As the fabric of the belt is lightweight and thin, you can wear it under your top as well without feeling any discomfort. Besides losing weight, it will give support to your lower back. So, if you are suffering from back pain, you will get relief by wearing the belt as the belt acts like a compression binder around the waist to give lumbar support. The belt can give you a strong core by strengthening, tightening and protecting your core muscles. If you have a strong core, it will stabilize your entire body and you will have better balance and posture. You will also be able to breathe easily as it will improve your circulation.
Pros
The belt is comfortable to wear.
As it is made of soft material, it won't hurt and you will be able to work out comfortably.
It is made of thin and lightweight fabric making it ideal to be worn under your top or over it.
It is long and will be appropriate for people of different waist sizes.
The belt stays in place during exercise.
You will sweat a lot wearing the belt and burn fat.
It helps in weight loss.
It can give you a strong core.
You can get a toned tummy.
The belt will support your lower back and abdominal muscles.
It will help to improve your posture.
You can enhance the circulation in the midsection of your body during exercise wearing the belt.
You get a 100% money-back guarantee for it.
Cons
You may get a strong odor from the belt. Some users experienced skin rash.
The Velcro strap may be too tight for some users.
Final Verdict
The AZSport Waist Trimmer is a portable belt that can enhance your weight loss if you wear it while exercising. By wearing this belt, you can get rid of your midsection flab easily. If you maintain a proper diet and exercise regularly wearing this belt, then you will get amazing results. The belt retains body heat and accelerates weight loss. The belt is safe to wear and you won't feel uncomfortable wearing it.
The belt is affordable and you can buy it for everyday use. It is flexible and allows easy movement, so you can perform any exercise wearing it. The high-quality materials with which the belt is made of ensures that it stays in good condition for a long time. You should wash the belt regularly so that you can wear it comfortably without experiencing any skin irritation. This belt is different from some of the other fitness trainer belts in the market as it is multi-functional. You will be able to reduce back pain and improve your posture by wearing the belt also. So, buy one today and see the benefits of it yourself!